HIGHLIGHTS
TCL FY 2021
Earnings:  Earnings Per Share increased 683.1% to $0.38
Performance Drivers:

Improved Margins
Lower Restructuring Costs
Lower Financial expenses

Outlook:

Supply Chain Challenges
Higher Input Costs
Normalization of Operations

Rating: Assigned at MARKETWEIGHT
UCL FY 2021
Earnings: Earnings Per Share improved 912.7% to $7.19 from $0.71
Performance Drivers:
Outlook:

Supply Chain Disruptions
Higher Input Costs

Rating: Assigned at MARKETWEIGHT
This week, we at Bourse review the financial performance of Trinidad Cement Limited (TCL) and Unilever Caribbean Limited (UCL) for their respective financial years ended December 2021. TCL benefitted from increased revenues on account of higher cement sales, while UCL managed to deliver margin improvements despite a fall in revenues. As the economy normalizes, what might investors expect in the months ahead? We discuss below.
Trinidad Cement Limited (TCL)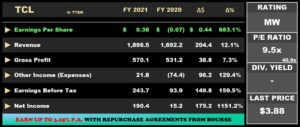 TCL reported an EPS of $0.38 for the year ended December 2021, up 683.1% from a Loss per Share (LPS) of $0.07 reported in FY 2020.
Revenue advanced 12.1% to $1.90B in FY 2021, up from a previous $1.69B. Cost of Sales was $1.33B, 14.3% higher than a previous $1.16B. Gross Profit increased 7.3% amounting to $570.1M. Operating Expenses increased 6.5% or $15.6M year-on-year, leading to Operating Earnings Before Other Income (Net) at $311.8M (up 7.4%) for FY 2021. For the period, the Group performed a valuation of the property, machinery and equipment to ascertain the fair value less the cost to sell. Consequently, the Group reversed $21.8M of impairment losses, recorded in other income (expenses), net, amid lower restructuring costs for the period. Consequently, Operating Earnings increased 54.5% to $333.6M relative to $215.9M in the previous period. 
Financial Expense was $89.9M in 9M 2020, 26.3% lower YoY. Earnings Before Taxation improved 159.5% over the prior year period, amounting to $243.7M.  As a result, Net Income for the period closed at $190.4M, 1,151.2% higher than the $15.2M recorded in FY 2020.
Revenues Higher
TCL reported a 12.1% increase in its Revenue, attributable to higher cement volumes sold across the Group. The Group's revenue is mainly originated from the sale and distribution of cement, ready-mix concrete, aggregates, packaging and other construction material.
Cement, TCL's largest segment, (FY 2021: 96.4% of Total Revenue) rose 12.8% from a prior $1.62M to $1.83M. Concrete, accounting for 3.4% of Total Revenue, declined 3.6% YoY to $66M and revenue from Packaging dropped by 17.9% for the period.
Geographically, Jamaica accounted for 55.7% of the Group's total revenue in FY 2021, with increased revenues of 12.3% year-on-year, as Jamaica continued to improve from a macroeconomic perspective.  Trinidad and Tobago (21.1% of total revenue), experienced 22.2% increased revenues YoY. Also noteworthy is the Group's third largest revenue contributor, 'Other' (22.6% of revenue in 2021), consisting of Guyana, given the country's increasingly energy-driven economic prospects. Its smallest revenue contributor, Barbados experienced 23.0% growth in revenues.
Margins Improve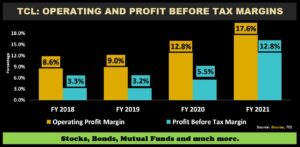 TCL's profitability improved year-on-year on account of higher operating efficiency and stronger revenues that offset the inflationary costs experienced. Operating Profit Margin expanded from 12.8% in FY 2020 to 17.6% in FY 2021, despite higher distribution and logistics expenses faced. The Profit Before Tax Margin followed suit, increasing to 12.8% from a prior 5.5%, attributable to lower financial expenses.
As economic activity increases and the threat of further shutdowns is reduced, there is the increasing prospect of improved sentiment and favourable developments for the cement producer, indicating further boost to its margins in subsequent periods.
The Bourse View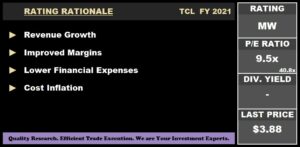 At a current price of $3.88, TCL trades at a market to book ratio of 1.5x and a trailing P/E ratio of 9.5 times, below the Manufacturing Sector Average of 40.8 times.
The current upheavals in global supply chains could adversely impact operating margins as well as consumer demand in the coming months. The Group indicated that cost inflation, fuel and shipping expenses as a result of Russia-Ukraine tensions may impact its financial performance in the near-term. On the basis of improving margins and profitability, but tempered by an increasingly volatile near-term operating environment due to cost inflation and logistic challenges, Bourse assigns a MARKETWEIGHT rating on TCL.
Unilever Caribbean Limited (UCL)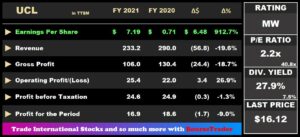 Unilever Caribbean Limited (UCL) reported Earnings Per Share (EPS) of $7.19 for the financial year ended December 31st 2021 (FY 2021), a 912.7% increase from $0.71 reported in the prior comparable period. EPS from Continuing Operations declined 8.5% from $0.71 to $0.65 while EPS from Discontinued Operations stood at $6.54.
Revenue from Continuing Operations declined 19.6% to $232.2M from $290.0M in the prior period. Cost of Sales came in at $127.2M, $32.4M (20.3%) lower than $159.6M reported in FY 2020. Gross Profit contracted 18.7% to stand at $106.0M. Selling and Distribution Costs and Administrative Expenses both fell 24.9% and 31.9% respectively. Resultantly, Operating Profit advanced 26.9% from $22.0M in FY 2020 to $25.4M in FY 2021.
Restructuring Costs expanded 903.2% over the period from $0.6M to $5.6M. Finance expense advanced 165.7% to $0.6M (FY 2020: $0.2M) while Other Income increased 44.7% to $5.4M (FY 2020: $3.7M). Profit Before Taxation stood at $24.M, a 1.3% decrease from a prior $24.9M. Taxation expense increased 21.4% to $7.7M, with the effective tax rate moving from 25.4% in FY 2020 to 31.2% in FY 2021. Overall, Profit for the Period from Continuing Operations stood at $16.9M, 9.0% lower than $18.6M reported in the prior period.
Revenue Lower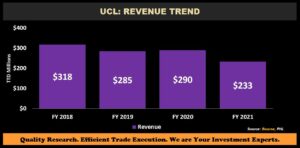 UCL's revenue generating abilities were impacted in FY 2021 as the Company continued to grapple with the socioeconomic effects of the Covid-19 pandemic. According to UCL, lower demand for laundry detergents led to a decline in the Company's Home Care segment, while its Foods & Refreshments segment saw declines stemming from the transfer of its tea business and supply-chain constraints. The Company's Beauty and Personal Care segment posted strong growth both locally and regionally, growing market share despite being the most affected by global supply chain-issues.
Margins Improve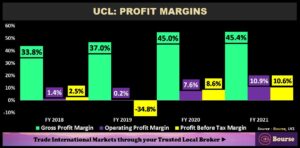 Since embarking on its new service model in 2020, UCL's Profit Margins has shown improvement, reflecting the Company's more efficient approach to managing its expenses. According to UCL, the Company also implemented a significant change to its warehouse and distribution operations at the start of 2021, generating considerable savings. Gross Profit Margin increased from 45.0% in FY 2020 to 45.4% in FY 2021. Operating Profit Margin moved from 7.6% to 10.9%, underpinned by a 26.6% decline in Operating Expenses. Profit Before Tax Margin advanced to 10.6% in FY 2021 from 8.6% in FY 2020.
The Bourse View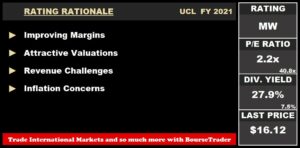 At a current price of $16.12, UCL trades at a trailing P/E of 2.2 times, below the Manufacturing Sector average of 40.8 times. It should be noted that UCL's P/E ratio ex discontinued operations stand at 24.6 times. The Board of Directors declared a generous final dividend of $4.30, to be paid on June 27th 2022 to shareholders on record by June 10th 2022. This brings the total dividend paid by UCL to $4.50, largely attributable to cash distributions to shareholders of its discontinued business. The stock offers investors a trailing dividend yield of 28.1%, above the sector average of 7.6%. Investors should view this yield as heavily inflated given the significant contribution to dividends of the sale of UCL's Tea business. Despite lower revenues during the period, UCL's performance should benefit as economic activity begins to normalize. Moreover, the Company's new operating model may provide a platform for further margin improvement and bottom-line growth. These positive drivers could be offset by a highly inflationary environment driven by rising input costs, compounded by a weaker consumer as disposable income is eroded. On the basis of attractive valuations, but tempered by revenue challenges and the threat of increased input costs, Bourse assigns a MARKETWEIGHT rating on UCL.
"This document has been prepared by Bourse Securities Limited, ("Bourse"), for information purposes only. The production of this publication is not to in any way establish an offer or solicit for the subscription, purchase or sale of any of the securities stated herein to US persons or to contradict any laws of jurisdictions which would interpret our research to be an offer. Any trade in securities recommended herein is done subject to the fact that Bourse, its subsidiaries and/or affiliates have or may have specific or potential conflicts of interest in respect of the security or the issuer of the security, including those arising from (i) trading or dealing in certain securities and acting as an investment advisor; (ii) holding of securities of the issuer as beneficial owner; (iii) having benefitted, benefitting or to benefit from compensation arrangements; (iv) acting as underwriter in any distribution of securities of the issuer in the three years immediately preceding this document; or (v) having direct or indirect financial or other interest in the security or the issuer of the security. Investors are advised accordingly. Neither Bourse nor any of its subsidiaries, affiliates directors, officers, employees, representatives or agents, accepts any liability whatsoever for any direct, indirect or consequential losses arising from the use of this document or its contents or reliance on the information contained herein. Bourse does not guarantee the accuracy or completeness of the information in this document, which may have been obtained from or is based upon trade and statistical services or other third party sources. The information in this document is not intended to predict actual results and no assurances are given with respect thereto."