BOURSE SECURITIES LIMITED
9th December, 2019
TTNGL Earnings Stumble
This week, we at Bourse review the 9M 2019 performance of Trinidad and Tobago NGL Limited (NGL). Investors in the energy holding company have endured a fairly turbulent 2019, as the share price fell 27.3% year-to-date, reflective of both domestic and global energy market headwinds to performance. The company is, however, taking steps to adjust to the ever-evolving energy landscape. We take a closer look at the performance and some potential improvement initiatives below.
Earnings Fall

Trinidad and Tobago NGL Limited (NGL) reported Earnings per Share (EPS) of $0.52 for the nine-month (9M) period ended 30th September 2019, a 61.8% decline from the $1.36 reported in the prior comparable period of 2018.
TTNGL's earnings are primarily dependent on the performance of Phoenix Park Gas Processors Limited(PPGPL) – its sole investment holding – which engages in the fractionation and processing of Natural Gas into Propane, Butane and Natural Gasoline, PPGPL and marketing and distribution of these natural gas liquids. For the 9M 2019 period, NGL received Share of Profit from PPGPL amounting to $80.4M, a 61.9% decline from the $211.0M reported in 9M 2018.
Profit for the Period stood at $80.1M, 62.0% lower compared to the $210.6M in the prior comparable period.
Energy Prices Weaker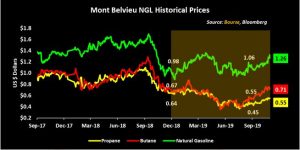 Natural Gas Liquids (NGLs) prices declined in 9M 2019 relative to 9M 2018 levels. Lower prices and increased supply-side competition for NGLs adversely impacted PPGPL's top line performance and ultimately, the performance of TTNGL.
At the end of Q3 2019, the prices of Propane and Butane retreated 29.5% and 18.6% respectively year-to-date, while the price of Natural Gasoline improved 9.0%. On a positive note, NGL prices have recovered somewhat as the prices of Natural Gasoline, Propane and Butane improved 18.8%, 21.5% and 29.6% respectively as compared those reported as at the end of September.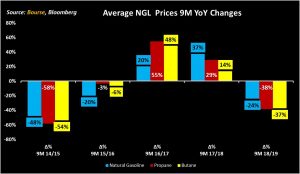 For 9M 2019, NGL prices averaged the following: Propane US$0.45/Gallon, Butane US$0.55/Gallon and Natural Gasoline US$1.06/Gallon. Compared to the average prices recorded over the course of 9M 2018, NGL prices depreciated 38%, 37% and 24% respectively. In contrast, 9M 2018 average NGL prices appreciated relative to the comparable period in 2017, illustrating the cyclicality of the market.
The weighted average price of NGLs fell to US$0.77 per gallon for 9M 2019, or about 31% lower than the US$1.12 per gallon enjoyed in 9M 2018.
Production Stable?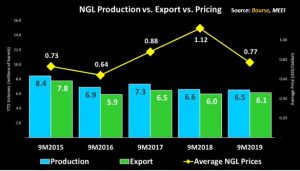 Ministry of Energy and Energy Industries data on the production and exports of NGLs from PPGPL suggest that both production and export volumes in 9M 2019 were comparable to 9M 2018 figures, with 6.5M barrels of NGLs produced in 9M 2019 (6.6M in 9M2018) and 6.1M barrels of NGLs exported in 9M 2019 (6.0 in 9M2018).
Challenges
PPGPL is confronting several challenges, both on the domestic front and internationally. At home, some structural factors weighed on performance, including (i) higher gas feedstock costs charged by the NGC and (ii) lower NGL content in processed gas (drier gas). In addition, forecast higher gas production in T&T has not yet materialized, with natural gas production of 3.6 bcfd below the projected 2019 level of 3.8 bcfd.
At the operational level, performance was impacted by an accounting impairment related to the collection of a receivable from Petrotrin and timing differences between production and sales of NGLs. Downtime at Atlantic LNG (unplanned in the case of Train 1) also impacted performance.
Internationally, PPGPL and TTNGL are subject to fluctuations of NGL benchmark prices, as well as increased competition in the space.
Initiatives
As communicated by PPGPL at a broker meeting held on November 29th, the company has embarked on several initiatives to improve profitability and potentially reduce earnings volatility. At the organic level, (i) increased condensates processing and (ii) cost management were specific initiatives noted. These initiatives could improve TTNGL's earnings per share by an estimated TT$0.20.
Inorganic growth initiatives, broadly termed 'Internationalisation', are also in progress. PPGPL has conducted an assessment of opportunities in both the Caribbean and North America, while also evaluating several strategic partnerships in Asia and Africa. PPGPL has submitted or are currently preparing Non-Binding Offers (NBOs) for several potential transactions/relationships, one of which has been already been accepted.
The Bourse View
At a current price of $21.15, TTNGL trades at a trailing P/E of 26.8 and maintains its position as highest yielding stock listed on the Trinidad and Tobago Stock Exchange with a trailing dividend yield of 7.1%, above the market's average of 3.4%.
Notwithstanding TTNGL's still-healthy cash position, a combination of (i) prolonged lower energy prices and earnings and (ii) capital requirements to fund expansion initiatives at PPGPL could potentially impact the quantum of profits available for distribution. The extent of dividend reduction, if any, would likely depend on how capital intensive PPGPL's expansion initiatives are and how long NGL prices take to recover from their latest down cycle.
On the other hand, (i) successful expansion initiatives, (ii) improved cost management, (iii) the resumption of Train 1 and other factors affecting operational performance and (iv) increased gas production and processing volumes in T&T could positively impact the fortunes of PPGPL and TTNGL in the future.
Notably, upstream producers BHP and BPTT both recently announced gas discoveries, while Atlantic LNG also announced that the turnaround of Train 1 – intended to extend its useful life – was near completion.
On the basis of (i) a high trailing dividend yield, (ii) significant local natural gas reserves and production levels, which could bolster future share of profits and (iii) an implied hedge against potential devaluations of the TTD through its USD earnings, Bourse maintains a BUY rating on NGL.
For more information on these and other investment themes, please contact Bourse Securities Limited, at 226-8773 or email us at invest@boursefinancial.com.
"This document has been prepared by Bourse Securities Limited, ("Bourse"), for information purposes only. The production of this publication is not to in any way establish an offer or solicit for the subscription, purchase or sale of any of the securities stated herein to US persons or to contradict any laws of jurisdictions which would interpret our research to be an offer. Any trade in securities recommended herein is done subject to the fact that Bourse, its subsidiaries and/or affiliates have or may have specific or potential conflicts of interest in respect of the security or the issuer of the security, including those arising from (i) trading or dealing in certain securities and acting as an investment advisor; (ii) holding of securities of the issuer as beneficial owner; (iii) having benefitted, benefitting or to benefit from compensation arrangements; (iv) acting as underwriter in any distribution of securities of the issuer in the three years immediately preceding this document; or (v) having direct or indirect financial or other interest in the security or the issuer of the security. Investors are advised accordingly. Neither Bourse nor any of its subsidiaries, affiliates directors, officers, employees, representatives or agents, accepts any liability whatsoever for any direct, indirect or consequential losses arising from the use of this document or its contents or reliance on the information contained herein. Bourse does not guarantee the accuracy or completeness of the information in this document, which may have been obtained from or is based upon trade and statistical services or other third party sources. The information in this document is not intended to predict actual results and no assurances are given with respect thereto."