BOURSE SECURITIES LIMITED
2nd December, 2019
RFHL Advances
Republic Financial Holding Limited (RFHL)

Republic Financial Holdings Limited (RFHL) reported Diluted Earnings per Share (EPS) of $9.73 for the year ended September 30th 2019, a 19.2% year on year (YoY) increase from an EPS of $8.16 recorded in 2018.
RHFL generated a 14.14% YoY increase in Interest Income, which was tempered by 32.1% YoY increase in Interest Expense. Nevertheless, the group was able to report Net Interest Income of $3.82B, an 11.7% improvement from the $3.4B reported in 2018. Similarly, Other Income was boosted 47.04% from $1.37B to $2.02B over the twelve-month period. This was tempered by an increase in Operating Expenses which was up by 14.41% to $2.94B. The group experienced a decline in Share of Profits of Associated Companies to $5.98M from a value of $7.57M in the previous year. Overall, there was a gain in Operating Profit of 30.26% to $2.9B. The effective tax rate rose from 27.4% to 35.7%, resulting in the Net Profit after tax increasing 23% to $1.72B. Profit Attributable to Equity Holders was boosted 19.5% to give a value of $1.58B.
Outlook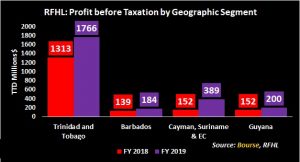 From the 2018 to 2019 period, RFHL's Profit before Tax (PBT) improved across all geographic segments, with Trinidad and Tobago operations continuing to contribute the largest portion of PBT. The group experienced a 53.75% YoY increase in PBT from the Cayman Islands, Suriname and the Eastern Caribbean Islands and an approximate 32% YoY increase in PBT from both Barbados and Guyana.
The acquisition of Cayman National Bank (CNC) bolstered RFHL's profit contributing $92.6 million to profits (after minority interest) for the seven-month period under RFHL ownership. In the coming year, CNC's operations in addition to the acquisition of Scotiabank's operations in St. Marteen, and the Eastern Caribbean countries (which was completed on November 1st, 2019) are expected to increase the group's overseas' operations, strengthen its regional presence and improve overall profitability. According to the Chairman's Comments, the Scotiabank acquisition is set to contribute $10B to total asset size and $133.6M to net profits on a pro-forma basis.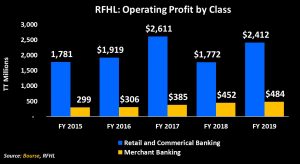 RFHL's operations comprise two segment classes, Retail and Commercial Banking and Merchant Banking. Over the past 5 years Retail and Commercial Banking has on average contributed approximately 84% of RFHL's Operating Profit. Nevertheless, RFHL's operations across both segments has continued to show improvement, with Operating Profit generated by Retailing and Commercial Banking recording a 5 year Compounded Annual Growth Rate (CAGR) of 6.2% while Merchant Banking has recorded a 5 year CAGR of 10.2%.
Two main one-off items contributed to the net impact of an increase in profits for RFHL by $83.5M. In Trinidad and Tobago, the group amended the terms of the post-retirement medical benefits plan to be in line with the market, allowing for a write-back to net profits after tax of $275.3M. Also, the Barbados' corporation tax rate was slashed from 30% to a range between 1% and 5%, resulting in a charge to the income statement of $191.8M owing to the re-measurement of deferred tax assets at the lower rate. Overall, excluding the impact of these items, the group recorded a core profit of $1.50 billion, a gain of $174.8 million or 13.2% higher than the 2018 period.
The Bourse View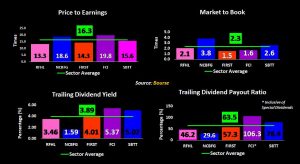 At a current price of $130.00, RFHL is trading at a Price to Earnings ratio of 13.3 times, below the Banking sector's average of 16.3 times. The stock also offers a Trailing Dividend Yield of 3.46%, just shy of the sector's average of 3.89%. On the basis of consistent core revenue expansion, growth potential from acquisitions, attractive valuations and a fair dividend yield, Bourse maintains a BUY rating on RFHL.
 Sagicor Financial Corporation(SFC) – Closure of Scheme of Arrangement

Trading of Sagicor shares was suspended on the Trinidad and Tobago Stock Exchange on November 26th, 2019. Directors of the company have fixed the period 4th-17th December to determine the shareholders entitled to receive the Scheme of Arrangement consideration. Legal transfer of all shares of Sagicor held by shareholders will occur on and as of December 6th, 2019. Sagicor shareholders who previously elected to receive cash for some or all of their holdings, up to 10,000 shares, will be mailed cheques on or about December 17th, 2019.
Shareholders who opted to receive 'New Sagicor' shares after the Arrangement is completed will be mailed a Direct Registration System(DRS) statement within 30 days of closing. This statement will detail the number of shares owned in the new entity.
West Indian Tobacco Company Limited – Stock Split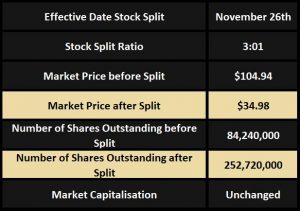 West Indian Tobacco Company Limited's (WITCO) long awaited 3-for-1 stock split has been finalised resulting in a change in both the company's share price and number of shares outstanding. Based on the 3:1 stock split WITCO's share price moved from $104.94 to $34.98 on November 26th. The number of shares outstanding tripled from 84.24M to 252.72M. WITCO's decision to undertake this stock split was based on the aim of improving the stock's liquidity on the local stock exchange and expanding prospects for capital appreciation.
For more information on these and other investment themes, please contact Bourse Securities Limited, at 226-8773 or email us at invest@boursefinancial.com.
"This document has been prepared by Bourse Securities Limited, ("Bourse"), for information purposes only. The production of this publication is not to in any way establish an offer or solicit for the subscription, purchase or sale of any of the securities stated herein to US persons or to contradict any laws of jurisdictions which would interpret our research to be an offer. Any trade in securities recommended herein is done subject to the fact that Bourse, its subsidiaries and/or affiliates have or may have specific or potential conflicts of interest in respect of the security or the issuer of the security, including those arising from (i) trading or dealing in certain securities and acting as an investment advisor; (ii) holding of securities of the issuer as beneficial owner; (iii) having benefitted, benefitting or to benefit from compensation arrangements; (iv) acting as underwriter in any distribution of securities of the issuer in the three years immediately preceding this document; or (v) having direct or indirect financial or other interest in the security or the issuer of the security. Investors are advised accordingly. Neither Bourse nor any of its subsidiaries, affiliates directors, officers, employees, representatives or agents, accepts any liability whatsoever for any direct, indirect or consequential losses arising from the use of this document or its contents or reliance on the information contained herein. Bourse does not guarantee the accuracy or completeness of the information in this document, which may have been obtained from or is based upon trade and statistical services or other third party sources. The information in this document is not intended to predict actual results and no assurances are given with respect thereto."