BOURSE SECURITIES LIMITED
25th February 2019
NCBFG lower, JMMB improves
This week, we at Bourse review the performance of two cross-listed stocks, NCB Financial Group Limited (NCBFG) and JMMB Group Limited (JMMBGL) for the period ended 31st December 2018. The companies would have parted ways in recent times, with NCBFG selling its 26.3% stake previously held in JMMBGL. While higher taxation weighed on the performance of NCBFG, JMMBGL reported improved earnings driven mainly by top line growth.
NCB Financial Group (NCBFG)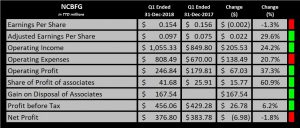 NCB Financial Group Limited (NCBFG) reported Earnings per Share (EPS) of TT$0.154 for the first quarter (Q1) ended 31st December 2018, 1.3% lower than the TT$0.156 reported a year ago. Excluding the impact of one-off events in Q1 2019 (Gain on Disposal of Associate) and Q1 2018 (Negative goodwill on acquisition of subsidiary), the Group's EPS improved 29.6% year on year.
For the first quarter of FY 2019, NCBFG reported 24.2% (TT$205.53M) growth in Operating Income. This was driven by improvements in Net Interest Income, Net Fee and Commission Income and Gain on FX and Investment Activities, which rose 30.4%, 20.2% and 34.0% respectively. Operating Expenses also increased 20.7% (TT$138.5M) due to a $69.6M jump in other operating expenses. Notwithstanding, Operating Profit was 37.3% higher at TT$246.8M versus the TT$179.8M generated over the comparable prior period. Additionally, the Group benefitted from the Disposal of JMMB shares, which contributed an additional TT$167.5M to Profit before Tax (PBT). NCBFG posted Profit before Tax (PBT) growth of 6.2% year on year, moving from TT$429.3M generated in Q1 2018 to TT$456.1M in Q1 2019. However, higher Taxation of TT$29.5M brought Net Profit to close at TT$376.8M, 1.8% lower than the TT$383.8M earned in Q1 2018.
Outlook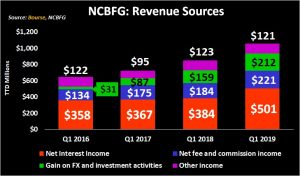 Over the past four years, NCBFG has grown its core Revenue sources (Net Interest Income, Gain on Foreign Currency and Investment Activities and Net Fee and commission income), with the exception of Other Income, which remains volatile. In the first quarter of 2019, the consolidation of Bermuda-based Clarien Bank supported growth in Net Interest Income. Meanwhile, Gain on Foreign Currency and Investment Activities improved 33.9%, attributable to higher exchange income stemming from a 5% appreciation of the Jamaican currency against the US dollar. Increased credit related and e-commerce fees from Clarien Bank also supported a 20.2% increase in Net Fee and Commission income.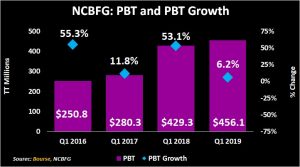 NCBFGs Profit before Tax (PBT) continues to grow, driven both by organic growth and acquisitions. The Group announced a revised proposal for the acquisition of up to a total of 62.0% of Guardian Holdings Limited (GHL). The new proposal offers investors an enhanced price of US$2.79. Since the announcement, the closing date of the offer was extended three times with the most recent date carded for April 30th, 2019. If the offer is successful, NCBFG has indicated that the consolidation of GHL could increase the group's revenue to over US$1.5B or JD$200.0B. Additionally, the Group can benefit from synergies derived from consolidation.
The Bourse View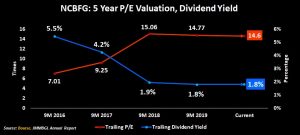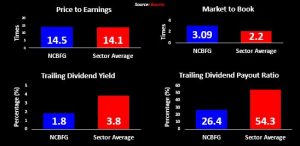 At a current price of TT$8.39, NCBFG trades at a trailing P/E of 14.6 times, in line the Banking sector average of 14.1 times but well above its 3-year average P/E of 9.9 times. NCBFG offers investors a trailing dividend yield of 1.8%, below the Banking sector trailing dividend yield of 3.9%. On the basis of higher potential earnings through acquisitions, but tempered by continued increases in Operating Expenses, fair valuations and a relatively low dividend yield, Bourse maintains a NEUTRAL rating on NCBFG.
JMMB Group Limited (JMMBGL)

JMMBGL reported diluted Earnings per Share of TT$0.096 for the nine-month (9M) period ended December 31st 2018, a 16.7% increase from the $0.083 generated a year ago.
The Group's performance was driven by a $70.1M improvement in Interest Income, along with a $26.9M increase in Fee and Commission Income. Resultantly, Operating Revenue advanced to $701.0M, 12.2% higher than the $625.0M recorded over the prior comparable period. Despite an 8.9% rise in Operating Expenses from $443.3M to $482.8M, Operating Profit stood at $206.3M, 18.3% higher than the previous year. While the Effective Tax Rate remained steady at 26%, Tax expense was 17% greater, amounting to TT$54.5M for the 9M period. Overall, Profit for the Period Attributable to Equity Holders of the Parent grew from $129.5M to $151.3M, 16.9% higher relative to 9M results of FY 2018.
Outlook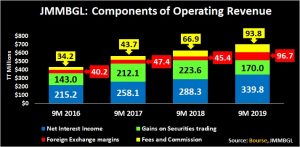 The Group experienced consistent improvements in performance across all revenue segments with the exception of Gains on Securities Trading. Significant expansion in the loan book and investment portfolios, up 12% and 6% for the 9M period respectively, were the main drivers of growth in Net Interest Income, which contributed $339.8M to Operating Revenue. Fee and Commission Income rose by more than 40% YoY, from $66.9M to $93.8M, on the back of higher revenue from managed funds and collective investment schemes. Foreign Exchange Margins from Cambio Trading experienced a substantial $51.3M gain, more than double that of the previous year, due to higher volume trading activity and growth in the regional markets. However, this was offset by an equivalent reduction in Net Gains on Securities Trading of $53.6M, a 24% decline YoY, attributed to negative investor sentiment for emerging markets.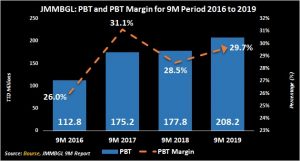 The Group recorded steady growth over the past four years in Profit before Taxation (PBT). During the 9M 2019 period, PBT expanded from $177.8M to $208.2M, a 17.1% upgrade from the prior comparable period. PBT Margin stood at 29.7%, an improvement from the previous 28.5%.
Notwithstanding the improvement in Profit for the Period, the Group reported a $169.1M decline in Shareholder's Equity for the 9M period, reflective of the implementation of IFRS 9 and a drop in emerging market bond prices. Since the launch of the JMMB Express Finance (T&T) Limited in September 2018, growth has been recorded in the loan portfolio driving an expansion of the Group's operations to two additional branches. This, coupled with a growing Dominican Republic portfolio, is anticipated to positively influence the Group's profitability going forward. 
The Bourse View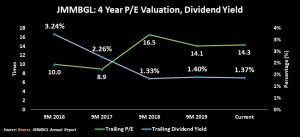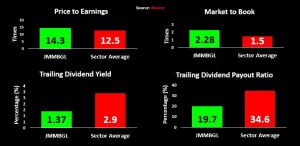 At a current price of TT$1.78, JMMBGL trades at a trailing P/E of 14.3 times, above the Non-Banking Finance sector average of 12.5 times (excluding NEL). The trailing dividend yield is 1.37%, lower than the sector average of 2.9%. On the basis of a positive earnings trend, but tempered by relatively high valuations and low dividend yield, Bourse maintains a NEUTRAL rating on JMMBGL.
For more information on these and other investment themes, please contact Bourse Securities Limited, at 226-8773 or email us at invest@boursefinancial.com.
"This document has been prepared by Bourse Securities Limited, ("Bourse"), for information purposes only. The production of this publication is not to in any way establish an offer or solicit for the subscription, purchase or sale of any of the securities stated herein to US persons or to contradict any laws of jurisdictions which would interpret our research to be an offer. Any trade in securities recommended herein is done subject to the fact that Bourse, its subsidiaries and/or affiliates have or may have specific or potential conflicts of interest in respect of the security or the issuer of the security, including those arising from (i) trading or dealing in certain securities and acting as an investment advisor; (ii) holding of securities of the issuer as beneficial owner; (iii) having benefitted, benefitting or to benefit from compensation arrangements; (iv) acting as underwriter in any distribution of securities of the issuer in the three years immediately preceding this document; or (v) having direct or indirect financial or other interest in the security or the issuer of the security. Investors are advised accordingly. Neither Bourse nor any of its subsidiaries, affiliates directors, officers, employees, representatives or agents, accepts any liability whatsoever for any direct, indirect or consequential losses arising from the use of this document or its contents or reliance on the information contained herein. Bourse does not guarantee the accuracy or completeness of the information in this document, which may have been obtained from or is based upon trade and statistical services or other third party sources. The information in this document is not intended to predict actual results and no assurances are given with respect thereto."