BOURSE SECURITIES LIMITED
18th February 2019
MASSY outlook improves
This week, we at Bourse review the financial performance of Massy Holdings Limited (MASSY) for the first quarter of its fiscal 2019 year. We examine the company's performance and give a brief outlook, considering some developments on the horizon.
MASSY Holdings Limited
For its first quarter ended 31st December 2018 (Q1 2019), MASSY reported Earnings per Share (EPS) of $1.37, consistent with the EPS generated over the same period last year.
Revenue was marginally lower at $3.21B, compared to $3.22B reported in Q1 2018. Operating Profit contracted 3.1% ($6.4M) from $203.7M to $197.2M over the same period.  This was offset to some extent by a 27.7% ($7.3M) increase in Share of Results of Associates and Joint Ventures. Resultantly, Profit before Income Tax was maintained at $230.9M, compared to $230M generated a year ago. The Group's effective tax rate was slightly higher at 36.0% relative to 34.8% in Q1 2018, driven by an increase in the Trinidad and Tobago Corporate Tax rate from 25.0% to 30.0%. Overall, Massy recorded a moderate (1.4%) decline in Profit for the Period, from $149.9M to $147.8M.  Profit attributable to Owners of the Parent was flat at $133.6M, compared to $134.1M allocated in Q1 2018.
 Outlook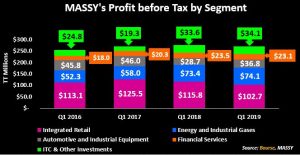 Over the past two years, (Q1 2018 and Q1 2019) subdued economic conditions in the main operating markets of (Trinidad & Tobago and Barbados) have weighed on the Group's performance. This was reflected in the performance of the Group's largest business segment, Integrated Retail (37.9% of PBT in Q1 2019), which experienced a 7.7% decline in PBT in Q1 2018 and a further 11.3% in Q1 2019. The impact of these declines in Q1 2019, however, was offset by $8.1M or 28.2% higher contributions from the Automotive and Industrial Equipment segment (13.6% of PBT), supported by growth in all operating locations, particularly Colombia. PBT contributions from the Energy & Industrial Gases and ITC & Other Investments also reported modest growth of 1.0% and 1.5% respectively, while contributions from the Financial Services segment declined 1.7%.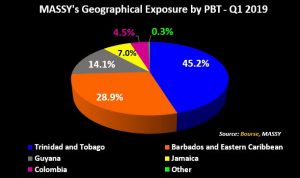 MASSY continues to be dependent on two markets, with Trinidad and Tobago (45.2%) and Barbados & Eastern Caribbean markets (28.9%) accounting for the majority of Profits Before Taxes. A positive for the Group in its main PBT markets comes from Barbados, where changes in the country's tax regime are expected to lead to an overall lower tax burden and improved after-tax profits.  The Group has also positioned itself to take advantage of opportunities in the more positive Jamaica, Guyana and Colombia economies.
Guyana already accounts for 14% of MASSY's PBT, with a new MASSY Superstore expected to open within the first half of 2019. MASSY has also made further inroads into vehicle distributorships for passenger and commercial vehicles, a move likely to bear fruit as Guyana's energy industry begins to blossom. In Colombia, the Group has estimated an approximate market share of 3% of automotive sales in what can be described as a highly fragmented market. Meanwhile, MASSY's recent foray into the Jamaican insurance market, via a broker distribution model, signals the Group's intent to expand in a 'capital-light' manner.
One of the key developments on the minds of MASSY investors is the pending operationalization of the Caribbean Gas Chemical Limited plant, situated in Union Industrial Estate, La Brea. The plant has experienced some delays, pushing revenue generation from this venture for MASSY further into the future. Operationalization, however, is now anticipated to commence sometime in the second half of 2019, all other factors held constant, with MASSY set to benefit from its 10.0% share of the approximately 1,000,000 metric tonnes per annum (mtpa) of methanol and 20,000 mtpa of Di-Methyl-Ether (DME) to be produced.
In addition to its cost-containment initiatives such as its indirect procurement strategy, the Group has spoken of its ongoing 'capital rationalization'. Specifically, MASSY has embarked on a process of reallocating capital from non-core investments/operations to those which it considers itself to have considerable proficiency in. According to the Group, this will include some divestment of non-essential property holdings in 2019. The unlocking of capital will contribute to MASSY's financial resources in its pursuit of organic and inorganic growth.
The Bourse View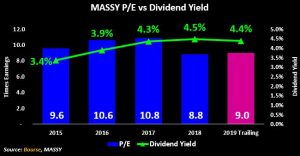 At a price of $48.00, MASSY trades at trailing P/E of 9.0 times, below the Conglomerate sector average of 13.5 times. The stock also offers investors a trailing dividend yield of 4.4%, above the Conglomerate sector average of 3.1%. On the basis of relatively attractive valuations, expansion initiatives into higher-growth markets and the likelihood of improved earnings over the next 12-month period, Bourse changes its rating on MASSY to BUY.
For more information on these and other investment themes, please contact Bourse Securities Limited, at 226-8773 or email us at invest@boursefinancial.com.
 "This document has been prepared by Bourse Securities Limited, ("Bourse"), for information purposes only. The production of this publication is not to in any way establish an offer or solicit for the subscription, purchase or sale of any of the securities stated herein to US persons or to contradict any laws of jurisdictions which would interpret our research to be an offer. Any trade in securities recommended herein is done subject to the fact that Bourse, its subsidiaries and/or affiliates have or may have specific or potential conflicts of interest in respect of the security or the issuer of the security, including those arising from (i) trading or dealing in certain securities and acting as an investment advisor; (ii) holding of securities of the issuer as beneficial owner; (iii) having benefitted, benefitting or to benefit from compensation arrangements; (iv) acting as underwriter in any distribution of securities of the issuer in the three years immediately preceding this document; or (v) having direct or indirect financial or other interest in the security or the issuer of the security. Investors are advised accordingly. Neither Bourse nor any of its subsidiaries, affiliates directors, officers, employees, representatives or agents, accepts any liability whatsoever for any direct, indirect or consequential losses arising from the use of this document or its contents or reliance on the information contained herein. Bourse does not guarantee the accuracy or completeness of the information in this document, which may have been obtained from or is based upon trade and statistical services or other third party sources. The information in this document is not intended to predict actual results and no assurances are given with respect thereto."