BOURSE SECURITIES LIMITED
November 14th, 2016
GHL earnings up, RFHL dips
This week, we at Bourse evaluate the most recent financial performance of Guardian Holdings Limited (GHL) and Republic Financial Holdings Limited (RFHL). Despite positive earnings growth during the year, GHL's stock price has fallen 5.6% year-to-date and is now trading at its five year low at $12.51.
In similar fashion, RFHL's stock price has declined 3.5% year-to-date on weaker performance of its foreign subsidiaries. We share our perspective on the current and future performance of both stocks.
Guardian Holdings Limited
GHL reported Earnings per Share of $1.12 for the 9 month period ended 30th September 2016; an increase of 23.1% when compared to the prior year (restated).
Net income from insurance underwriting activities saw a 25% decline of $125 million from $500.3 million to $375.2 million.
This was mainly driven by a substantial 49.4% ($241.5 million) growth in net income from investing activities.
However, the firm's 2015 income from insurance activities was supported by a one-off reserve release due to a change in Jamaican tax legislations. The company stated that, had this increase been excluded, net income from insurance underwriting activities would have increased.
Net income from investing activities, the main contributor to higher EPS, improved by 49.4% from $489.4 million to $730.9 million, on account of redeployed investments out of cash and into higher-yielding long term securities as stated by GHL.
Notably, out of the $241.5 million increase, $139 million was attributed to favourable fair value movements. Accounting for only a small part of the revenue mix (less than 0.2%), net income from brokerage activities declined 69% from $4.3 million to $1.3 million.
Total income from all activities grew 11.4% from $994 million to $1.1 billion.
Operating expenses increased by $34.6 million (5.4%) while Finance charges declined 6.8%. Overall, profit before taxation increased 29.7% while after tax profits climbed 27.3% where the company's bottom line amounted to $210.4 million.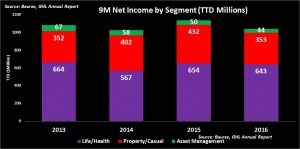 Outlook
While net income from Insurance Underwriting activities remains relatively stable (excluding the one-off gains of 2015), the driver of GHL's results in the near-term will continue to be income from investing activities. The question of imitability of investment returns – with respect to fair value movements – arises, particularly against the backdrop of challenging domestic and international financial markets.
GHL's net income from underwriting expenses could also be impacted by claims related to Hurricane Mathew, which recently affected some parts of the region.
On October 18th 2016, GHL acquired the Courtyard by Marriott property at Invader's Bay. With 6% of investment portfolio now in real estate, this could act as a form of diversified revenue for the group and provide the opportunity to gain more access to US dollars.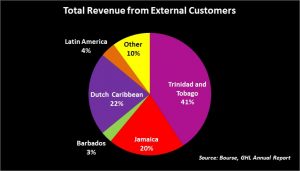 The Bourse View
At a price of $12.51, GHL is trading below the sector average Price/Earnings Multiple of 11.3 (Ex. NEL) times at 7.5 times.
A 5.6% decline in the company's share price for the year thus far, coupled with a 6.7% increase in dividend payments from 2015, took GHL's trailing 12-month dividend yield to 5.0%.
The company's $0.63 dividend distribution represents a pay-out of 37.7%, where on average 40.2% is paid out within the sector (Ex NEL). On the basis of relatively attractive valuation and dividend yield, but tempered by an uncertain investment environment, Bourse maintains a NEUTRAL rating on the GHL.
RFHL: Foreign forays dent earnings
For the financial year ended 30th September 2016, Republic Financials Holdings Limited (RFHL) produced Earnings per Share (EPS) of $5.87, 20.9% less than that generated a year prior of $7.42. This performance was largely attributable to several one-off costs incurred during the period totalling $236.9M.
Excluding these one-off costs, adjusted EPS would be in the vicinity of $6.87.
As cited in the company's Summary Financial Statements, the depreciating currency in Ghana and the waning profitability of HFC Bank (Ghana) Ltd. led RFHL to incur a non-cash expense by reducing related goodwill some 46.4% or $107.3M from the previous $231M.
In addition, RFHL included in their Financials their 57.11% share of the $117.8M generated in losses by the company of $67.8M. A $61.8M non-cash write down to its 19.3% investment in East Caribbean Financial Holdings Ltd (ECFHL) was also incurred by RFHL.
Due to the impact of realized one-off costs on its reported earnings, RFHL is now the most expensive bank listed on the local exchange, trading at a Price/Earnings Multiple of 18.4 times, where the average Banking sector P/E is 14.6 times.
The Holding company has declared a final dividend of $3.10, taking its total 2016 dividend to $4.35 (the same as 2015), which represents a yield of 4%.
Adjusting EPS for one-off non-cash losses (that is, excluding goodwill impairment of HFC Ghana Ltd and write down to ECFHL), RFHL's EPS would have amounted to $6.87, or 8% less than that the prior year EPS of $7.42
With EPS at this level, the company's dividend pay-out ratio amounts to 63.3%, where on average 53.2% in paid out within the banking sector.
At $107.99, RFHL's share price has fallen 3.5% for 2016 thus far. Based on the economic conditions in Trinidad and Ghana, coupled with the available information released on the company's performance, Bourse maintains a NEUTRAL rating on RFHL.
For the detailed report and access to our previous articles, please visit our website at: http://www.remotestores.com
For more information on these and other investment themes, please contact Bourse Securities Limited, at 628-9100 or email us at invest@boursefinancial.com.
"This document has been prepared by Bourse Securities Limited, ("Bourse"), for information purposes only. The production of this publication is not to in any way establish an offer or solicit for the subscription, purchase or sale of any of the securities stated herein to US persons or to contradict any laws of jurisdictions which would interpret our research to be an offer. Any trade in securities recommended herein is done subject to the fact that Bourse, its subsidiaries and/or affiliates have or may have specific or potential conflicts of interest in respect of the security or the issuer of the security, including those arising from (i) trading or dealing in certain securities and acting as an investment advisor; (ii) holding of securities of the issuer as beneficial owner; (iii) having benefitted, benefitting or to benefit from compensation arrangements; (iv) acting as underwriter in any distribution of securities of the issuer in the three years immediately preceding this document; or (v) having direct or indirect financial or other interest in the security or the issuer of the security. Investors are advised accordingly. Neither Bourse nor any of its subsidiaries, affiliates directors, officers, employees, representatives or agents, accepts any liability whatsoever for any direct, indirect or consequential losses arising from the use of this document or its contents or reliance on the information contained herein. Bourse does not guarantee the accuracy or completeness of the information in this document, which may have been obtained from or is based upon trade and statistical services or other third party sources. The information in this document is not intended to predict actual results and no assurances are given with respect thereto."