BOURSE SECURITIES LIMITED
November 21st, 2016
SFC, GKC Improve
This week, we at Bourse review the nine-month performance of two cross listed stocks, namely Sagicor Financial Corporation (SFC) and Grace Kennedy Ltd. (GKC). Both stocks have advanced, with SFC's share price appreciating 21% year to date ($7.50) and GKC rising 103% trading at $2.74. We share our views on their performance for the nine months ended 30th September 2016 as well as a brief outlook.
Sagicor Financial Corporation (SFC)
SFC generated fully diluted Earnings per Share (EPS) of TT$1.07 for the nine months ended 30th September 2016, up 165% from the TT$0.41 generated a year prior. This uptick in earnings was mainly as a consequence of the company's continued operations which ascended 27.3% (TT$0.12) from TT$0.82 to TT$1.04 on account of improved performance of the company's investment portfolio. Diluted EPS from Discontinued Operations reported a 108.2% improvement from the prior period's -TT$0.41 to the current TT$0.03.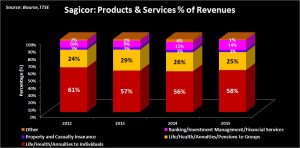 For the 9-month period under review, Sagicor reported a 1% improvement to its main revenue driver, Net Premium Revenue, which amounted to $3.32 billion, versus the prior $3.30 billion. During this period however, total revenues gained momentum due to the 11.9% or TT$256 million enhancement to Investment and Other Income which amounted to $2.4 billion versus the prior $2.2 billion. Total revenue rose 5.3% as a result, with the line item totalling $5.7 billion.
Total Benefits and Expenses remained stable at $4.9 billion, taking Profit before Taxes to $779 million, up 49% from the $522 million of the comparable period. Sagicor's Net Income from Continuing Operations rose in tandem by 46% and amounted to $593 million. The absence of the prior period's $124.7 million loss from discontinued operations contributed to the increase in Net Income of $606 million versus the previous $283 million.
Outlook
At a glance, it would appear that Sagicor's performance is copacetic. Positive drivers for forward looking performance would include the end of significant discontinued operations related to SFC's European foray, as well as reasonably stable premium revenue. The increase in investment income continues a trend which has been intact for the company over the past 5 comparable periods. The materialisation of a hike in US interest Rates in December 2016 and other market events, however, could impact investment related income in the near term.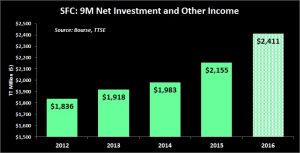 Sagicor's operations are reasonably well-diversified, with 43% of revenues attributable to Jamaica whilst other regions such as Trinidad & Tobago, Barbados, the US and 'Other Caribbean' account for 14% each.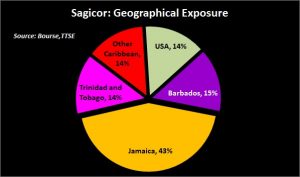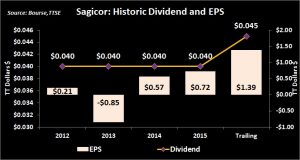 Bourse View
Sagicor is currently priced at $7.50 and is trading at a 5.4 times Price Earnings Multiple. Compared to the Non-Banking Sector Average P/E multiple (excluding NEL) of 10.1 times, SFC is trading at a discount relative to its peers. On November 15th 2016 Sagicor distributed dividends in the amount of US $0.025 compared to the prior US$0.02, paying out approximately 21.9% of earnings to investors. SFC also provides investors with an implicit hedge against a weakening TT dollar by declaring its dividends in USD and paying in TTD.
On the basis of improving performance, attractive dividend yield and low relative valuation, Bourse maintains a BUY rating on SFC.
GraceKennedy Limited
GraceKennedy Limited reported earnings per share of TT$0.18 for the nine-month period ending September 30 2016, representing an increase of 61.6% when compared to the previous year. The firm's revenue improved from TT$ 3,148 million to TT$ 3,512 million; up TT$364 million (11.6%).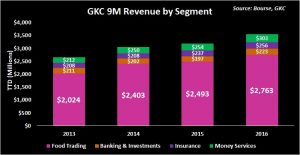 Expenses also increased TT$316 million to $3,359 million. Despite increased expenses, other income improved by TT$ 44 million or 75%, driven by a $22 million one-off gain from the sale of operations. Excluding this one-off gain, the EPS is estimated to be in the region of TT$0.15, which would still represent an increase from the previous period of 36%. GKC experienced an increase to Profit from Operations of TT$92 million (56%) which drove Profit before Taxes up to $263.5 million. Overall, net profit increased from TT$126 million to TT$195 million, representing an improvement of TT$69 million (54.6%).
Outlook:
 GKC's strong performance was driven by growth in its Food Trading sector, which accounted 78% of its revenues for 2016. The sector has continued to perform well for the firm, improving 4% in 2015 and 11% in 2016. Notwithstanding this, all other sectors saw growth in revenues albeit at a marginal rate. GKC's business exposure by geography remains focused on the Jamaican market, which accounts for 50% of its revenue.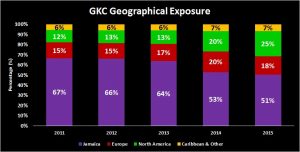 There has been an improving trend, however, of revenues generated in the hard-currency earning regions of North America and Europe. This could be encouraging from an investor perspective given that the IMF projects the Jamaican economy to grow at 2% in 2017. The second biggest market, North America, also enjoyed higher revenues when compared to the prior period. One of the reasons for this would be due to the new product listings in its distribution company.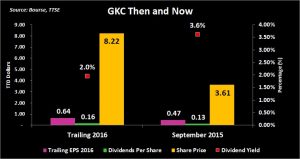 The Bourse View:
At a current price of $2.74, GKC trades at a trailing P/E of 12.8 times which is the highest in the conglomerates sector. On July 11th 2016, the company's shareholders approved a three-for-one stock split effective August 11th 2016. Since then, the stock has appreciated 39% in light of higher liquidity and improved performance from $1.97 to $2.74. The Board of Directors approved an interim dividend of TT$0.02 payable on December 9th. Currently, the stock offers a trailing dividend yield of 1.96%, below the sector average of 2.54%. It should be noted, however, that the firm also has the lowest pay-out ratio of 25.1%, providing the potential to boost dividends per share should its profitability trend persist.
Based on the company's improved revenues and growth prospects, but tempered by a low dividend yield and high relative P/E multiple, Bourse maintains a NEUTRAL rating on GKC.
For the detailed report and access to our previous articles, please visit our website at: http://www.remotestores.com
For more information on these and other investment themes, please contact Bourse Securities Limited, at 628-9100 or email us at invest@boursefinancial.com.
"This document has been prepared by Bourse Securities Limited, ("Bourse"), for information purposes only. The production of this publication is not to in any way establish an offer or solicit for the subscription, purchase or sale of any of the securities stated herein to US persons or to contradict any laws of jurisdictions which would interpret our research to be an offer. Any trade in securities recommended herein is done subject to the fact that Bourse, its subsidiaries and/or affiliates have or may have specific or potential conflicts of interest in respect of the security or the issuer of the security, including those arising from (i) trading or dealing in certain securities and acting as an investment advisor; (ii) holding of securities of the issuer as beneficial owner; (iii) having benefitted, benefitting or to benefit from compensation arrangements; (iv) acting as underwriter in any distribution of securities of the issuer in the three years immediately preceding this document; or (v) having direct or indirect financial or other interest in the security or the issuer of the security. Investors are advised accordingly. Neither Bourse nor any of its subsidiaries, affiliates directors, officers, employees, representatives or agents, accepts any liability whatsoever for any direct, indirect or consequential losses arising from the use of this document or its contents or reliance on the information contained herein. Bourse does not guarantee the accuracy or completeness of the information in this document, which may have been obtained from or is based upon trade and statistical services or other third party sources. The information in this document is not intended to predict actual results and no assurances are given with respect thereto."