BOURSE SECURITIES LIMITED
7th January 2019
Equity Markets Lower in 2018
This week, we at Bourse review the performance of the local and international equity markets in 2018. Similar to previous years, a relatively strong performance by cross-listed stocks supported the overall market locally. Internationally, most major regions posted negative returns as investors faced a range of concerns.
TTCI supported by Cross-Listed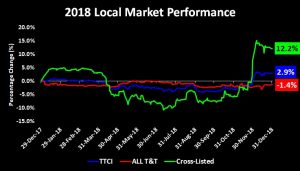 The Trinidad and Tobago Composite Index (TTCI) posted returns of 2.9% in 2018. The performance of the TTCI was driven by the positive returns of the Cross-Listed Index, which improved 12.2% in 2018. The All T&T Index – which accounts for approximately 66% of the TTCI – declined 1.4% in 2018. This has been the trend in recent years, with the TTCI posting a 3-year return of 12.1%. However, the All T&T Index has declined 12.5% over the last 3-years while the Cross-Listed Index jumped by an impressive 145.5%.
Major movers in 2018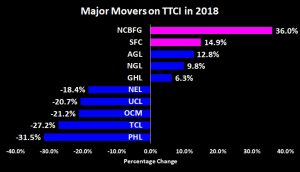 The stocks which posted the best returns in 2018 included National Commercial Bank Financial Group (NCBFG, up 36.0%), Sagicor Financial Corporation (SFC, up 14.9%) and Agostini's Limited (AGL, up 12.8%). On the opposite end, the biggest declines were seen in Prestige Holdings Limited (PHL, down 31.5%), Trinidad Cement Limited (TCL, down 27.2%) and One Caribbean Media Limited (OCM, down 21.2%).
The performance of the major movers are reflective of the overall economic conditions locally and regionally. In Jamaica, lower interest rates stimulated demand for loans and increased consumer spending. This has been beneficial to most Jamaican-based companies, including NCBFG. On November 27th, SFC announced that it had entered into an agreement with Alignvest Acquisition Corporation (AQY) – a Canadian based holding company- whereby AQY will acquire all SFC shares at a price of US$1.75 per share (TT$11.82). This represented a premium of 68.9% when compared to the price of TT$7.00 prior to the announcement. This would have been the major driver of SFC's share price in 2018. The four major stock price declines in 2018 were all manufacturing/consumer based, reflective of the continued restrained economic environment faced locally.
Regionally, the Jamaican equity market rallied 31.7% (in Jamaican Dollar terms), driven by a combination of corporate earnings growth and multiples expansion as economic conditions remain relatively strong. The market in Barbados improved 10.8% (in Barbados Dollar terms).
International markets in the red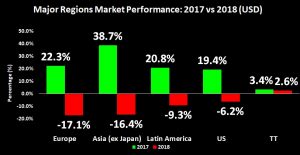 Internationally, equities faced their worst year since the 2008 financial crisis.  Investor concerns ranged from the threat of a U.S. – China trade war, rising U.S. interest rates and a slowdown in global growth. Europe led the declines, posting returns of -17.1% in 2018. This was followed by Asia (excluding Japan) (down 16.4%) and Latin America (down 9.3%). The U.S., after being up as much as 9.6% in September, closed 2018 down 6.2%.
 U.S. near 'bear' territory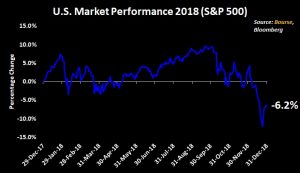 The U.S. equity market proved resilient up until the third quarter in 2018. The market peaked on September 20th, with returns of 9.6%. Subsequently, the market would have declined some 14.5% with concerns of an approaching bear market – a decline of 20% or more from a recent peak. Investor fears of a slowdown in growth and rising interest rates began to sink in. The advent of another two interest rate hikes in 2019 and lowering of GDP growth estimates from 2.5% to 2.3% for 2019 rattled markets.
 Asia lower on growth concerns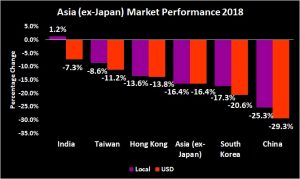 The equity market in Asia (excluding Japan) was under sustained pressure for most of 2018. After a brief rally in January, investors grappled with the rising threat of a U.S.-China trade war. At the recently concluded G20 summit meeting in November, the Presidents of the U.S. and China agreed to halt any new tariffs until March 1st 2019, as both sides seek to construct a trade deal. Another area of concern in this region is slowing economic growth. This was evidenced by economic data out of China – the global growth engine – showing that growth slowed more than expected in December 2018. For these reasons, China was the worst performing market in this region, declining 29.3% in USD terms. This was driven by a 25.3% decline in local currency terms and a depreciation in the Chinese currency of 5.2%. India was the best performing market with local currency returns of 1.2% and USD returns of -7.3%.
 Latin America supported by resilient Brazil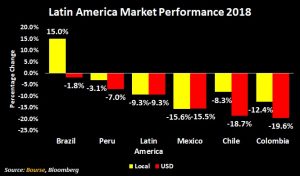 The Latin American market – like other global markets – experienced a brief rally in January. The region was influenced by political events throughout the year, which saw new Presidents being elected in Mexico, Colombia and Brazil. In Brazil, investors welcomed a President seemingly willing to adopt several necessary reforms – including pension reform – in order to control the nation's rising debt levels. The economy has continued to creep out of the recession experienced in 2015 and 2016, with growth for 2018  expected to be 1.4% following a 1.0% improvement in 2017. The Brazilian market rallied 15.0% in local currency terms in 2018, but was relatively flat in USD terms (-1.8%).
A fair degree of uncertainty surrounds the economic intentions of the newly elected Mexican President, given the recent decision to scrap a new US$13 billion airport even as more than a third was already complete. This would have been the main driver of the equity market in 2018, which declined 15.5% in USD terms (-15.6% in local currency).
 Europe impacted by Brexit, ECB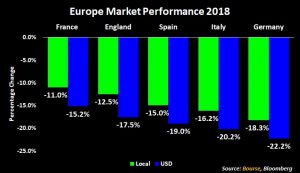 Over in Europe, investors remain gripped with ongoing Brexit tensions, as the United Kingdom struggles to agree on terms with the European Union (EU), with no apparent end in sight. Also of concern was the decision by the European Central Bank (ECB) to end its stimulus program, which was aimed at accommodating growth by keeping interest rates low.
Investor Considerations
After recording double-digit declines across most regions in 2018, investors may now be wondering what 2019 holds. The decline could present a buying opportunity in certain areas, although several factors must be considered. Investors should consult a trusted and experienced advisor, such as Bourse, to find out more information.
In next week's review, we provide an outlook on where the local and international equity markets could be headed in the year ahead.
For more information on these and other investment themes, please contact Bourse Securities Limited, at 226-8773 or email us at invest@boursefinancial.com.
 "This document has been prepared by Bourse Securities Limited, ("Bourse"), for information purposes only. The production of this publication is not to in any way establish an offer or solicit for the subscription, purchase or sale of any of the securities stated herein to US persons or to contradict any laws of jurisdictions which would interpret our research to be an offer. Any trade in securities recommended herein is done subject to the fact that Bourse, its subsidiaries and/or affiliates have or may have specific or potential conflicts of interest in respect of the security or the issuer of the security, including those arising from (i) trading or dealing in certain securities and acting as an investment advisor; (ii) holding of securities of the issuer as beneficial owner; (iii) having benefitted, benefitting or to benefit from compensation arrangements; (iv) acting as underwriter in any distribution of securities of the issuer in the three years immediately preceding this document; or (v) having direct or indirect financial or other interest in the security or the issuer of the security. Investors are advised accordingly. Neither Bourse nor any of its subsidiaries, affiliates directors, officers, employees, representatives or agents, accepts any liability whatsoever for any direct, indirect or consequential losses arising from the use of this document or its contents or reliance on the information contained herein. Bourse does not guarantee the accuracy or completeness of the information in this document, which may have been obtained from or is based upon trade and statistical services or other third party sources. The information in this document is not intended to predict actual results and no assurances are given with respect thereto."