BOURSE SECURITIES LIMITED
7th October, 2019
3Q19 Review: Stock Market Climb Continues
This week, we at Bourse recap the performance of local and international equity markets for the first 9 months of 2019. Despite signs of decelerating global growth, escalating trade tension between the US and China and major market events, international stocks continue to rally. At home, market performance has been significantly supported by cross-listed stocks. Will these trends continue into the final stages of 2019? We consider below.
Regional Equities advance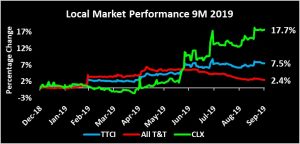 The Trinidad and Tobago Composite Index (TTCI) advanced 7.5% year-to-date (YTD). The All T&T Index would have retreated roughly 3.0% within Q3 2019, registering a, overall YTD return of 2.4%. The Cross Listed Index has advanced a significant 17.7% YTD, driving the returns of the TTCI. All five cross-listed stocks have recorded a significant YTD increase in share price (NCBFG: ↑22.4%, JMMBGL: ↑20.0%, SFC: ↑13.4%, GKC: ↑13.8%, FCI: ↑11.3%).
Major Movers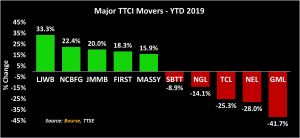 Major advancers during the 9M 2019 period included LJ Williams Limited B (LJWB), which recorded the most significant improvement of 33.3%, followed by National Commercial Bank Financial Group Limited (NCBFG, ↑22.4%), Jamaica Money Market Brokers Group Limited (JMMBGL: ↑20.0%), First Citizens Bank Limited (FIRST: ↑18.3%) and Massy Holdings Limited (MASSY: ↑15.9%). Major decliners included ScotiaBank Trinidad and Tobago Limited (↓8.9%), Trinidad and Tobago NGL Limited (↓14.1%), Trinidad Cement Limited (↓25.3%), National Enterprises Limited (NEL: ↓28.0%) and Guardian Media Limited (GML: ↓41.7%).
Market Matters
Within Q3 2019, JMMBGL received shareholder approval for the issuance of 325M additional shares (or 19.93% of its current outstanding shares) which, pending regulatory approval, will be offered to the public.
Republic Financial Holdings Limited's (RFHL) pursuit of the banking operations of ScotiaBank in nine Caribbean jurisdictions has hit some stumbling blocks. While approval for six jurisdictions has been received, RFHL has been met with resistance from some jurisdictions, particularly Guyana, Antigua and Barbuda and St. Maarten. The acquisition of Sagicor Financial Corporation Limited (SFC) by Canadian-based Alignvest Acquisition II Corporation (AQY) is expected to be completed in Q4 2019, leading to SFC's delisting from the TTSE, BSE and LSE and listing of 'New Sagicor' on the Toronto Stock Exchange.
US markets climb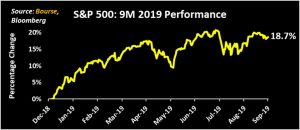 The S&P 500 has been on an upward trend, advancing 18.7% as at the end of Q3 2019. The performance of US markets has been largely linked to improved investor sentiment caused by the shift of the US Federal Reserve to an accommodative, more dovish stance on monetary policy. Ongoing trade and geopolitical tensions between the US and countries such as China and Iran have seemingly not worried investors except for a few fleeting moments in the year.
Investors, however, would be mindful of stock markets' 'mini crash' which took place in the last quarter of 2018, the S&P 500 Index falling 14.0% in the last 3 months of 2018.
Asia stumbles
Asian (excluding Japan) markets ended September up 3.5%, after advancing as much as 15.0% in April. China's market, as measured by the CSI 300 Index, maintains healthy returns of 21.7% despite ongoing trade rumblings between itself and the US. Fiscal stimulus in the form of corporate tax rate cuts and infrastructural investment by the Chinese government in areas such as transportation and energy would have mitigated declines in trade activity. China's monetary stimulus took the form of a series of reductions of banks' reserve requirement ratios, freeing up approximately US$126B which can be used to increase lending to small and medium enterprises. Elsewhere, ongoing trade tensions between South Korea and Japan, disruptive protests and political unrest in Hong Kong, and slower private consumption and investment activity in India would have erased much of the gains accrued earlier in the year for the respective markets. South Korea's Kospi, Hong Kong's Hang Seng and India's BSE 100 recorded returns of -6.0%, 2.2% and 2.7% in USD terms respectively.
Brazil pushes forward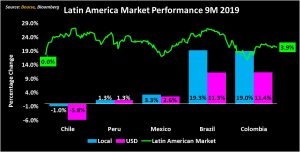 Latin American markets also receded after a more positive start to 2019, up 3.9% at the end of September. In contrast to the overall region, Brazil's equity markets have fared well, advancing 11.4% YTD in USD terms. The performance was attributable to progress being made toward the approval of a pension reform proposal, positive trade deal developments mainly with the European Union, and interest rate cuts to boost stagnating growth and slowing inflation.
Despite resolving migration issues following the US tariff threats earlier in the year, the Mexican economy continues to struggle. Most recent metrics released in August showed the economy contracted 0.8% in the second quarter of the year mainly due to decreased industrial activity. As such the return on Mexican equities remained relatively muted with a YTD return of just 2.6% in USD terms.
Europe higher despite uncertainty
European equities advanced with the EURO STOXX 50 Index up 13.2% to close September. German, French and Italian equity markets have posted strong advances, up 13.0%, 14.3% and 16.0% respectively in USD terms. The European Central bank held its main refinancing rate steady at 0.00%. However, the deposit rate was lowered from -0.4% to -0.5% in September in attempt to combat slowing inflation and boost economic growth in light of trade tensions and BREXIT uncertainty. British parliament passed a law essentially forcing Prime Minister Boris Johnson to delay BREXIT if a deal has not been reached. The Prime Minister has said he will obey the law but also affirmed that Britain will leave the EU on October 31st.
Investor Considerations
With markets advancing despite mounting uncertainty, investors should consider strategies to minimize risk.
Locally:
Look for stocks which have strong fundamentals, attractive valuations and dividend yields.
Consider stocks which offer dividends in a hard currency or with a higher exposure to stronger, more resilient advanced economies. This can serve to mitigate any significant TTD depreciation or local economic headwinds.
Internationally:
Diversify your portfolio, balancing exposure to any one particular region or asset class.
Consider stocks with strong fundamentals which are typically more stable relative to the market. 'Defensive stocks' as they are sometimes called include stocks in sectors such as consumer staples, health-care, utilities or telecommunications.
Move to cash/short-term investments and wait for buying opportunities should a market correction occur.
As always, consult with a trusted and experienced investment services provider, such as Bourse, to help you make more informed financial decisions.
For more information on these and other investment themes, please contact Bourse Securities Limited, at 226-8773 or email us at invest@boursefinancial.com.
"This document has been prepared by Bourse Securities Limited, ("Bourse"), for information purposes only. The production of this publication is not to in any way establish an offer or solicit for the subscription, purchase or sale of any of the securities stated herein to US persons or to contradict any laws of jurisdictions which would interpret our research to be an offer. Any trade in securities recommended herein is done subject to the fact that Bourse, its subsidiaries and/or affiliates have or may have specific or potential conflicts of interest in respect of the security or the issuer of the security, including those arising from (i) trading or dealing in certain securities and acting as an investment advisor; (ii) holding of securities of the issuer as beneficial owner; (iii) having benefitted, benefitting or to benefit from compensation arrangements; (iv) acting as underwriter in any distribution of securities of the issuer in the three years immediately preceding this document; or (v) having direct or indirect financial or other interest in the security or the issuer of the security. Investors are advised accordingly. Neither Bourse nor any of its subsidiaries, affiliates directors, officers, employees, representatives or agents, accepts any liability whatsoever for any direct, indirect or consequential losses arising from the use of this document or its contents or reliance on the information contained herein. Bourse does not guarantee the accuracy or completeness of the information in this document, which may have been obtained from or is based upon trade and statistical services or other third party sources. The information in this document is not intended to predict actual results and no assurances are given with respect thereto."