Manufacturing Earnings Mixed: WCO Declines, TCL Improves
HIGHLIGHTS
WCO 9M 2020
·       Earnings: EPS Declined 4.8% from $1.25 to $1.19.
·       Performance Drivers:
o   Lower Revenue Growth.
·       Outlook:
o   Muted Revenue growth.
o   Likely headwinds due to substitute products and low price offerings of illicit trading activities.
o   Dampened demand due to uncertainty surrounding COVID-19 and contractions in operating jurisdictions.
·       Rating: Maintained at NEUTRAL.
TCL 9M 2020
·       Earnings:  EPS increased by 74.2% from a LPS of $0.03 to an EPS of $0.05.
·       Performance Drivers:
o   Lower Expenses
·       Outlook:
o   Potentially Stabilizing Margins
o   Possible headwinds to revenue amid adverse economic conditions
Rating: Maintained at NEUTRAL.
This week, we at Bourse review the financial performance of West Indian Tobacco Company Limited (WCO) and Trinidad Cement Limited (TCL) for the nine-month period ended 30th September, 2020. Although both companies reported declines in revenue, WCO reported a decline in profitability while TCL reported an improvement to its earnings.
The West Indian Tobacco Company Limited (WCO)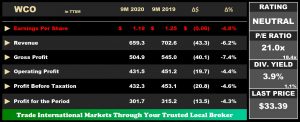 WCO reported an Earnings Per Share (EPS) of $1.19 at the end of 9M 2020, 4.8% lower than $1.25 reported in the previous comparable period. Revenue of $659.3M fell 6.2% from $702.6M reported in 9M 2019, followed by an 2.0% decline in Cost of Goods Sold. Gross Profit amounted to $504.9M, down 7.4% from $545.0M. Distribution costs, Administrative Expenses and Other Operating Expenses declined 34.3%, 11.4% and 16.8% respectively. Operating Profit fell 4.4% moving to $431.5M from $451.2M. Similarly, Profit Before Taxation (PBT) recorded a 4.6% decrease from $453.1M, to stand at $432.3M. WCO incurred a Taxation charge of $130.7M, 5.3% less than $137.9M recorded in the prior year. Profit for the Period amounted to $301.7M, 4.3% lower year-on-year (YoY) from $315.2M in the comparable period.
Revenue Lower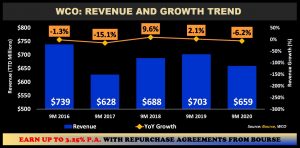 WCO recorded a 6.2% YoY decline in Revenue after two consecutive periods of growth from 9M 2017 to 9M 2019, with a major driver to lower revenues being the closure of key demand channels. WCO's manufacturing operations in T&T would have also been halted for just over a month, to facilitate COVID-19 restriction measures, adversely impacting inventory levels as well as the ability to supply products to British American Tobacco and Contract Markets.
In addition to the aforementioned strain on supply, the prolonged closure of entertainment channels has likely restricted demand for WCO's offerings. These factors combined with the availability of substitutes like 'vaping' products and lower priced illicit tobacco products continue to pose challenges to WCO's top line growth.
Margins Stable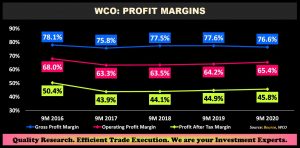 WCO's operating efficiency has remained robust. Gross Margin averaged 77.0% from 9M 2016 to 9M 2019, with 9M 2020 relatively stable at 76.6%. Operating Profit Margin has consistently trended upwards from 9M 2017 to 9M 2020, improving from 63.3% in 9M 2019 to 65.4% in 9M 2020. This comes as Operating Expenses declined 15.5% YoY, impacted by lower distribution cost as a result of lock down measures. Similarly, the Profit After Tax Margin increased for the last four periods, moving to 45.8% in 9M 2020 from a prior 44.9%.
Economic Outlook
From the Budget Statement on October 5th 2020, Excise Duties on locally manufactured tobacco products and Customs Duties on Common Market Origin and Extra-Regional Imported tobacco products will be increased by 20%. Increased duties will ultimately have the effect of increasing costs to the consumer, potentially creating a disincentive for current levels of consumption. Given the relatively inelastic demand for tobacco products, WCO is likely to maintain fairly significant pricing power, improving its ability to maintain margins and pass on the increase in cost to consumers.
The Bourse View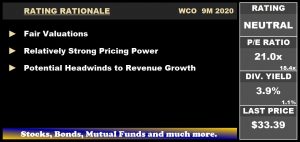 At a current price of $33.39, WCO trades at a trailing Price to Earnings of 21.0 times, lower than the Manufacturing 1 sector's average of 18.4 times. The stock also offers investors a trailing Dividend Yield of 3.9%, above the sector's average of 1.1% and WCO has approved the payment of an interim dividend of $0.39, payable on November 23rd 2020. WCO may face some challenges in the near term whilst adjusting to new protocols. On the basis of fair valuations and relatively strong pricing power, but tempered by potential headwinds to top line growth, Bourse maintains a NEUTRAL rating on WCO.
Trinidad Cement Limited (TCL)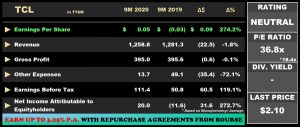 TCL reported an EPS of $0.05 at the nine months ended September 30th 2020, up 274.2% from a Loss per Share (LPS) of $0.03 reported in 9M 2019. Revenue fell 1.8% to stand at $1.26B in 9M 2020, from a previous $1.28B. Cost of Sales was $863.8M, 2.5% lower than a previous $885.7M. Gross Profit within in the period fell 0.1%, amounting to $395.0M. Positively influenced by a decline in Operating Expenses (down $26.4M, 13.1% YoY) Operating Earnings Before Other Expenses (Net) rose 13.8% to $219.7M. Other Expenses (Net) decreased 72.1% from $49.1M to $13.7M in 9M 2020, with restructuring costs no longer being a significant cost item in the current period. Consequently, Operating Earnings increased 43.1% to $206.0M relative to $143.9M in the previous period.  Financial Expense was $94.7M in 9M 2020, 1.6% lower YoY. Bolstered by improvements in cost management, Earnings/(Loss) Before Taxation improved 119.1% over the prior year period, amounting to $111.4M. Net Income for the period closed at $48.9M, $38.8M (385.5%) higher than the $10.1M recorded in prior comparable period. Net Income attributable to shareholders increased to $20.0M from a Loss of $11.6M.
Revenue Declines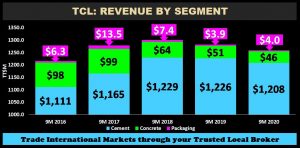 TCL's Revenue fell for the second consecutive comparable period. In 9M 2020 the Group reported a 1.8% decline in its Revenue, attributable to reduced business activity from the COVID-19 restrictions. Cement TCL's largest segment, (9M 2020: 92% of Total Revenue) fell 1.5% from a prior $1.23M to $1.21M. Concrete, accounting for 3.7% of Total Revenue, declined 9.3% YoY while Revenue from Packaging improved marginally by 1.9%.
Margins Improve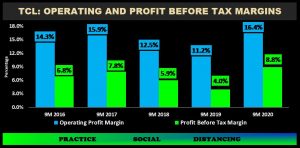 Although recording a marginal decline in Revenue within the period, TCL's profitability improved on account of better operating efficiency derived mainly from cost containment initiatives. In 9M 2020, the Group produced an Operating Profit Margin of 16.4%, greater than 11.2% in the prior comparable period. Profit Before Tax Margin advanced along a similar trajectory moving from 4.0% in the prior period to 8.8% in the current.
With the Group continuing its debt restructuring and outlining the positive impact of cost reduction strategies, there is the increasing prospect of stable/improving margins in subsequent periods.
The Bourse View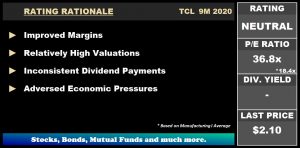 At the current price of $2.10, TCL's share price has increased 5.0% Year to Date (YTD). Due reduced profitability, TCL has only paid dividends twice within the last ten years, with the last time being August 2017.  Accounting for 53% and 21% of TCL's Total Revenue in FY 2019 respectively, Jamaica and Trinidad and Tobago are the Group's two largest operating jurisdictions. With both countries facing economic headwinds, it is likely that TCL will face some pressures to top line growth. However, improving operational efficiency (despite lower revenues) could positively alter performance of TCL going forward. On the basis of improving margins and balance sheet position, but tempered relatively high valuations, inconsistent dividend payments and adverse economic conditions Bourse upgrades TCL to a NEUTRAL rating.
"This document has been prepared by Bourse Securities Limited, ("Bourse"), for information purposes only. The production of this publication is not to in any way establish an offer or solicit for the subscription, purchase or sale of any of the securities stated herein to US persons or to contradict any laws of jurisdictions which would interpret our research to be an offer. Any trade in securities recommended herein is done subject to the fact that Bourse, its subsidiaries and/or affiliates have or may have specific or potential conflicts of interest in respect of the security or the issuer of the security, including those arising from (i) trading or dealing in certain securities and acting as an investment advisor; (ii) holding of securities of the issuer as beneficial owner; (iii) having benefitted, benefitting or to benefit from compensation arrangements; (iv) acting as underwriter in any distribution of securities of the issuer in the three years immediately preceding this document; or (v) having direct or indirect financial or other interest in the security or the issuer of the security. Investors are advised accordingly. Neither Bourse nor any of its subsidiaries, affiliates directors, officers, employees, representatives or agents, accepts any liability whatsoever for any direct, indirect or consequential losses arising from the use of this document or its contents or reliance on the information contained herein. Bourse does not guarantee the accuracy or completeness of the information in this document, which may have been obtained from or is based upon trade and statistical services or other third party sources. The information in this document is not intended to predict actual results and no assurances are given with respect thereto."