BOURSE SECURITIES LIMITED
15th July, 2019
The Importance of Investing
This week, we at Bourse highlight the importance of investing in securing your financial future. Our recent articles would have reviewed the performance of financial markets – stocks and bonds – for the year thus far. How would your portfolio have performed? We consider three investor profiles – the conservative, moderate and aggressive investor – and offer some guidance for persons seeking to position their portfolios for the remainder of 2019. Investors may fall within one of these three categories depending on their investment objective, risk tolerance, time horizon and liquidity needs.
Why Should I Invest?
You may be asking yourself, "Why invest? I'll save for the future later". Investing (i) helps you to develop financial discipline, (ii) allows you to store wealth for future needs and (iii) preserves the value of your wealth by combating the effects of inflation. The average level of inflation over the past five years in Trinidad and Tobago was 3.3% per year, according to Central Bank data. This means that, on average, purchasing the same set of goods and services increased by 3.3% every year. In other words, even if you were passively saving your cash in a bank account, you would be losing buying power every year. If you haven't already, the real question should be 'why haven't I started investing?'
Determining your Risk Profile
When it comes to investing, everyone's needs are different. Broadly speaking, however, investors can be classed into one of three profiles – the Conservative, Moderate and Aggressive investor.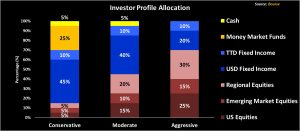 The Conservative Investor
The Conservative investor prioritizes principal security and current income generation over capital appreciation. A high level of liquidity is usually required and a relatively short investment time horizon. This type of investor tends to focus on low risk, income-oriented securities which offer a higher level of stability, adopting a 'hold to maturity' investment approach.
Such an investor might consider a majority allocation of 55% in fixed income securities in order to achieve the goal of periodic income generation. This investor also requires capital preservation and may allocate 25% of the portfolio to Money Market Funds and 5% in Cash. Due to the investor's lower risk tolerance, there may be a relatively lower allocation of 5% each in US, Emerging Market and Regional equities.
The Moderate Investor
The Moderate Investor seeks capital growth as well as income generation. This investor is usually more comfortable with higher risk securities, with varying liquidity needs. As a result, the Moderate investor may be willing to expand into longer term instruments or adopt a 'buy and hold' strategy with frequent rebalancing in order to obtain higher returns.
For this investor, USD and TTD fixed income instruments might account for roughly 50% of the portfolio to provide sufficient income generation. To accommodate the investor's higher risk tolerance and desire for capital appreciation, the allocation in equity investments can be increased to 20% regional equities, 15% Emerging Market equities and 10% US equities.
The Aggressive Investor
The Aggressive Investor, relative to the two prior categories, is willing to undertake significantly more risk, able to withstand short term periods of negative returns or volatility. The main goal is capital appreciation and dividend income. The investment horizon may vary for this type of investor depending on the type of securities chosen. Generally, due to the higher risk security allocation of this portfolio, there is much more potential for capital growth.
Equity investments might comprise 70% of the Aggressive investor's portfolio, with the remaining 30% of the aggressive portfolio can be allocated to fixed income securities as a defensive strategy.
Portfolio Performance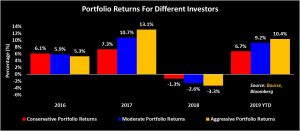 The Conservative investor's portfolio provided the lowest 2019 year-to-date (YTD) return of 6.7%, surpassing its full-year performance in 2016 (6.1%) and 2018 (-1.3%). The Moderate and Aggressive portfolios would have achieved YTD returns of 9.2% and 10.4% respectively. Due to the Aggressive portfolio's large equity holdings, it would have achieved the most attractive returns YTD. Globally, equity markets have been rallying in 2019 thus far, with investors pricing in interest rate cuts by the US Federal Reserve in the near future. Also fuelling the rally is optimism for trade deals between the US and China – the world's two largest economies. Investors may recall the downturn of markets within the latter half of 2018, which would have resulted in negative annual returns for the three model portfolios. The Aggressive portfolio, would have fared the worst in this case, declining 3.3% as opposed to a more conservative approach which only fell 1.3%.
Investor Considerations
It is important to keep in mind several enduring themes of investment, regardless of how good or bad financial markets are doing at any point in time. While short-term adjustments to your portfolio can be useful, you should find and a strategy and portfolio allocation that best suits your needs. Here are a few important themes to keep in mind:
Diversify across currencies, asset classes and geographical regions. Investors – particularly those with access to US dollars – have a wide menu of investment instruments at their fingertips through international trading platforms such as the BourseTrader, which allow for diversification across various asset classes, geographical regions, sectors, currencies, etc. Diversification ensures that your exposure to any one particular area is minimized, spreading the risk of your portfolio. For the more passive, risk averse investor, there are various options which offer 'built-in' diversification such as mutual funds or exchange traded funds (ETFs). These allow individuals to effectively invest in up to hundreds of stocks, bonds, ETFs and more with one simple purchase.
Lengthen your investment horizon. A longer investment horizon allows for a potentially greater compounding effect on your growth in wealth. Lengthening your investment horizon requires patience and a certain measure of calmness when markets are being unkind. One type of investment which can help you achieve your long term investment goals in a hassle-free manner is a retirement fund. These funds offer the potential for higher returns, are professionally managed by highly skilled professionals, and contributions made to the fund (up to $50,000 annually) are tax deductible. The Individual Retirement Fund (IRF), managed by Bourse, has offered its investors an attractive year-to-date return of 5.4% and a compounded annual return of 4.8% over the last five years.
Target positive inflation-adjusted returns – Ensure that on average, the returns generated by your portfolio can outpace inflation, preserving or increasing the purchasing power of your wealth.
As always, before making any major investment decisions, it is important to consult with a trusted and experienced financial advisor, such as Bourse, and to conduct all the research necessary to make the most informed decision.
For more information on these and other investment themes, please contact Bourse Securities Limited, at 226-8773 or email us at invest@boursefinancial.com.
 "This document has been prepared by Bourse Securities Limited, ("Bourse"), for information purposes only. The production of this publication is not to in any way establish an offer or solicit for the subscription, purchase or sale of any of the securities stated herein to US persons or to contradict any laws of jurisdictions which would interpret our research to be an offer. Any trade in securities recommended herein is done subject to the fact that Bourse, its subsidiaries and/or affiliates have or may have specific or potential conflicts of interest in respect of the security or the issuer of the security, including those arising from (i) trading or dealing in certain securities and acting as an investment advisor; (ii) holding of securities of the issuer as beneficial owner; (iii) having benefitted, benefitting or to benefit from compensation arrangements; (iv) acting as underwriter in any distribution of securities of the issuer in the three years immediately preceding this document; or (v) having direct or indirect financial or other interest in the security or the issuer of the security. Investors are advised accordingly. Neither Bourse nor any of its subsidiaries, affiliates directors, officers, employees, representatives or agents, accepts any liability whatsoever for any direct, indirect or consequential losses arising from the use of this document or its contents or reliance on the information contained herein. Bourse does not guarantee the accuracy or completeness of the information in this document, which may have been obtained from or is based upon trade and statistical services or other third party sources. The information in this document is not intended to predict actual results and no assurances are given with respect thereto."