HIGHLIGHTS
PHL HY 2021
Earnings:  Earnings Per Share declined 117.8% from a Loss Per Share of $0.13 to $0.28
Performance Drivers:

Restaurant Closure
Lower Revenue
Negative Net Adjustment (IFRS 16)

Outlook:

Near-term reopening?
Pent up demand
Economic Challenges

Rating: Maintained at NEUTRAL
Market Update
·         FIRST get Restructure Greenlight
·         Borders to Reopen, CAL takes flight
·         Diesel Subsidy to stay (for now) 
PHL Navigates Industry Closure
This week, we at Bourse review the financial performance of Prestige Holdings Limited (PHL) for the six-month ended May 31st 2021. Lockdown measures have significantly impaired PHL's (and other restauranteurs') ability to operate. Could PHL's performance recover with economic reopening? What might investors expect in the months ahead? We discuss below.
Prestige Holdings Limited (PHL)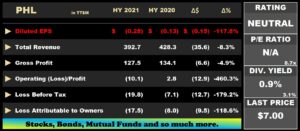 Prestige Holdings Limited (PHL) reported a Diluted Loss per Share of $0.28 for the six-month period ended May 31st 2021 (HY 2021), $0.15 lower than a Loss Per Share of $0.13 recorded in the previous period. Revenue fell 8.3%, from a previous $428.3M to $392.7M. Cost of Sales contracted by 9.8% from $294.2M to $265.2M. PHL's Gross Profit declined $6.6M to $127.5M. The Group recorded an Operating Loss of $10.1M relative to an Operating Profit of $2.8M in HY 2020. Finance Costs declined 1.8% to $9.7M. The Group recorded a Loss Before Tax (LBT) of $19.8M, 179.2% lower than a LBT of $7.1M in the prior period. Overall, PHL reported a Loss Attributable to Owners of the Parent Company of $17.5M, $9.5M lower in HY 2021.
Revenue Lower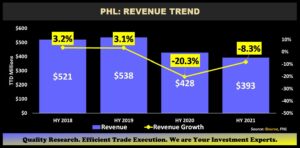 PHL's revenue generation continues to be affected by enforced health regulations, attributable to the ongoing COVID-19 pandemic. Revenue contracted 8.3% in HY2021, stemming from the reintroduction of lockdown measures in Trinidad and Tobago and the absence of Carnival in 2021, usually a strong seasonal sales period for PHL. During HY2021, all in-house dining was closed for 15 days, after which restaurants were completely closed for the remainder of the period (31 days and continuing into Q3 2021) relative to 34 days of closure in HY 2020.
Margins Mixed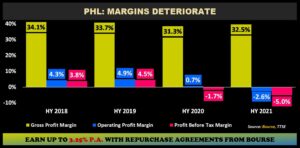 Despite the significant operating environment volatility, PHL managed to maintain a Gross Profit margin to 32.5% (HY 2020: 31.3%), demonstrating its ability to manage certain costs under trying circumstances. Following the recent headwinds to the group's revenue generating abilities, PHL has been engaging in cost containment initiatives to improve its operational efficiency. PHL's Operating Profit Margin declined from 0.7% to -2.6% as the Group accounted for the adjustment of $3.3M in its Operating Expenses, based on the implementation of IFRS 16. Profit Before Tax (PBT) Margin further deteriorated from -1.7% to -5.0% in HY 2021. The deterioration of Operating and PBT Margins has largely been attributable to unavoidable fixed costs, which have thus far been covered using the Group's financial resources and still-strong financial position.
Outlook
Despite its initiatives to facilitate social distancing through online ordering, drive thru and curb-side pickups, the Group has not been able to benefit from these initiatives as a result of stricter lockdown measures. The measures which have filtered into Q3 2021 (unlike Q3 2020), could put further pressures on PHL's operations and profitability revenue stream in the near-term.
There is cautious optimism for the Restaurant industry, however, given recent COVID-19 health developments in Trinidad & Tobago. After peaking at a 7-day moving average of just over 540 daily cases in late May 2021 (source: www.worldometers.info), data as at July 8th suggests that this figure has declined to around the 170 daily cases level. Ministry of Health T&T data as at July 8th 2021 also stated that over 137,000 persons (or just under 10% of T&T's population) have been fully vaccinated. While still some distance from the suggested herd-immunity level of 60-70% population vaccination that could support a full economic reopening, rapid continued vaccination progress should accelerate the reopening of select industries.
Already, the Construction industry has been given the greenlight to reopen following the subsiding of daily cases and increased vaccinations. With the restaurant industry being a major employer in T&T, reopening (in an appropriate form given the current conditions) could prove an important next step to restoring economic activity.
The Bourse View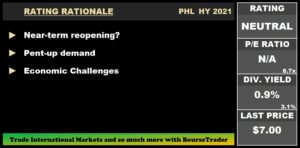 At a current price of $7.00, PHL trades at a market to book ratio of 1.63 times compared to the Trading sector average of 1.10 times. The stock currently generates a dividend yield of 0.9% relative to the sector average of 3.1%. While ongoing economic headwinds could potentially affect PHL's offerings, pent-up demand is likely to drive strong consumer interest and a rebound in sales once restaurants, like PHL, are given the 'OK' to resume operations.  On the basis of an increasing likelihood of industry-specific reopening, but tempered by uncertain timelines and continuing economic challenges, Bourse maintains a Neutral Rating on PHL.
Notable Market Events
FIRST receives approval to Restructure. During its Annual Meeting of Shareholders on June 30th 2021, shareholders of First Citizens Bank Limited (FIRST) voted on and approved of the Group's corporate restructure set to take effect in October 2021. Under this restructure, a new holding company, First Caribbean Group Financial Holdings Limited (FCG), for the group will be established and shareholders of FIRST will become the shareholders of the New Group Holding Company in the same percentages ad they held in the Bank.
Borders to Reopen, CAL takes Flight. Trinidad's air borders are set to 'reopen' on July 17th 2021, after being largely closed for roughly 16 months. The arrival of vaccinated nationals and the option for citizens to travel to get vaccinated could speed up T&T's vaccination process. However, relaxed border control, the possibility that vaccinated individuals can still transmit the virus and the option of self-quarantine leaves more room for the transmission of the new variants entering Trinidad and Tobago, if rules and guidelines are not properly adhered to.
Caribbean Airlines Limited (CAL) is also expected to expand operations from July 17th 2021. With the cautious reopening of borders, CAL is expected to operate with reduced frequencies and routes under pandemic conditions leading to expected lower passenger demand in the near-term.
Diesel Subsidies to stay, for now. Considering the economic ramifications influenced by the pandemic, the Minister of Finance has indicated that the Government will continue to subsidise the price of diesel fuel until the economic situation allows otherwise. This is likely to temper inflationary expectations (at least in the short-term) in an economy already facing price increase pressures stemming from ongoing foreign exchange shortages, global increases in freight prices and potential utility rate increases, among other factors.
DICLAIMER: "This document has been prepared by Bourse Securities Limited, ("Bourse"), for information purposes only. The production of this publication is not to in any way establish an offer or solicit for the subscription, purchase or sale of any of the securities stated herein to US persons or to contradict any laws of jurisdictions which would interpret our research to be an offer. Any trade in securities recommende herein is done subject to the fact that Bourse, its subsidiaries and/or affiliates have or may have specific or potential conflicts of interest in respect of the security or the issuer of the security, including those arising from (i) trading or dealing in certain securities and acting as an investment advisor; (ii) holding of securities of the issuer as beneficial owner; (iii) having benefitted, benefitting or to benefit from compensation arrangements; (iv) acting as underwriter in any distribution of securities of the issuer in the three years immediately preceding this document; or (v) having direct or indirect financial or other interest in the security or the issuer of the security. Investors are advised accordingly. Neither Bourse nor any of its subsidiaries, affiliates directors, officers, employees, representatives or agents, accepts any liability whatsoever for any direct, indirect or consequential losses arising from the use of this document or its contents or reliance on the information contained herein. Bourse does not guarantee the accuracy or completeness of the information in this document, which may have been obtained from or is based upon trade and statistical services or other third party sources. The information in this document is not intended to predict actual results and no assurances are given with respect thereto."