BOURSE SECURITIES LIMITED
8th April, 2019
NGL Earnings up, UCL declines
This week, we at Bourse review the performance of Trinidad and Tobago NGL Limited (NGL) and Unilever Caribbean Limited (UCL) for their financial years ended 2018. Improved product prices in 2018 would have increased NGL's share of profit from PPGPL, while UCL continued to confront adverse regional market conditions. We take a closer look at their performance and give a brief outlook.
Trinidad and Tobago NGL Limited (NGL)

Trinidad and Tobago NGL Limited (NGL) reported Earnings per Share (EPS) of $1.63 for the financial year (FY) ended December 31st 2018, 7.9% higher than EPS of $1.51 reported in FY 2017.
Share of Profi­ts from Investment in Joint Venture (PPGPL) improved 12.0% from $216.6M in FY 2017 to $242.6M in FY 2018. NGL reported a Foreign Exchange Gain of $1.6M in 2018 – a gain that was not recorded in 2017. Impairment Reversal declined YoY by 45.8%, moving from $19.5M in FY 2017 to $10.6M in FY 2018. Income Tax Expense declined from $1.7M to $0.61M, a reduction of 63.3%. Overall, Profit for the Period amounted to $253.0M, 8.2% higher than the $233.7M reported in FY 2017.
Outlook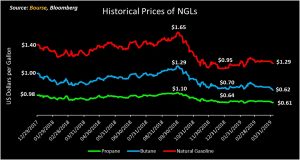 NGL's performance is solely derived from its 39% holdings in Phoenix Park Gas Processors Limited (PPGPL), and continues to reflect the price fluctuations and production levels of Natural Gas Liquids (NGLs), namely Propane, Butane and Natural Gasoline. A weighted basket of these NGLs recorded a 12.4% price increase YoY, from an average of US $0.95 in 2017 to US $1.07 per gallon in 2018.
Natural Gasoline, with a current price of US $1.29 per gallon has appreciated 35.8% YTD. Propane and Butane are currently priced at US $0.61 and US $0.62 per gallon respectively (Propane: down 3.5%, Butane:  down 11.4%).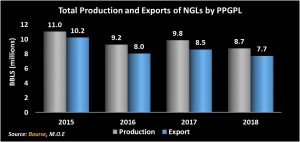 PPGPL recorded an 11.3% decline in total production of NGLs, from 9.8M BBLS in 2017 to 8.7M BBLS in 2018, attributable to reduced NGL content of the gas stream and lower supply. According to the Ministry of Energy and Energy Industries, Natural Gas Production averaged 3.6Bcf per day in 2018. However, it is forecasted to increase to 3.94Bcf per day within the year and to 4.14Bcf per day by 2021. Various developments in the oil and gas industry are expected to support this projected expansion in gas production, including NGC's Gas Agreement with Venezuela to secure gas supplies, the coming on stream of the BPTT Angelin in Q1 2019 and operationalization of numerous projects by upstream companies within the short to medium term.
Total Exports fell 10.2% YoY in 2018 and have shown a downward trend over the past three years. However, following the shutdown of the Petrotrin refinery in November 2018, PPGPL, bolstered by its Product Trading business, would have improved its domestic market share as an LPG supplier. Furthermore, oil prices (which are positively correlated with NGL prices) have recorded a 36.8% increase YTD in 2019 which, added to PPGPL's continued cost containment initiatives and technological advancements, should continue to weigh in on profitability.
The Bourse View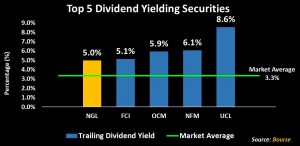 At a current price of $30.16, NGL trades at a trailing P/E of 18.5 times and remains one of the top five dividend yielding securities listed on the Trinidad and Tobago Stock Exchange with a trailing dividend yield of 5.0%, above the market's average of 3.3%. NGL declared a final dividend of $1.00 to be paid on 18th April, 2019. This dividend payment represents only 41.6% of the reported a cash position of $278.9M in December 2018 ($2.40 per share). As a holding company with relatively limited cash expenses, it would appear that NGL continues to preserve its capacity to maintain fairly stable dividend payments, even in a highly-cyclical energy industry. On the basis of (i) a high trailing dividend yield, (ii) a relatively healthy cash position (estimated $2.40 per share), (iii) a year-to-date upturn in global pricing and potential of higher share of profits due to increased local gas production and (iv) an implicit hedge against the TTD through its USD earnings, Bourse maintains a BUY rating on NGL.
Unilever Caribbean Limited (UCL)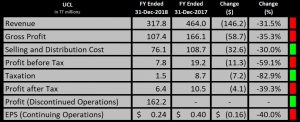 Unilever Caribbean Limited (UCL) reported Total Earnings per Share (EPS) of $6.42 for the financial year ended December 31st 2018. This figure was inflated by the divestment of Spreads business in July 2018, which injected $162.2M (net of Tax) into Profit for the Period. EPS from Continuing Operations was reported as $0.24, a 40.0% decline from the $0.40 reported in FY 2017.
Revenue for the year amounted to $317.8M, down 31.5% from the $464.0M generated in 2017, with much of the decline attributed to the sale of UCL's Spreads business line. Costs and Expenses also fell because of the Spreads disposal. Despite a reduction in Cost of Sales by $87.5M or 29.4%, from $297.9M to $210.4M, Gross Profit decreased to $107.4M, down 35.3% from the previous year. Gross Profit Margin also fell from 35.8% in 2017 to 33.8% in 2018. UCL's total expenses declined 29.8% YoY, with Selling and Distribution Costs showing the most significant drop of $32.6M or 30.0%, from $108.7M to $76.1M. Operating Profit fell from $19.5M in 2017 to $4.5M in 2018 or 76.8%. With an added $3.3M from Other Income and Net Finance Income, Profit Before Tax amounted to $7.8M for FY 2018, 59.1% decline from the previous year's results. Taxation declined to $1.5M from $8.7M. Overall, Profit after Tax from continuing operations stood at $6.4M, 39.3% lower YoY.
Outlook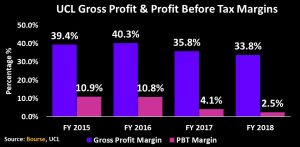 While reported Revenue was reduced in FY 2018 mainly due to the exclusion of earnings from the Spreads business, UCL's performance also continued to be affected by adverse economic and market conditions in its main operating jurisdictions, Trinidad and Tobago and the Southern Caribbean. This is evident by the trend of margin compression over the past three financial years. Gross Profit Margin declined from 35.8% in 2017 to 33.8% in 2018. Despite a reduction in expenses YoY, Profit Before Tax (PBT) Margin fell from 4.1% to 2.5%. Going forward, UCL's portfolio transformation initiatives – to include higher margin businesses – in tandem with further cost containment measures will be crucial to profitability.
The Bourse View
At a current price of $26.30, UCL trades at a reported trailing P/E of 4.1 times. Adjusting for the significant one-off gain from the sale of its spread business, trailing P/E would have been 109.6 times, well above than the Manufacturing I sector average of 18.2 times (excluding GML). UCL would have declared a special final dividend of $2.17 per share which, together with the $0.08 paid previously, represents a trailing dividend yield of 8.7% – above the sector average of 5.4% (excluding GML). On the basis of relatively high valuations (on an adjusted basis) and continued margin compression against the backdrop of a challenging regional economic climate, Bourse maintains a SELL rating on UCL.
For more information on these and other investment themes, please contact Bourse Securities Limited, at 226-8773 or email us at invest@boursefinancial.com.
"This document has been prepared by Bourse Securities Limited, ("Bourse"), for information purposes only. The production of this publication is not to in any way establish an offer or solicit for the subscription, purchase or sale of any of the securities stated herein to US persons or to contradict any laws of jurisdictions which would interpret our research to be an offer. Any trade in securities recommended herein is done subject to the fact that Bourse, its subsidiaries and/or affiliates have or may have specific or potential conflicts of interest in respect of the security or the issuer of the security, including those arising from (i) trading or dealing in certain securities and acting as an investment advisor; (ii) holding of securities of the issuer as beneficial owner; (iii) having benefitted, benefitting or to benefit from compensation arrangements; (iv) acting as underwriter in any distribution of securities of the issuer in the three years immediately preceding this document; or (v) having direct or indirect financial or other interest in the security or the issuer of the security. Investors are advised accordingly. Neither Bourse nor any of its subsidiaries, affiliates directors, officers, employees, representatives or agents, accepts any liability whatsoever for any direct, indirect or consequential losses arising from the use of this document or its contents or reliance on the information contained herein. Bourse does not guarantee the accuracy or completeness of the information in this document, which may have been obtained from or is based upon trade and statistical services or other third party sources. The information in this document is not intended to predict actual results and no assurances are given with respect thereto."