BOURSE SECURITIES LIMITED
04th February 2019
Is there value in local ETFs?
This week, we at Bourse examine the potential value on offer to investors with local Exchange Traded Funds (ETF), with a particular emphasis on the two largest ETFs on the Trinidad and Tobago Stock Exchange (TTSE). We outline the structure and associated benefits of investing in these ETFs.
 ETFs at a glance
Exchange Traded Funds (ETFs) often combine several assets into a single investment funds. ETFs, as the name suggests, trade on one or more stock exchanges. Investors have the opportunity to participate in a variety of asset classes ranging from traditional equities and bonds to alternative assets like commodities or currencies. ETFs often trade at discount to the net asset value (NAV) of the underlying portfolio. Similar to shares, investors can enter and exit an ETF freely (subject to liquidity).
Benefits of investing in ETFs
Diversification
ETFs are a simple, affordable way to diversify. A single ETF unit allows investors to spread their investment over multiple underlying assets.
Transparency
ETFs offer investors enhanced price discovery, by being traded on a stock exchange. Fund managers also regularly disclose fund performance and holdings to the public.
Professional Management
The typical investor may not have the time or the resources to manage their investments as effectively as professional fund managers may. As such, ETFs give investors an opportunity to invest with ease.
Local Exchange Traded Funds
Currently, the Trinidad and Tobago Stock Exchange (TTSE) has four listed ETFs (excluding Praetorian Property Mutual Fund- expected to be delisted). The Clico Investment Fund (CIF) and the Calypso Macro index Fund (CALYP) are the largest ETFs, with market capitalizations of $4.1B and $282.8M respectively.
 The Clico Investment Fund (CIF)
In 2012, the Government of Trinidad and Tobago established the Clico Investment Fund (CIF), which was initially comprised of 70% Republic Financial Holdings Limited (RFHL) shares, with the remainder of the fund invested in a 4.25% Government bond and cash. The objective of the CIF is to hold these assets until the redemption date (January 2nd, 2023), at which time the Trustee of the fund will distribute the RFHL shares and accumulated cash to the unit holders.
 The Calypso Macro Index Fund
The Calypso Macro index Fund (CALYP) is a Close-ended TT dollar-denominated index fund, established in 2015 by the Trinidad and Tobago Unit Trust Corporation. The fund's initial allocation comprised 35% investments in funds traded on the Global Energy Index and 65% in securities listed on the All T&T Index. According to the prospectus, the Fund can invest up to 70% of its assets in the common stocks of companies principally engaged in energy related activities, with the need for rebalancing the fund's allocation determined on a quarterly basis. Upon maturity on 30th November 2025 (unless delayed), the fund's assets will be sold on the open market and the proceeds of sale, along with the fund's income, will be distributed to the unit holders.
 Is there Value in Local ETFs?
While the market price of an ETF is driven by supply and demand on the exchange where it is traded, the actual value of the fund is based on the collective performance of the underlying assets or the Net Asset Value (NAV). In other words, there can be disparities with an ETF's traded price and actual value. Let's consider the CIF and CALYP funds as local examples.
 The Clico Investment Fund (CIF) Performance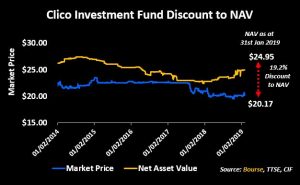 CIF's traded price of $20.17 represents a 19.2% discount to its NAV of $24.95. In comparison, CIF's traded price 12 months ago of $20.50 was a 9.9% discount to its NAV of $22.75 at that time. As at September 2018, 86.6% of the assets in CIF were comprised of RFHL shares. Resultantly, the performance of RFHL has and will have a significant impact on the NAV of CIF.
For the financial year ended 30th September 2018 RFHL reported Earnings per Share (EPS) of $8.16 a 5.4% improvement over the comparable period in 2017. Over the last 5 years, RFHL's reported EPS for its full year, improved 7.7%. Importantly, RFHL's dividend payments have increased from $4.35 in 2017 to $4.40 in 2018. The dividends received by CIF from RFHL contribute to the total income generated by the Fund. In turn, at least 95% of this income is to be distributed to CIF unit holders.
The Calypso Macro index Fund (CALYP) Performance
Following its initial listing in January 2016, The Calypso Macro Index Fund's (CALYP) market price remained relatively stable at approximately $25.00. However, in the latter half of 2017 the fund's traded price began to decline. In contrast, the NAV remained fairly stable. CALYP currently trades on the Trinidad & Tobago Stock Exchange (TTSE) at a price of $13.50, a substantial 44.5% discount below the fund's NAV of $24.34. At its current price, the ETF offers investors a trailing dividend yield of 4.6%. As at June 2018, CALYP's exposure to international equities was 50.5%, with 47.5% of the fund invested in domestic equities.
Investing in International ETFs
For investors with US dollars, there is a broad menu of international ETFs available. International ETFs can focus on specific regions (such as the US, Europe, Latin America), countries (including Brazil, China, India, the US, UK, Germany etc.), commodities (Gold, Natural Gas, Crude Oil etc.) and even specific sectors/industries. Importantly, investors can access international ETFs and stocks through several local brokers, including Bourse through its Bourse Trader service.
Conclusion
Whatever your goals, you can almost certainly find an ETF that works for you. Getting started with ETF investing is easy. As always, it makes good sense to consult with a trusted investment advisor, such as Bourse, to make more informed investment decisions.
For more information on these and other investment themes, please contact Bourse Securities Limited, at 226-8773 or email us at invest@boursefinancial.com.
 "This document has been prepared by Bourse Securities Limited, ("Bourse"), for information purposes only. The production of this publication is not to in any way establish an offer or solicit for the subscription, purchase or sale of any of the securities stated herein to US persons or to contradict any laws of jurisdictions which would interpret our research to be an offer. Any trade in securities recommended herein is done subject to the fact that Bourse, its subsidiaries and/or affiliates have or may have specific or potential conflicts of interest in respect of the security or the issuer of the security, including those arising from (i) trading or dealing in certain securities and acting as an investment advisor; (ii) holding of securities of the issuer as beneficial owner; (iii) having benefitted, benefitting or to benefit from compensation arrangements; (iv) acting as underwriter in any distribution of securities of the issuer in the three years immediately preceding this document; or (v) having direct or indirect financial or other interest in the security or the issuer of the security. Investors are advised accordingly. Neither Bourse nor any of its subsidiaries, affiliates directors, officers, employees, representatives or agents, accepts any liability whatsoever for any direct, indirect or consequential losses arising from the use of this document or its contents or reliance on the information contained herein. Bourse does not guarantee the accuracy or completeness of the information in this document, which may have been obtained from or is based upon trade and statistical services or other third party sources. The information in this document is not intended to predict actual results and no assurances are given with respect thereto."