HIGHLIGHTS
MASSY FY 2020
·       Earnings:
o   EPS 23.4% higher, from $5.76 to $7.11
o   Continuing Operations: EPS 12.0% lower, from $4.74 to $4.17
o   Discontinued Operations: EPS 188.2% higher, from $1.02 to $2.94
·       Performance Drivers:
o   Panic Buying in Q2 2020 cushioned demand
o   Improved financial markets in HY 2020
o   Lower Revenue in operational segments excluding Integrated Retail
·       Outlook:
o   Portfolio Restructuring
o   Geographic Diversification
o   Likely headwinds to growth in the countries of operations due to COVID-19
·       Rating: Maintained at NEUTRAL
Is MASSY Poised for Growth?
This week, we at Bourse review the financial performance of and consider the potential growth opportunities for Massy Holdings Limited (MASSY) for its financial year ended 30th September 2020. Displaying resilient performance even under trying COVID-19 conditions, MASSY has continued on a path to achieving longer-term growth. Will the Group's initiatives bear fruit over the medium-term, or could MASSY succumb to the pressures of weaker regional economic activity? We discuss below.
MASSY HOLDINGS LIMITED (MASSY)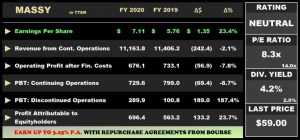 Massy Holdings Limited (MASSY) reported Earnings per Share (EPS) of $7.11 for the financial year ended September 30th 2020 (FY 2020), up 23.4%, from $5.76 earned in the previous comparable period. EPS from Continued Operations, however, declined 12.0% to $4.17. MASSY's Revenue from Continuing Operations slid 2.1%, to $11.41B relative to $11.17B in FY 2020. Operating Profit After Finance Costs declined 7.8%, from a previous $733.1M to $676.1M. MASSY recorded a 19.0% decrease in Share of Results of Associates and Joint Venture from $66.0M to $53.5M in the current period.  Profit Before Tax (PBT) from Continuing Operations contracted by 8.7%, from $799.0M to $729.6M. Overall, Profit for the Period from Continuing Operations stood at $453.3M, (down: 11.5%) from a previous $512.4M. Profit from Discontinued Operations increased to $289.9M, up 187.4% from $100.8M in the previous period. Profit for the Year increased by 21.2% to $743.2M, whilst Profit Attributable to Equity Holders increased by 23.7% to $696.4M.
Profit Before Tax Contracts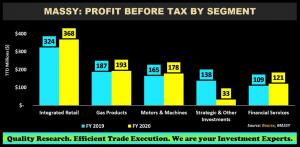 MASSY's overall PBT from Continuing Operations declined 8.7% in FY 2020. The Integrated Retail segment, accounting for 41% of Total Profit Before Tax (PBT), benefited from a 4.2% increase in Revenue, with its PBT advancing 13.7%. This was primarily attributable to higher demand for essential grocery and pharmaceutical items. PBT from Gas Products (21.6% of PBT) grew 3.0%. Despite recording a 12.9% decline in Revenue, PBT from Motors and Machines which represented 20.0% of overall PBT, increased by 8.4%. Financial Services (PBT: 13.5%) advanced 10.4%, correcting loses experienced during the first half of 2020 as US Stock Markets rallied in the second half.
Strategic and Other Investments, 3.7% of PBT, contracted by 76.4% in the period under review, outweighing increases to PBT in the aforementioned segment. This was primarily attributable to one-off losses experienced due to the impairment of properties, driven by lower rental incomes and property valuations as a result of economic pressures.
Market Importance Changing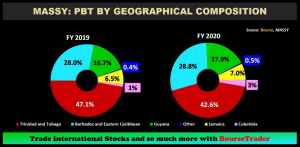 Year-over-Year, the contribution by geography to MASSY's PBT changed noticeably. Trinidad and Tobago continued to function as MASSY's core contributor to PBT (2020: 42.6%) of $380.8M, albeit 12.6% lower than the comparable period. Barbados and the Eastern Caribbean contributed 28.8% to MASSY's PBT, which contracted by 0.4% YoY. Guyana has replaced MASSY's traditional second highest contributor to PBT, Barbados (discounting the Eastern Caribbean), to account for 17.9% of PBT, 4.0% higher YoY. Colombia which accounted for 3.0% of PBT, experienced the largest increase in PBT of 144.7%.
Asset Rationalization
Consistent with its resolution in transitioning its perspective from a 'traditional' conglomerate to investment portfolio management, MASSY has continued with its program of asset rationalization to focus on three main segments: Integrated Retail, Gas Products and Motors and Machines. Accordingly, MASSY disposed of its operations in its Information, Technology and Communications (ITC) Line of Business. In 2019, ITC accounted for 4.1% of Revenue and 11.4% of MASSY's PBT.  The Group benefitted from the sale of Seawell Air Services, Massy Energy Production Resources Limited and Massy Technologies, realizing a one-off gain of $272M in FY 2020. More recently, MASSY would have entered into a sale and purchase agreement to sell its 50.5% equity stake in Roberts Manufacturing Company Limited (RMCL) for a total consideration of US$21.5M, on December 30th 2020 (Q1 2021).
Economic Outlook
The relatively non-discretionary nature of MASSY's Integrated retail segment – including businesses such as Massy Stores, Massy Distribution and Massy Trading –  is likely to provide some resilience going forward. Gas Products could be impacted by both industrial and commercial demand factors, which remain dynamic under current regional economic conditions. MASSY continues, however, to target Liquefied Petroleum Gas (LPG) for the Autogas and Forklift segments in Guyana and Jamaica.
The Motors and Machines Segment appears to be the most vulnerable segments, with its products typically being 'big ticket' items for consumers which are more discretionary in nature. On a positive note, lower interest rates across many jurisdictions could make loan financing for vehicles more attractive. This may not be enough, however, to offset the impact of broadly weaker economic activity (and heightened employment uncertainty) on consumers and their major buying decisions.   Total New Motor Vehicles sales in T&T, for example, declined 30.3% YoY (CBTT: Jan-Nov 2019 – 2020).
The Guyana Gambit
MASSY has made concerted efforts to further deepen its roots in the Guyanese economy which is expected to expand by 8.1% in 2021 (IMF). Notwithstanding the challenges brought about by COVID-19, MASSY has experienced an acceleration in business activity and improvement in customer preferences in its Integrated Retail segment in Guyana, and has been pursuing opportunities to continue to meet consumer requirements.
CGCL promises Forex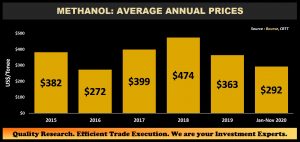 MASSY's 10% stake in Caribbean Gas Chemical Limited (CGCL), which has a capacity to produce 1M metric tonnes of Methanol per year and 20,000 metric tonnes of Di-Methyl Ether (DME) per year at its peak, could be set to add to the Group's earning power. CGCL exported its first shipment of 13,000 metric tonnes of Methanol from the Port of Brighton, La Brea on September 28th 2020. Barring any unforeseen disruptions to natural gas supply, the production and sale of Methanol and DME should positively influence MASSY's share of profits of associates and joint ventures. The generation of USD cash flows will also be especially beneficial in the current environment of foreign exchange scarcity.
Methanol prices have fluctuated from 2015 to present, averaging as high as US$474 per tonne in 2018 before falling to an average of US$292 per tonne for the same period in 2020 (38.4% lower). Improvement in global methanol demand, combined with lower industry supply, has tightened market conditions and reduced global inventory levels which resulted in an increase in Methanol prices in Q4 2020. As a result, Methanol prices averaged US$318 per tonne in October and November 2020.
The Bourse View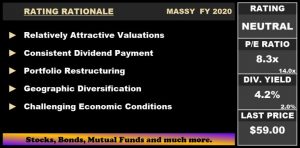 At a current price of $59.00, MASSY trades at a trailing P/E of 8.3 times, below the Conglomerate sector average P/E of 13.96 times. The Group declared a final dividend payment of $2.00 payable January 22nd 2020. Total dividends payment for FY 2020 amounted to $2.50, 10% higher than the prior year. The stock offers investors trailing dividend yield of 4.24%, above the Conglomerate sector average of 1.99%. MASSY will inevitably confront significant hurdles as regional economies struggle to cope with the lingering effects of the COVID-19 pandemic. Despite this reality, the Group has progressed with many strategic initiatives which should bode well for shareholder returns over the medium-term. Relatively attractive valuations, continuing streamlining of business lines/operations and geographic diversification all serve to create a platform for growth for the Group. Tempered by the still overwhelming degree of uncertainty stemming from ongoing challenging economic conditions, Bourse maintains a NEUTRAL rating on MASSY.
"This document has been prepared by Bourse Securities Limited, ("Bourse"), for information purposes only. The production of this publication is not to in any way establish an offer or solicit for the subscription, purchase or sale of any of the securities stated herein to US persons or to contradict any laws of jurisdictions which would interpret our research to be an offer. Any trade in securities recommended herein is done subject to the fact that Bourse, its subsidiaries and/or affiliates have or may have specific or potential conflicts of interest in respect of the security or the issuer of the security, including those arising from (i) trading or dealing in certain securities and acting as an investment advisor; (ii) holding of securities of the issuer as beneficial owner; (iii) having benefitted, benefitting or to benefit from compensation arrangements; (iv) acting as underwriter in any distribution of securities of the issuer in the three years immediately preceding this document; or (v) having direct or indirect financial or other interest in the security or the issuer of the security. Investors are advised accordingly. Neither Bourse nor any of its subsidiaries, affiliates directors, officers, employees, representatives or agents, accepts any liability whatsoever for any direct, indirect or consequential losses arising from the use of this document or its contents or reliance on the information contained herein. Bourse does not guarantee the accuracy or completeness of the information in this document, which may have been obtained from or is based upon trade and statistical services or other third party sources. The information in this document is not intended to predict actual results and no assurances are given with respect thereto."