GHL Grows in 2020
HIGHLIGHTS
GHL FY2020
·         Earnings: EPS up 12.1% from $2.98 to $3.34
·         Performance Drivers:
o   Insurance Income higher amid reduced net claims and capital optimization based gains
·         Outlook:
o   Growth potential from NCBIC Acquisition and consolidation of operations
o   Potentially improving investing income due to sustained recovery in financial markets
o   Retooling initiatives
·         Rating: Maintained at NEUTRAL.
Recent Developments
·         FIRST to acquire Scotiabank's operations in Guyana
·         FIRST to acquire a 19.99% stake in Term Finance Limited
·         GKC to acquire Scotia Eastern Caribbean Insurance Limited
·         GKC to acquire 876 Spring Water Brand
·         AGL to acquire Oscar Francois Limited and Intersol Limited
This week, we at Bourse review the performance of Guardian Holdings Limited (GHL) for its financial year ended 31st December, 2020 (FY2020). GHL delivered improved earnings in a year which would have adversely impacted the performance of most businesses. We also highlight several recent developments related to publicly-listed companies in acquisition mode.
Guardian Holdings Limited (GHL)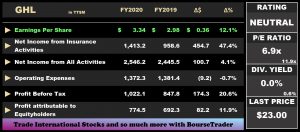 Guardian Holdings Limited (GHL) reported Earnings per Share (EPS) of $3.34 for the financial year ended December 31st 2020 (FY2020), up 12.1% from $2.98 recorded in FY2019. Net Result from Insurance Underwriting Activities increased 47.4% to $1.41B relative to a prior $958.6M. Net Income from Investing Activities contracted 27.8%, moving from a previous $1.37B to $988.6M, attributable to the disruptions in regional financial markets. However, Fee and Commission Income from Brokerage Activities stood at $144.3M, 23.3% higher in the current period. Cumulatively, Net Income from All Activities improved 4.1%, amounting to $2.55B in FY2020 (FY2019: $2.45B). GHL recorded Net Impairment Losses on Financial Assets of $15.7M in FY2020, 82.1% lower relative to $87.6M in the prior period. Operating Expenses and Finance Charges amounted to $1.37B and $153.8M, respectively. Consequently, GHL reported an Operating Profit of $1.00B, 21.0% higher relative to a prior $829.8M. Share of Profit of Associate Companies declined 1.8% to $17.7M in FY2020. GHL recorded a 20.6% improvement in its Profit Before Taxation (PBT) which amounted to $1.02B (FY2019: $847.8M). The Group's Taxation Expense was $243.8M. Profit Attributable to Equity Holders of the Company grew 11.9% to $774.5M, compared to a previous $692.3M.
Insurance Activities Drives Growth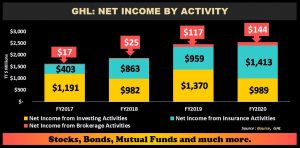 GHL's Net Income from all activities grew 4.1% YoY in FY2020 as compared to a Compounded Annual Growth Rate of 7.2% from FY2017 to FY2019. Net Income from insurance activities which represents 55.5% of Net Income increased 47.4% in the period under review. Similar to its 9M 2020 results, the improvement in insurance activities is attributable to the reduction in claims stemming from a lack of major catastrophes in the Caribbean as compared to the impact of Hurricane Dorian in FY2019, together with a reduction in motor vehicle accidents. With its acquisition of NCBIC being completed on the 30th September 2020, GHL's performance in the last quarter of FY2020 benefitted from the consolidation of operations. Net Income from Investment Activities, 38.8% of Net Income, contracted by 27.8% primarily linked to the reduced dividend payments and declines in equity markets in Trinidad and Jamaica.
Fees and Commissions Income from Brokerage Activities (5.7% of Net Income), increased by 23.3%. Supporting the growth in this segment was a 4% increase in GHL's Funds Under Management, taking it from $15.1B in FY2019 to $15.7B in FY2020.
GHL to Re-list in Jamaica
GHL recently announced its decision to cross-list on the Jamaica Stock Exchange (JSE), spurring some excitement amongst investors. The move comes just seven years after the Group's decision to delist from the JSE in 2013. Significant changes have occurred since then, with GHL expanding its footprint in Jamaica through the 2020 acquisition of the insurance operations of its parent company NCBFG, as well as the Group being now majority-owned by Jamaican native NCB Financial Group (NCBFG). Notably, GHL was the first issuer to list on the JSE's new Over-The-Counter (OTC) market tier, raising $13.4B (US$90M or TT$623M) in capital through bond issuance. The issue consisted of five tranches. The two JSE-listed tranches, which contributed towards 52% of the total debt raised (or $7.0B in nominal value), included the GHL Tranche B 6.5% fixed-rate, unsecured note valued at $1.9B and the GHL Tranche D 7.0% fixed-rate, unsecured note valued at $5B. With the opportunity to once again raise capital in the Jamaican market, the cross-listing should provide support for GHL's growth through acquisition initiatives.
How could GHL price on the JSE?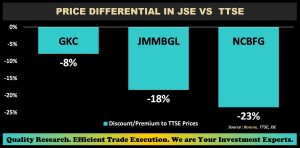 Investors will be keenly interested in the trading prospects of GHL on the JSE. Notwithstanding the usually more positive sentiment surrounding trading on the JSE, investors would note that existing cross-listed stocks typically trade at a discount on the JSE relative to prices on the Trinidad and Tobago Stock Exchange (TTSE). At the time of publication, GraceKennedy Limited (GKC) traded at an 8% discount, followed by JMMB Group Limited (JMMBGL) and NCB Financial Group Limited (NCBFG) which traded at 18% and 23% discounts relative to TT market prices. Were GHL to price on the JSE using an average of current discount rates of 16%, it would be priced at $19.45 in TTD terms or J$419.55 at prevailing exchange rates. The would make GHL the second-highest priced stock on the JSE, with highest being Palace Amusement Co Ltd (PAL) priced at J$685.88 followed by NCB Financial Group (NCBFG) with a price of J$141.98.
Earnings Up, Dividends Fall
GHL's Earnings Per Share (EPS) has grown at an annualized growth rate of 18.9% over the past four years, while its Dividends Per Share has advanced at a more modest 4.4% annualized, from FY2016 to FY2019. In FY2019, GHL's Dividend Payout ratio fell to 25.2% relative to 30.9% in FY2018. The Group has in recent years undertaken merger and acquisition activities, leading it to consume its capital base through increased retained earnings. In FY2020, despite continuing the EPS growth trajectory of prior years, the Group made the decision to not pay any dividend, reportedly owning to temporary restrictions placed on its dividend flow from external operating jurisdictions.
The Bourse View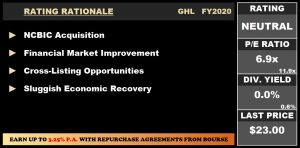 Currently priced at $23.00, GHL trades at a P/E ratio of 6.9 times relative to the Non-Banking Finance Sector average of 11.9 times. According to GHL's Chairman, restrictions in the flow of dividends out of countries has prompted the Group to not pay a final dividend for FY2020. However, with the ease of restrictions and vaccine rollouts, GHL expects to pay an interim dividend for the upcoming period. The acquisition of NCBIC, if successful, would provide synergistic benefits and cross selling opportunities. While the list of positives has grown, the major uncertainty remains the sluggish economic recovery from the COVID-19 pandemic. Against this backdrop, Bourse maintains a NEUTRAL rating on GHL.
FIRST, GKC, AGL eye acquisitions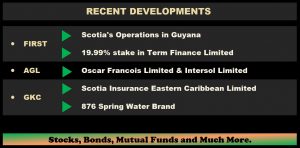 On Wednesday March 3rd 2021, First Citizen's Bank Limited (FIRST) reached an agreement with Scotiabank, to acquire its operations in Guyana, subject to regulatory approval and customary closing conditions. If approved, this may bode well in diversifying FIRST's operations in Guyana and benefitting from the country's economic expansion from energy production. On March 10th 2021, FIRST entered an agreement to purchase a 19.9% minority interest in Term Finance (Holdings) Limited.  The web-based credit institution – which operates in Trinidad and Tobago, Barbados, Guyana, Jamaica and St Lucia – may serve as a medium for FIRST to enhance its digital banking operations and improve its customer reach across the region, accelerating its digitization.
On March 6th 2021, Agostini's Limited (AGL) acquired 100% of the issued and outstanding shares of Oscar Francois Limited and Intersol Limited through its subsidiary, Smith Robertson, in a deal which is expected to be completed on April 30th 2021. This is expected to improve AGL's pricing power in the pharmaceutical space and increase its market share.
GraceKennedy Limited (GKC) has entered into an agreement for the acquisition of Scotiabank's Insurance operations in the Eastern Caribbean. This acquisition increases GKC's exposure in the Eastern Caribbean and may further improve the Group's Insurance portfolio which experienced a 21% growth in its PBT in FY2020. In a move to strengthen its position in the Jamaican spring water market, GKC has come to an agreement with Bliss Limited and UniBev limited (UniBev) to acquire the 876 Spring Water Brand. Under the agreement, GKC will have ownership; UniBev will continue to manufacture the product, while World Brands Limited (a subsidiary of GKC) will continue being its distributor.
DISCLAIMER: "This document has been prepared by Bourse Securities Limited, ("Bourse"), for information purposes only. The production of this publication is not to in any way establish an offer or solicit for the subscription, purchase or sale of any of the securities stated herein to US persons or to contradict any laws of jurisdictions which would interpret our research to be an offer. Any trade in securities recommended herein is done subject to the fact that Bourse, its subsidiaries and/or affiliates have or may have specific or potential conflicts of interest in respect of the security or the issuer of the security, including those arising from (i) trading or dealing in certain securities and acting as an investment advisor; (ii) holding of securities of the issuer as beneficial owner; (iii) having benefitted, benefitting or to benefit from compensation arrangements; (iv) acting as underwriter in any distribution of securities of the issuer in the three years immediately preceding this document; or (v) having direct or indirect financial or other interest in the security or the issuer of the security. Investors are advised accordingly. Neither Bourse nor any of its subsidiaries, affiliates directors, officers, employees, representatives or agents, accepts any liability whatsoever for any direct, indirect or consequential losses arising from the use of this document or its contents or reliance on the information contained herein. Bourse does not guarantee the accuracy or completeness of the information in this document, which may have been obtained from or is based upon trade and statistical services or other third party sources. The information in this document is not intended to predict actual results and no assurances are given with respect thereto."