BOURSE SECURITIES LIMITED
6th January, 2020.
Equity Markets Rally in 2019
This week, we at Bourse review the performance of local and international equity markets in 2019. Strong price advances of both Cross-listed and locally-domiciled stocks propelled an impressive market rally on the Trinidad & Tobago Stock Exchange (TTSE). Internationally, major regions overcame several economic and geopolitical hurdles to post strong returns.
TTCI supported by Cross-Listed Stocks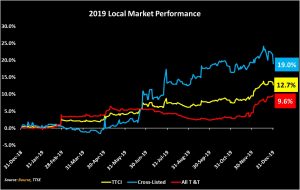 The Trinidad and Tobago Composite Index (TTCI) recorded returns of 12.7% in 2019. The Cross-Listed Index drove TTCI returns, advancing 19.0% on account of a 27.3% appreciation in NCBFG (which comprises 52.8% of the Cross Listed Index). The All T&T Index advanced 9.6%, compared to its 1.4% decline in 2018.
 Major movers in 2019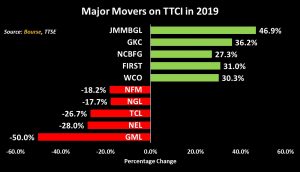 Market leaders in 2019 included Jamaica Money Market Brokers Group Limited (JMMBGL, up 46.9%), GraceKennedy Group (GKC, up 36.2%) and National Commercial Bank Financial Group (NCBFG), which improved 27.3%. Meanwhile, the market laggards for the year included Guardian Media Limited (GML, down 50%), National Enterprises Limited (NEL, down 28.0%) and Trinidad Cement Limited (TCL), which fell 26.7%. Notably, the top 3 advancing stocks were Jamaican-based stocks, driven by positive investor sentiment among other factors.
Several major transactions were concluded in 2019 by publicly listed companies, including:
The acquisition of SFC by Alignvest Acquisition Corporation (AQY) was completed, with subsequent listing on the Toronto Stock Exchange (TSX).
NCBFG's acquisition of a controlling interest of 61.97% in Guardian Holdings Limited (GHL)
Republic Financial Holdings Limited's (RHFL) acquisition of a majority interest (74.99%) in Cayman National Corporation, as well as the acquisition of the Bank of Nova Scotia's operations in several Caribbean countries
JMMBGL's Additional Public Offering (APO), which raised an approximate US$88.7M in new equity, used to partially fund a 22.6% stake in 'New Sagicor'.
International Markets Advance
2019 also delivered robust gains across most international market regions. Buoyed by lower US interest rates, investors overcame concerns surrounding US-China trade tensions and Britain's potential exit from the European Union in one of the best equity market performances in recent history. US markets (S&P 500) advanced 28.9%, with European markets climbing 19.9%. Asia (excluding Japan) (up 15.4%) and Latin America (up 13.7%) also delivering healthy returns.
US markets bullish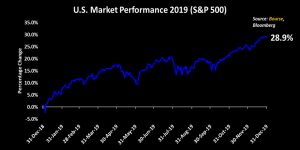 U.S. equity markets advanced in 2019, with the market reaching a peak on December 27th (up 29.2%), eventually closing the year at 28.9%. Investor sentiment was generally more positive last year, as the Fed surprisingly cut interest rates three times in 2019. Although the US-China trade war created some uncertainty in the market, 2019 ended with a 'phase one' trade resolution deal set to be signed in 2020.
 Asian Markets advance despite slower growth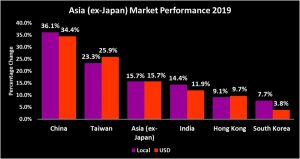 At the end of 2019 China's stock market advanced 34.4% in USD terms. India, one of the world's fastest growing economies, recorded slower-than-expected growth in 2019. Despite this, Indian stocks closed the year 14.4% higher in local currency or 11.9% in USD. Taiwan, a beneficiary of the US-China trade tensions and consequently higher imports at the first half of the year, experienced market growth second only to China, advancing 25.9% in USD at year end.
Latin America led by resurgent Brazil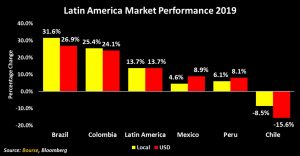 Latin American markets also fared well in 2019, led by Brazilian stocks. Passing the heavily anticipated pension reform bill aimed at reducing its hefty deficit bill, Brazil is expected to save approximately US$195B in expenditure over the next decade. The South American giant also intends to simplify its complex tax system in an effort to stimulate foreign and domestic investment. Resultantly, the Brazilian market rallied 26.9% in USD terms.
Colombian markets advanced 24.1% in USD terms, while Mexican stocks gained 8.1% in USD. The Mexican economy experienced relatively muted growth in 2019, but was buoyed by successive rate cuts by its Central Bank. Chile faced significant headwinds in 2019 amid widespread protests and civil unrest which disrupted economic growth. These led to the Chilean market being the worst performing in Latin America, with the market declining 15.6% in USD terms.
 European Markets climb in spite of 'Brexit' jitters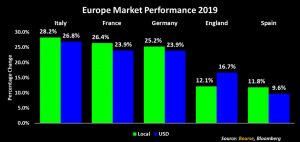 Although experiencing slower economic growth in 2019, UK stocks posted returns of 16.7% in 2019. A member of the unflattering 'PIIGS' grouping (Portugal, Italy, Ireland, Greece and Spain), Italy was Europe's best performing major market in 2019, advancing 26.8% in USD terms. Spain – another member of the PIIGS grouping – saw its stock market climb 9.6% in USD terms. Both countries benefitted from the European Central Bank's accommodative stance on Monetary Policy and a historically low main deposit rate of -0.5%.
Investor Considerations.
While a benign US interest rate environment could be supportive of global stock markets, lingering uncertainties – including the US-China trade standoff and Brexit developments – could make 2020 a rollercoaster ride for investors. The US Presidential race and flaring up of geopolitical tensions (most recently US-Iran) could also weigh on investor sentiment.
Following a year of robust equity market returns, international investors might consider reallocating their portfolio to lower risk assets classes including investment grade bonds, USD repurchase agreements or even USD income mutual funds. For investors intent on remaining in equities, diversification can help reduce the impact of volatility. This may be achieved using a wide variety of equity-focused country, regional and even global Exchange Traded Funds (ETFs). Investors should consult a trusted and experienced advisor, such as Bourse, to find out more information.
Next week, we provide the Bourse View of local equity markets in 2020.
For more information on these and other investment themes, please contact Bourse Securities Limited, at 226-8773 or email us at invest@boursefinancial.com.
"This document has been prepared by Bourse Securities Limited, ("Bourse"), for information purposes only. The production of this publication is not to in any way establish an offer or solicit for the subscription, purchase or sale of any of the securities stated herein to US persons or to contradict any laws of jurisdictions which would interpret our research to be an offer. Any trade in securities recommended herein is done subject to the fact that Bourse, its subsidiaries and/or affiliates have or may have specific or potential conflicts of interest in respect of the security or the issuer of the security, including those arising from (i) trading or dealing in certain securities and acting as an investment advisor; (ii) holding of securities of the issuer as beneficial owner; (iii) having benefitted, benefitting or to benefit from compensation arrangements; (iv) acting as underwriter in any distribution of securities of the issuer in the three years immediately preceding this document; or (v) having direct or indirect financial or other interest in the security or the issuer of the security. Investors are advised accordingly. Neither Bourse nor any of its subsidiaries, affiliates directors, officers, employees, representatives or agents, accepts any liability whatsoever for any direct, indirect or consequential losses arising from the use of this document or its contents or reliance on the information contained herein. Bourse does not guarantee the accuracy or completeness of the information in this document, which may have been obtained from or is based upon trade and statistical services or other third party sources. The information in this document is not intended to predict actual results and no assurances are given with respect thereto."