November 28th, 2016
Energy Stocks in Focus
This week, we at Bourse review the performance of two energy-focused stocks on the local exchange; Trinidad and Tobago NGL Ltd (TTNGL) and National Enterprises Limited (NEL). In an environment of volatile energy prices and lower local production of natural gas and its related products, NGL's share price has appreciated 4.7% year-to-date. NEL's share price, meanwhile, has descended 35.4% and is currently priced at $10.59. We take a look closer look at each of the stocks and some of the drivers of their respective performance.


Trinidad and Tobago NGL Ltd. (TTNGL)
TTNGL generated Earnings per Share of $0.75 for the nine-month period ended 30th September 2016, down 11.7% when compared to the $0.85 generated during the comparable period a year prior. This performance was mainly attributable to reduced profits generated by its sole investee company, Phoenix Park Gas Processors Ltd (PPGPL).
TTNGL's total income fell to $117.6 million for the nine-month period, representing a decline of 12.1% from the previous $134.0 million. This decline was driven by a 15.7% fall in the profits generated by its investee company PPGPL, of which TTNGL owns 39%. Taking a closer look at PPGPL's performance, it reported lower earnings on account of a 35.8% fall in revenues. Lower revenues were driven by several factors, including a decline in Natural Gas Liquids (NGLs) prices and overall lower production volumes of NGLs locally.
The fall in revenues was offset, to some extent, by a marked improvement in Gross Profit Margins, which climbed from 37% to 57% during 9M 2016 as a consequence of a 56.8% decline in Cost of Sales. PPGPL recorded operating expenses of $174 million, which was 461% higher than the 2015 amount of $31 million. As a result, TTNGL's share of income from PPGPL declined by 12.3%, from $134.0 million to $117.6 million.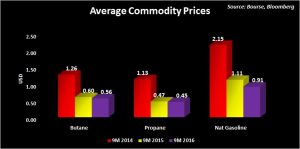 Outlook:
The performance of PPGPL and moreover TTNGL continues to be driven by volume sales of NGLs namely propane, butane and natural gasoline as well as their respective prices. Volume exports of these Natural Gas Liquids (NGLs) have been on a downward trend, where for the first 9 months of 2016, exports of natural gas liquids totalled 5.7 million barrels down 25.9% from the 2015 9M equivalent of 7.7 million barrels. The Minister of Finance, during the budget review on September 30th 2016, noted that the Angostura Phase 3 oil and gas field and the Sercan gas field are both expected to begin production in late 2016/early 2017, whilst other gas fields including DeNovo and Angelin should commence in 2018. Even with minor delays, the pending improved production levels of Natural Gas and NGLs could translate into improved performance by PPGPL and subsequently TTNGL.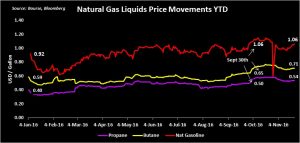 The prices of NGLs, based on a weighted average basket of propane, butane and natural gasoline have averaged US$0.73 during 9M 2015 and $US0.63 during 9M 2016 (down 13.7%). Although NGL prices have fallen relative to the comparable period in 2015, there has been some degree of stabilization. NGL prices remained relatively flat in quarter 1 2016, while there was an 18% improvement in quarter 2 followed by an additional 11% increase for the third quarter where the basket is priced at $US0.75 as at 21st November 2016. Butane which averaged US$ 1.20 in 2014, and US$ 0.58 in 2015, is currently priced at US$ 0.71 as at November 22nd 2016. Propane saw a similar trend, where prices averaged US$ 1.04 in 2014, but has since fallen to US$ 0.54 as at November 22nd 2016. The price of natural gasoline also deteriorated, having declined 9% in 2015 and a further 19% in 2016 and is currently priced at US$1.06.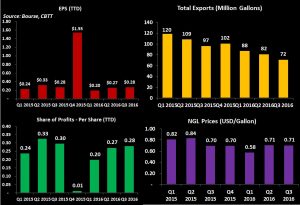 The Bourse View
At a current price of $22.50, TTNGL trades at a trailing P/E of 9.8 times and offers investors a trailing dividend yield of 6.67%; the highest on the local exchange.
TTNGL reported a cash position of TT$ 144M, equating to roughly $0.93 per share. Being a holding company and with relatively limited cash expenses, this balance could likely translate into dividends for investors over time. TTNGL's other current assets, including dividends receivable and cash due from its parent company amount to the equivalent of TT$ 195.5M or approximately $1.26 per share.
On the basis of (i) TTNGL's relatively low valuation (ii) high trailing dividend yield, (iii) the apparent capacity to defend dividend payments through operating cashflows and periodic utilization of current assets, (iv) the potential stabilization/recovery of revenues through expected improvements in local energy production and global pricing and (v) an implicit hedge against the TTD through its US dollar earnings, Bourse maintains a BUY rating on NGL.

National Enterprises Limited. (NEL)
For the six month period ended 30th September 2016, NEL generated EPS of $0.25, 10.7% or $0.03 less than the $0.28 generated a year prior. Its consolidated entity National Flour Mills (NFM) experienced a 3.1% decline in revenues for the period, affecting the holding company by the same, taking NEL's top line to $237.6 million against the previous $245.1 million. Notwithstanding this decline, NFM's Gross profit Margins improved to 30%, representing a 6% improvement from the prior 24% on account of declining Cost of Sales. Gross Profits amounted to $71.7 million for the period, 22.2% higher than last year whilst Operating Profits ascended in tandem and landed $32.4 million.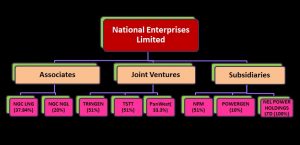 NEL experienced a 3.7% dip in Share of Profit of Equity Accounted Investees' for the period which totaled $138.4 million against the prior $143.6M. This line item accounts for the majority of NEL's overall profits, through its holdings in NGC LNG (37.84%), NGC NGL (20%), Tringen (51%), TSTT (51%) and PanWest (33.3%). Consequently, Net Income fell 7%, where NEL generated $162.7 million versus the $174.9 million generated during the similar 6 month period in 2015.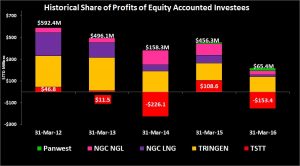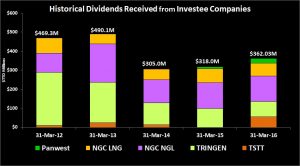 Outlook
Historically, NEL's main value driver with respect to its Share of Profit from Equity Accounted Investees has been its ammonia-producing Joint Venture, Tringen. The company has on average over the past 5 years accounted for 54.8% of all energy revenues generated within NEL's group. Tringen's performance, however, has been affected by lower ammonia prices received. Ammonia prices have averaged US$526.4 per tonne during 9M 2012, while prices during 9M 2016 averaged $254.8 per tonne, 52% lower than before. Should prices continue their downward trend, Tringen's performance may continue to be negatively impacted. On a brighter note, production of ammonia over 9M 2016 has averaged 387k tonnes, above its 371k 9M 5 year average. Production has also improved on a year-on-year basis, with 9M 2015 average production amounted to 367k tonnes.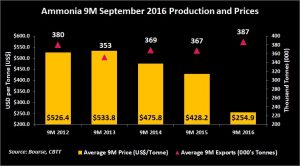 The second largest energy revenue driver for NEL is NGC LNG, an associate company which on average accounted for 22.4% of NEL's energy revenues over the past five years. NGC LNG, which is 37.8% owned by NEL, holds 10% of liquefied natural gas producer Atlantic LNG.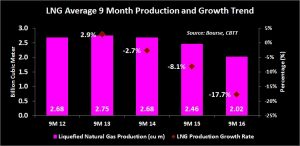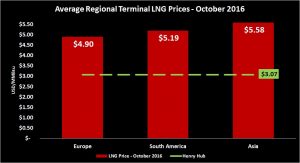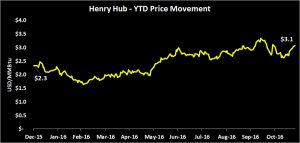 As would be expected with overall declines in natural gas production at the national level, production volumes of LNG in Trinidad and Tobago have been on a downward trend over the past 3 years with volumes of LNG production averaging 2 million cubic feet per month as at September 2016 after falling 17% from 9M 2015 to 9M 2016, and 24% from 9M 2012.
NGC NGL, NEL's major holding of PPPGPL, has accounted for a five year average of 19.9% of energy revenues, while the other energy revenue generators, including Panwest, Powergen and NEL Power Holdings Ltd account for the balance of energy revenues. NEL's non-energy components include TSTT, which incurred consecutive losses over the last 2 year ends, as well as NFM which has slowly improved their profitability since 2010.
The Bourse View
NEL is currently trading at a 75.6x trailing Price-to-Earnings (P/E) multiple, some way above the market multiple of 18.2x and the Non-Banking Finance Sector's 21.0x times. At a price of $10.59, NEL pays a trailing dividend yield of 2.8%, below the market average of 3.2%. Despite the significant deterioration in Ammonia prices and its effect on Tringen, NEL could stand to benefit from higher natural gas production through its NGC LNG and NGC NGL holdings, should local production materialize as projected. Bourse maintains a NEUTRAL rating on NEL.
For the detailed report and access to our previous articles, please visit our website at: http://www.remotestores.com
For more information on these and other investment themes, please contact Bourse Securities Limited, at 628-9100 or email us at invest@boursefinancial.com.
"This document has been prepared by Bourse Securities Limited, ("Bourse"), for information purposes only. The production of this publication is not to in any way establish an offer or solicit for the subscription, purchase or sale of any of the securities stated herein to US persons or to contradict any laws of jurisdictions which would interpret our research to be an offer. Any trade in securities recommended herein is done subject to the fact that Bourse, its subsidiaries and/or affiliates have or may have specific or potential conflicts of interest in respect of the security or the issuer of the security, including those arising from (i) trading or dealing in certain securities and acting as an investment advisor; (ii) holding of securities of the issuer as beneficial owner; (iii) having benefitted, benefitting or to benefit from compensation arrangements; (iv) acting as underwriter in any distribution of securities of the issuer in the three years immediately preceding this document; or (v) having direct or indirect financial or other interest in the security or the issuer of the security. Investors are advised accordingly. Neither Bourse nor any of its subsidiaries, affiliates directors, officers, employees, representatives or agents, accepts any liability whatsoever for any direct, indirect or consequential losses arising from the use of this document or its contents or reliance on the information contained herein. Bourse does not guarantee the accuracy or completeness of the information in this document, which may have been obtained from or is based upon trade and statistical services or other third party sources. The information in this document is not intended to predict actual results and no assurances are given with respect thereto."