BOURSE SECURITIES LIMITED
2nd September, 2019
NGL Earnings Lower
This week, we at Bourse take a look at the financial performance of Trinidad and Tobago NGL Limited (NGL) for the six-month period ended June 30th, 2019. NGL is the only stock listed on the local exchange's Energy sector. The overall financial performance of PPGPL and by extension, NGL has been a function of not only global commodity prices but also its production and export levels. We review the performance of NGL and consider the outlook for the company below.
Trinidad and Tobago NGL Limited (NGL)

Trinidad and Tobago NGL Limited (NGL) reported Basic Earnings per Share (EPS) of $0.47 for the six-month (HY) period ended 30th June 2019, a 43.4% decline from the $0.83 reported in the prior comparable period of 2019.
NGL's sole source of earnings is derived from its 39% interest in Phoenix Park Gas Processors Limited (PPGPL). For the HY 2019 period, NGL received $73.8M as its Share of Profit from PPGPL, a significant 42.6% decline from the $128.5M reported in HY 2018. Profit for the Period stood at $73.4M, 42.9% lower compared to the $128.5M in the prior comparable period.
Outlook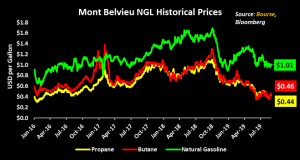 NGL's performance is dependent on the Share of Profits derived from its 39% holding in Phoenix Park Gas Processors Limited (PPGPL). PPGPL fractionates NGLs (produced as a result of the processing of 'wet gas') into Propane, Butane and Natural Gasoline, which it subsequently markets and sells to various users – making PPGPL a 'price-taker' in such transactions. Year-to-date, Propane and Butane prices both declined by 33.1% to US$0.44 and US$0.46 per gallon respectively, while the price of Natural Gasoline appreciated 9.9% (US$1.00 per gallon).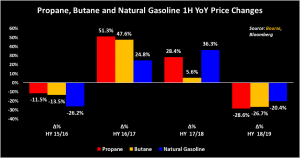 PPGPL's Revenue for the period would have been adversely impacted by the significant year-on-year (YoY) declines in global prices of its products. For the half-year period ended June 30th 2019, Mont Belvieu Propane, Butane and Natural Gasoline prices averaged US$0.61, US$0.63 and US$1.18 respectively, or declines of 28.6%, 26.7% and 20.4% when compared to HY 2018.  The fluctuations in prices are characteristic of the cyclical nature of the energy industry.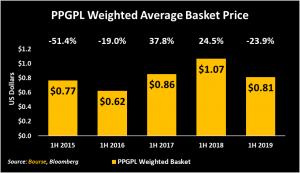 The average price of an estimated weighted basket of Propane, Butane and Natural Gasoline – a useful indicator of PPGPL's financial performance – has fluctuated over time. In 1H 2016, the weighted price fell 19.0% YoY from US$0.77 to US$0.62. Prices recovered substantially over the period 1H 2017 to 1H 2018, rising to US$1.07. However, during 1H 2019, it dropped to US$0.81, representing a 23.9% decline YoY.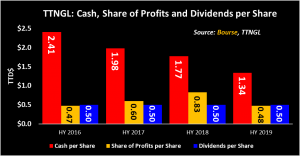 These lower commodity prices have therefore translated into lower a lower Share of Profit per share of NGL. Over the prior three 1H periods, NGL's share of profits (per share) from PPGPL would have steadily improved from TT$0.47 in HY 2016 to TT$0.83 in HY 2018 as commodity prices were on the rise, and fell to TT$0.48 in HY 2019. The HY dividend payment of $0.50 has remained consistent since the stock's IPO in October 2015. NGL's Cash and Cash Equivalents per share have been trending downward, falling from TT$2.41 per share as at HY 2016 to TT$1.34 per share as at HY 2019. Nonetheless, the company's cash position remains healthy enough to ensure that dividend payments are sustained during times where revenues are on the decline.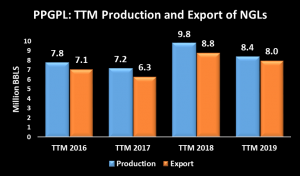 PPGPL's production of Natural Gas Liquids (NGLs) has fluctuated over time, declining 14.2% YoY from 9.8M BBLS in the trailing 12M period (July 2017 to June 2018) of 2018 (TTM 2018) to 8.4M BBLS in TTM 2019. Production levels still remain higher than that of TTM 2016 and 2017 which stood at 7.8M and 7.2M BBLS respectively. Export levels for comparable TTM periods over 2016 to 2019 have also followed a similar trend, but the 2018/2019 YoY decline has been more moderate at 9.1% (from 8.8M BBLS in TTM2018 to 8.0M BBLS in HY 2019) as compared to production.
Recent forecasts indicate that Trinidad and Tobago's natural gas production is expected to increase from 3.6 bcf/d in 2018 to 3.8 bcf/d in 2019 and eventually to 4.14 bcf/d in 2021. The improvement in production is expected to result from the coming on-stream of new fields as well as additional development from existing platforms. Increases in natural gas production, all else equal, could improve processing and fractionation volumes for PPGPL and ultimately share of profits accruing to NGL.
The Bourse View
At a current price of $25.10, NGL trades at a trailing P/E of 19.8 and maintains its position as one of the top five highest yielding stocks listed on the Trinidad and Tobago Stock Exchange with a current dividend yield of 6.0%, well above the market's average of 3.3%. For the half year period ended 30th June 2019, NGL declared a dividend of $0.50 per share. On the basis of (i) a high trailing dividend yield, (ii) relatively healthy cash balances, (iii) increased local natural gas production, which could bolster future share of profits and (iv) an implied hedge against potential devaluations of the TTD through its USD earnings, Bourse maintains a BUY rating on NGL.
For more information on these and other investment themes, please contact Bourse Securities Limited, at 226-8773 or email us at invest@boursefinancial.com.
 "This document has been prepared by Bourse Securities Limited, ("Bourse"), for information purposes only. The production of this publication is not to in any way establish an offer or solicit for the subscription, purchase or sale of any of the securities stated herein to US persons or to contradict any laws of jurisdictions which would interpret our research to be an offer. Any trade in securities recommended herein is done subject to the fact that Bourse, its subsidiaries and/or affiliates have or may have specific or potential conflicts of interest in respect of the security or the issuer of the security, including those arising from (i) trading or dealing in certain securities and acting as an investment advisor; (ii) holding of securities of the issuer as beneficial owner; (iii) having benefitted, benefitting or to benefit from compensation arrangements; (iv) acting as underwriter in any distribution of securities of the issuer in the three years immediately preceding this document; or (v) having direct or indirect financial or other interest in the security or the issuer of the security. Investors are advised accordingly. Neither Bourse nor any of its subsidiaries, affiliates directors, officers, employees, representatives or agents, accepts any liability whatsoever for any direct, indirect or consequential losses arising from the use of this document or its contents or reliance on the information contained herein. Bourse does not guarantee the accuracy or completeness of the information in this document, which may have been obtained from or is based upon trade and statistical services or other third party sources. The information in this document is not intended to predict actual results and no assurances are given with respect thereto."