HIGHLIGHTS
TTNGL 9M2022
Earnings: EPS 23.0% higher, from $0.87 to $1.07
Performance Drivers:

Higher NGLs prices
International Diversification

Outlook:

International Expansion efforts
Modest domestic energy production recovery

Rating: Maintained at OVERWEIGHT.
Energy Prices Update
Year to Date Price Performance:
WTI Crude ↑ 8.1%
Brent Crude ↑13.0%
Henry Hub Natural Gas ↑78.9
This week, we at Bourse review the performance of the sole member of the Energy Tier of the domestic exchange, Trinidad and Tobago NGL Limited (TTNGL) for the nine-month period ended September 30th 2022 (9M 2022). TTNGL reported improved earnings on account of the stabilization of energy markets and benefited from higher profitability driven by their investment in PPGPL. We also provide an update on the Clico Investment Fund (CIF) as it approaches its termination date. Can PPGPL's thrust towards international growth benefit TTNGL shareholders in the coming months? We discuss below.
Trinidad and Tobago NGL Limited (TTNGL)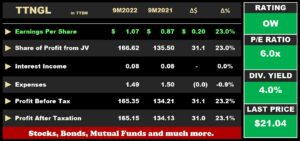 TTNGL generated Earnings per Share (EPS) of $1.07 for the nine- month period ended September 30th, 2022 (9M2022), $0.20 or 23.0% higher than a previous $0.87 in 9M2021.
Share of Profit from Investment in Joint Venture, Phoenix Park Gas Processors Limited (PPGPL) increased by $31.1M, from $135.5M to $166.6M, primarily driven by an increase in Mont Belvieu natural gas liquid prices and continued robust energy commodity prices. Interest Income amounted to $0.08M, equivalent to the prior period. Cumulatively, Total Income was $166.8M relative to $135.7M in 9M2021. Total Expenses fell 0.9% to $1.5M during the period. Resultantly, Profit Before Tax (PBT) expanded by 23.2% to $165.4M. Income Tax Expense increased to $0.2M, relative to $0.1M in 9M2021. Overall, Profit after Tax stood at $165.2M for the period under review, $31.0M or 23.1% higher than $134.1M in 9M2021.
Mont Belvieu Prices Higher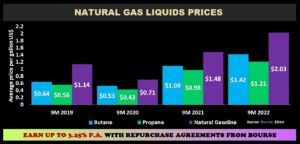 TTNGL's performance was supported by robust energy commodity prices during 9M 2022, as measured by Mont Belvieu benchmarks. Natural Gas Liquids (NGLs) prices remained elevated relative to prior comparable periods, despite concerns of slowing global economic growth.
Average Butane prices increased 30.3% from US$1.09 per gallon in 9M 2021 to US$1.42 per gallon in 9M 2022, while average Propane prices increased 23.5% from US$0.98 per gallon to US$1.21 per gallon. Natural Gas, which accounts for approximately 49.7% of PPGPL's exports, experienced the largest price increase with average prices increasing 37.2% to US$2.03 per gallon in 9M 2022. Year to date, the weighted basket of NGLs has averaged US$1.62 per gallon.
Production and Export Declines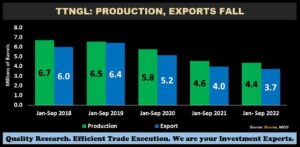 Based on the latest data published by the Ministry of Energy and Energy Industries (MEEI), Production of NGLs continued its downward path contracting 4.5% from 4.6M barrels (BBLS) in Jan-Sep 2021 to 4.4M BBLS in Jan-Sep 2022. According to TTNGL, this reduction was attributable to downtime by downstream petrochemicals plants for maintenance activities during the period.
The Export of NGLs by PPGL, meanwhile, stood at 3.7M BBLS in Jan-Sep 2022 relative to a previous 4.0M BBLS in Jan-Sep 2021, down 5.9%. The production/export weakness was offset by the robust NGLs pricing environment.
During his FY2023 Budget Statement, the Honorable Minister of Finance alluded to a stabilization and recovery in domestic Natural Gas production, with an estimated average production of just under 3.0 bcfd in 2023 (2022 YTD production has averaged 2.7 bcfd).
PPGPL's International Thrust
PPGPL continues to grow its presence in the North American energy landscape, centered on the acquisition and/or capacity development of terminal-related assets between 2022 and 2024. According to PPGPL, its latest acquisition (the Hull Terminal in Texas, United States) is currently operating at 120% capacity facilitating increased trading volumes with more expansion planned in the near to medium term. The acquisition further establishes its North American Subsidiary, Phoenix Park Trinidad and Tobago Energy Holdings Limited (PPTTEHL) as a key supplier of NGLs to customers in the markets.
At a recently held broker meeting, PPGPL's President reinforced the company's commitment in assessing opportunities to invest along the NGL value chain internationally and regionally, in particular the Caribbean and Latin America. PPGPL's strategic direction also includes targeted expansion in niche markets by building strong market share unique to its size.
PPGPL noted its current debt-free position, with projects/acquisition able to be funded internally or through a combination internal and external financing depending on the size.
Energy Sector Developments
The following recent development is anticipated to alleviate ongoing production challenges:
On November 29th,2022- bp Trinidad and Tobago LLC (bpTT) has confirmed that its Cassia C Development has successfully delivered first gas. Cassia C is expected to produce, at peak, about 200-300 mmscf/d. Production will go towards meeting bpTT's gas supply commitments and will be important to sustaining T&T's LNG and petrochemical industries.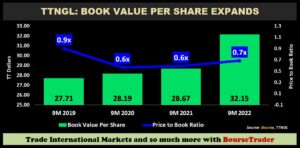 TTNGL's book value per share expanded in 9M 2022, driven by valuation increases in its sole investee company (PPGPL) following robust energy commodity prices. The company's Book Value Per Share (BVPS) advanced from $28.67 in 9M 2021 to $32.15 in the most recent period. The upward revaluation likely reflects a more favourable outlook for the company's prospects going forward, with energy prices forecast to remain elevated given supply concerns.
TTNGL's price to book ratio currently stands at 0.7 times, marginally higher than 0.6 times in 9M 2021 but below its 5-year historical average of 0.8 times. From a value perspective, investors are currently paying a discount for the stock relative to the book value of its net assets on a per share basis. With energy prices likely to remain relatively elevated as countries race to secure scarce energy supplies, TTNGL remains an attractive investment for value investors.
ECPI Falls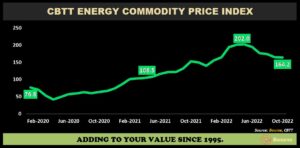 The Energy Commodity Price Index (ECPI), calculated and published by the Central Bank of Trinidad & Tobago (CBTT), is a measure of the average energy prices faced by domestic production, based on T&T's top ten energy-based commodity exports.
With international energy prices pulling back from record highs, the ECPI followed a similar trajectory. The ECPI stood at 76.8 in January 2020, before the effects of COVID-19 led it to decline to a low of 41.6 in April 2020. As of June 2020, the ECPI maintained a relatively steady upward international price trend, peaking at 202.0 in May 2022. Currently, the index is at a level of 164.2 as at October 2022, down from 165.2 in the prior month. Despite the fall, the ECPI remains elevated relative to prior comparable periods.
The Bourse View
At a current price of $21.04, TTNGL trades at a trailing P/E of 6.0 times. The stock offers investors a trailing dividend yield of 4.0%. With ongoing geopolitical tensions, NGLs prices remain robust to the benefit of PPGPL and by extension TTNGL financial performance. This could be further supported by any modest recovery in natural gas production within the domestic energy landscape. Investee company PPGPL's focus on exploring new growth opportunities along the NGL value chain and international expansion drive is set to provide a platform for longer-term growth. On the basis of robust NGLs prices, an attractive dividend yield and a focused expansion strategy by investee company PPGPL, Bourse maintains an OVERWEIGHT rating on TTNGL.
CIF Nears Termination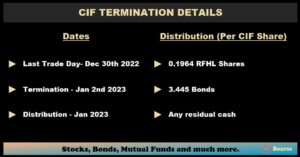 In a notice to shareholders dated 28th November 2022, CLICO Trust Corporation as Trustee of the CLICO Investment Fund (CIF) gave notice of the termination of the Fund on January 2nd 2023. Clause 19.2 of the Trust Deed states that upon termination of the CIF, unitholders shall receive the Republic Bank shares 'in specie' for every unit held and any other asset comprising the Deposited Property and any Fund Income.
The Honourable Minister of Finance (MoF) earlier in November highlighted that unitholders would receive approximately 0.1964 Republic Bank shares and 3.445 bonds for every CIF unit held, with any residual amount to be paid in cash. Investors should note that any fractional shares held would be rounded down.
The MoF also noted that the last date for trading CIF units on the Trinidad and Tobago Stock Exchange (TTSE) would be on December 30th, 2022 and the transfer of shares and bonds will commence from the week of January 2022.
More details will be provided to unitholders over the coming weeks.
"This document has been prepared by Bourse Securities Limited, ("Bourse"), for information purposes only. The production of this publication is not to in any way establish an offer or solicit for the subscription, purchase or sale of any of the securities stated herein to US persons or to contradict any laws of jurisdictions which would interpret our research to be an offer. Any trade in securities recommended herein is done subject to the fact that Bourse, its subsidiaries and/or affiliates have or may have specific or potential conflicts of interest in respect of the security or the issuer of the security, including those arising from (i) trading or dealing in certain securities and acting as an investment advisor; (ii) holding of securities of the issuer as beneficial owner; (iii) having benefitted, benefitting or to benefit from compensation arrangements; (iv) acting as underwriter in any distribution of securities of the issuer in the three years immediately preceding this document; or (v) having direct or indirect financial or other interest in the security or the issuer of the security. Investors are advised accordingly. Neither Bourse nor any of its subsidiaries, affiliates directors, officers, employees, representatives or agents, accepts any liability whatsoever for any direct, indirect or consequential losses arising from the use of this document or its contents or reliance on the information contained herein. Bourse does not guarantee the accuracy or completeness of the information in this document, which may have been obtained from or is based upon trade and statistical services or other third party sources. The information in this document is not intended to predict actual results and no assurances are given with respect thereto."