HIGHLIGHTS
TTNGL HY 2022
Earnings:  EPS 40.7% higher, from $0.54 to $0.76.
Performance Drivers:
Outlook:

International Expansion
Energy Production likely to rebound

Rating: Assigned at OVERWEIGHT.
Energy Prices Update
Year to Date Price Performance:
WTI Crude ↑ 15.8%
Brent Crude ↑20.8%
Henry Hub Natural Gas ↑115.3%
This week, we at Bourse review the performance of the sole member of the Energy Tier of the domestic exchange, Trinidad and Tobago NGL Limited (TTNGL) for the half year ended June 30th, 2022. TTNGL reported significantly improved earnings on account of robust energy markets and increased profitability from its solitary investee company, Phoenix Park Gas Processors Limited (PPGPL). We also provide a brief update on energy market developments, against the backdrop of ongoing Geopolitical tensions. Could the trend of higher energy prices continue to benefit TTNGL, or could domestic energy production challenges slow progress in the months ahead? We discuss below.
Trinidad and Tobago NGL Limited (TTNGL)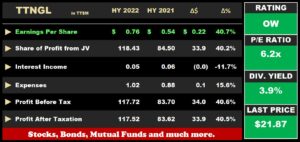 TTNGL generated Earnings per Share (EPS) of $0.72 for the half-year period ended June 30th, 2022 (HY 2022), $0.22 or 40% higher than a previous $0.54 in HY 2021.
Share of Profit from Investment in Joint Venture, Phoenix Park Gas Processors Limited (PPGPL) increased by $33.9M, from $84.5M to $118.4M, primarily driven by an increase in Mont Belvieu prices and by the continued trend of increasing energy commodity prices. Interest Income amounted to $0.05M, 11.7% lower than the prior period. Cumulatively, Total Income was $118.7M relative to $84.6M in HY 2021. Operating Expenses summed to $1.02M, 15.6% higher than a prior $0.88M in HY 2021. Resultantly, Profit Before Tax (PBT) expanded by 40.6% to 117.7M. Income Tax Expense increased to $0.20M, relative to $0.08M in HY 2021. Overall, Profit after Tax stood at $117.5M for the period under review, $33.9M more or 40.5% higher than $83.6M in HY 2021.
NGLs Prices Recover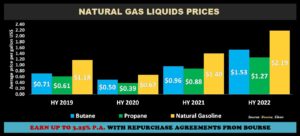 TTNGL's performance was buoyed by robust energy commodity prices during HY 2022, as measured by Mont Belvieu benchmarks. Natural Gas Liquids (NGLs) prices benefitted from supply chain constraints, further heightened by the geopolitical tensions in Eastern Europe.
Average Butane Prices increased 59.4% from US$0.96 per gallon in HY 2021 to US$1.53 per gallon in HY 2022, while average Natural Gasoline prices increased 56.4% from US$1.40 per gallon to US$2.19 per gallon. Average prices of Propane rose 44.3% to US$1.27 per gallon in HY 2022. Year to date, the weighted basket of NGLs has averaged US$1.23 per gallon.
Production Declines, Exports Recover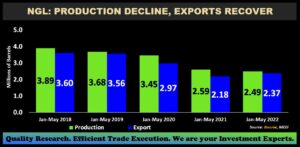 Production of NGLs has been on a downward trend since 2019. Based on the latest data published by the Ministry of Energy and Energy Industries (MEEI), NGL production fell 3.9% from 2.6M barrels (BBLS) in Jan-May 2021 to 2.5M BBLS in Jan-May 2022. According to TTNGL, this reduction was attributable to downtime by downstream petrochemicals plants for maintenance activities during the period. Exports recovered from its lowest level of 2.2M BBLS in Jan-May 2021 to 2.4M BBLS in Jan-May 2022 (9.1% higher) due to increased demand, facilitated by inventory drawdowns.
During his speech of the spotlight of the economy, the Honorable Minister of Finance signaled expectations of   gradual improvements in oil and gas production. Information provided during the presentation forecasts crude oil production for January 2023 in the range of 70,000 BBLS and natural gas production just below 3,000 mmcfd.
PPGPL International Growth Continues
PPGPL's recently acquired Hull Terminal in Texas, United States is now fully integrated, with expansion planned to fully maximize its potential. The acquisition further establishes its North American Subsidiary, Phoenix Park Trinidad and Tobago Energy Holdings Limited (PPTTEHL) as a key supplier of NGLs to customers in the markets it serves with the segment expected to positively contribute to future earnings. At a recent broker meeting, PPGPL also noted its continued efforts in evaluating regional expansion opportunities amidst the changing energy landscape.
Dividends Increase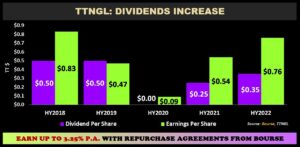 TTNGL announced an interim dividend of $0.35 per share payable on September 14th 2022, 40.0% or $0.10 higher than $0.25 paid in the year-ago period. Although the Group's value proposition (through its investee PPGPL's initiatives) has pivoted from a 'pure-income' play to one focused on long-term growth, income-seeking investors will welcome the resumption of more robust dividends after a period of relatively low dividends.
The Bourse View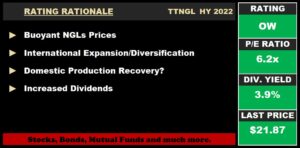 At a current price of $21.87, TTNGL trades at a trailing P/E of 6.2 times. The stock offers investors a trailing dividend yield of 3.9%.
With ongoing tensions involving one of Europe's largest Natural Gas suppliers unlikely to be resolved in the near-term, supply uncertainty could keep NGLs prices relatively elevated to the benefit of PPGPL and by extension TTNGL financial performance. This could be further supported by any modest recovery in natural gas production within the domestic energy landscape. PPGPL's focus on exploring new international growth opportunities along the NGL value chain may also provide a platform for long-term growth.
On the basis of buoyant NGLs prices, increasing dividend payments and a focused expansion strategy by investee company PPGPL, Bourse maintains an OVERWEIGHT rating on TTNGL.
Energy Market Update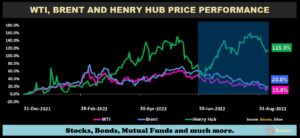 The European energy crisis continues to rumble on driven by sanctions and other geopolitical standoffs, with the associated adverse impact on nearly every corner of the global economy. Supply of energy remains tight, triggering knock-on effects throughout many industries that are already dealing with soaring inflation. Year to date, prices of WTI, Brent and Henry Hub Natural Gas have increased 15.8%, 20.8% and 115.3% respectively.
The US Energy Information Administration (EIA), in its September 7th short-term energy report, forecast the spot price of WTI crude oil will average US$98 per barrel in 2022 and US$91/b in 2023. Brent crude oil is estimated to average US$104/ barrel in 2022 and US$97/b in 2023. Henry Hub Natural Gas Price is US$9.00/MMBtu in 2022 and then fall to an average of $6.00/MMBtu in 2023, amid rising natural gas production.
On August 31st, 2022, Russia announced that the exports of natural gas to Europe through its Nord Stream 1 pipeline, would remain shut beyond the three-day maintenance halt, stoking energy market volatility. These price movements will continue to affect the cost of living, spilling over to the global economy and affecting energy commodity prices from winter heating bills for households that buy natural gas or heating oil to plastics manufacturing costs.
U.S. West Texas Intermediate (WTI) crude futures rallied after the Organization of the Petroleum Exporting Countries (OPEC) and its allies, a group known as OPEC+, on Monday 5th September, 2022 – recommended a 100,000 barrels per day production cut starting in October amid fears over demand and a global recession.  The ongoing geopolitical conflict may continue to weigh on demand and supply side factors leading to volatile prices.
ECPI Falls from May High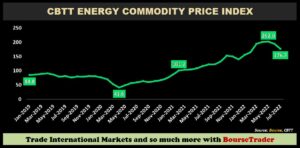 The Energy Commodity Price Index (ECPI), calculated and published by the Central Bank of Trinidad & Tobago (CBTT), is a measure of the average energy prices faced by domestic production, based on T&T's top ten energy-based commodity exports.
With international energy prices recovering from pandemic lows to record significant recovery, the ECPI followed a similar trajectory. The ECPI stood at 84.8 in January 2019, before the effects of COVID-19 led it to decline to a low of 41.6 in April 2020. As of June 2020, the ECPI maintained a relatively steady upward international price trend, peaking at 202.0 in May 2022.  Currently, the index is at a level of 176.7 as at July 2022, down from 195.1 in the prior month, amidst the supply side factors affecting production.
Next week, we begin our mini-series focused on the upcoming FY2022/2023 budget for Trinidad & Tobago, to be delivered on Monday September 26th, 2022.
"This document has been prepared by Bourse Securities Limited, ("Bourse"), for information purposes only. The production of this publication is not to in any way establish an offer or solicit for the subscription, purchase or sale of any of the securities stated herein to US persons or to contradict any laws of jurisdictions which would interpret our research to be an offer. Any trade in securities recommended herein is done subject to the fact that Bourse, its subsidiaries and/or affiliates have or may have specific or potential conflicts of interest in respect of the security or the issuer of the security, including those arising from (i) trading or dealing in certain securities and acting as an investment advisor; (ii) holding of securities of the issuer as beneficial owner; (iii) having benefitted, benefitting or to benefit from compensation arrangements; (iv) acting as underwriter in any distribution of securities of the issuer in the three years immediately preceding this document; or (v) having direct or indirect financial or other interest in the security or the issuer of the security. Investors are advised accordingly. Neither Bourse nor any of its subsidiaries, affiliates directors, officers, employees, representatives or agents, accepts any liability whatsoever for any direct, indirect or consequential losses arising from the use of this document or its contents or reliance on the information contained herein. Bourse does not guarantee the accuracy or completeness of the information in this document, which may have been obtained from or is based upon trade and statistical services or other third party sources. The information in this document is not intended to predict actual results and no assurances are given with respect thereto."