JMMBGL 9M2023
Earnings:  Earnings Per Share 45.4% lower from TT$0.19 to TT$0.10
Performance Drivers:

Geographic Diversification
Weaker Operating Profit

Outlook:

Volatile Financial Markets
Rating: Assigned as MARKETWEIGHT
NEL Q12023
Earnings:  Earnings Per Share advanced 466.7% to $0.34 from $0.06
Performance Drivers:

Significant increase in Dividend Income

Outlook:

Moderation of Energy Prices
Optimistic Domestic Natural Gas Outlook
Rating: Maintained as OVERWEIGHT
This week, we at Bourse review the performance of Non-Banking Finance sector stocks JMMB Group Limited (JMMBGL) and National Enterprises Limited (NEL), for their nine-month and three-month reporting periods respectively, ended December 31st 2022. JMMBGL reported weaker performance on account of financial market volatility, while NEL benefitted from robust energy markets. How will both companies fare in the upcoming months in an evolving operating environment? We discuss below.
JMMB Group Limited (JMMBGL)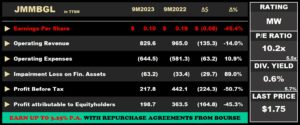 JMMB Group Limited (JMMBGL) reported an Earnings Per Share (EPS) of TT$0.10 for the nine-month period ended December 31st 2022 (9M 2022), 45.4% lower than TT$0.19 reported in the prior period.
Net Interest Income fell 6.1% to TT$370.4M from a prior $394.3M. Fee and Commission Income advanced 15.8% to TT$189.7M from TT$163.8M in 9M 2022. Gains on Securities Trading declined 51.2% to TT$153.2M. Overall, Operating Revenue fell 14.0% year-on-year (YOY) from TT$965.0M in 9M 2022 to TT$829.6M in 9M 2023. Operating Expenses rose 10.9% to TT$644.5M, reflecting inflationary increases and strategic spending on long-term initiatives while Impairment Loss on Financial Assets expanded from TT$33.4M in 9M 2022 to TT$63.2M in 9M 2023. Subsequently, Operating Profit fell 51.8% relative to the prior period. The Group recorded a Share of Profit of Associate of TT$94.7M, leading to a Profit Before Tax of TT$217.8M, 50.7% lower YOY. Income Tax dipped 84.2% to TT$8.7M with the effective tax rate moving from 12.4% in 9M 2022 to 4.0% in 9M 2023. Overall, Profit Attributable to Equity Holders stood at TT$198.7M, down 45.3% compared to TT$363.5M reported in the previous period.
Operating Revenue Contracts
JMMBGL's Operating Revenue contracted 14.0% to TT$829.6M during the 9M 2023 period. Gains on Securities Trading fell 51.2% from TT$314M in 9M 2022 to TT$153M in 9M 2023, with the segment affected by volatile equity and financial markets. Net Interest Income (44.6% of Operating Revenue) declined 6.1% to TT$370M despite a 20.5% increase in the Group's loan portfolio.
Fees and Commissions Income (22.9% of Operating Revenue) advanced 15.8% from TT$164M in 9M 2022 to TT$190M, reflecting increased trading activity and growth in managed funds and collective investment schemes across the Group. Foreign Exchange Margins from Cambio Trading gained 23.7% over the period to TT$109M.
Focus on Regional Diversification
The Group continues to focus on its 'smart growth' strategy, emphasizing diversification of revenue streams into new geographies and business lines while improving operational efficiency. JMMBGL's 23.3% stake in associate company Sagicor Financial Company Limited (SFC) contributed TT$93.1M to overall profitability.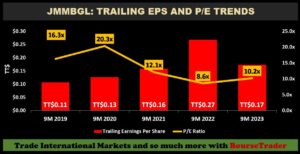 JMMBGL's recent results brought its trailing 12-month EPS to TT$0.17. Following a drop in earnings and an 8.4% decrease in share price year-to-date, the Group's Price-to-Earnings (P/E) multiple increased from 8.6 times in 9M2022 to 10.2 times in 9M2023.
The Bourse View
At a current price of $1.75, JMMBGL trades at a Price to Earnings ratio of 10.2 times, above the sector average of 5.5 times. The stock currently offers a trailing dividend yield of 0.6%, below the sector average of 5.7%. The Group could potentially benefit from financial market stabilization, with this outlook tempered by persistent inflation and a high interest rate environment. On the basis of increasing geographic diversification and financial market volatility, Bourse maintains a MARKETWEIGHT rating on JMMBGL.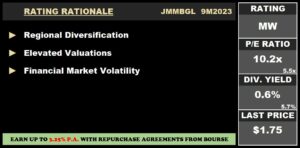 National Enterprises Limited (NEL)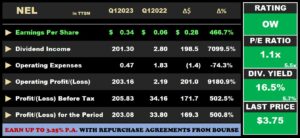 NEL reported an Earnings per Share of $0.34 for the first quarter ended December 31st 2022 (Q12023), 466.7% higher than $0.06 reported in Q12022.
The Group's Dividend Income significantly increased 7,099.5% to $201.3M from a previous $2.8M.  This was attributed to improved performance of Trinidad Nitrogen Company Limited, with higher global ammonia prices leading to stronger dividends to NEL. Other Income rose 90.4%, moving from $1.2M in Q12022 to $2.3M in the period under review. Operating Expenses decreased to $0.5M, experiencing a 74.3% decline from $1.8M in Q12022. Operating Profit substantially advanced 9,180.9% derived from large increases in both dividend income, as well as investment income moving from $2.2M in Q12022 to $203.2M in Q12023. Cumulatively, NEL reported a Profit Before Tax for the first quarter of $205.8M, highlighting a positive change of 502.5%. Tax expense rose to $2.8M and the effective tax rate stands at 1.3%. Overall, the Group recorded Total Comprehensive Income of $203.1M in Q12023, 500.8% higher than reported in the previous period.
Energy Prices Higher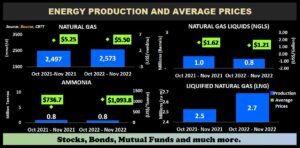 Within the period October 2022 – November 2022 Natural Gas production in T&T averaged 2,573 mmcf/d, 3.1% higher than an average of 2,497 mmcf/d in the prior comparable period. The average price of Natural Gas increased 4.8% YoY to US$5.50/MMBtu, relative to a previous average of US$5.25/MMBtu. Prices have moderated thus far in 2023 to an average of US$2.94/MMBtu, mainly pressured by weaker demand.
The domestic production of Natural Gas Liquids (NGLs) contracted by 20.2%, from 1.0M barrels/day to 0.8M barrels/day over the comparable period. Using a weighted basket, the average prices for NGLs (propane, butane and natural gas) declined 25.5%, averaging US$1.21/Gallon from a prior US$1.62/Gallon, as warmer-than-expected temperatures, particularly in the US and Europe, have curbed the need for extra heating and eased fears of fuel shortages.
NEL's investment exposure to the Ammonia industry (through its 51% holding in Trinidad Nitrogen Company Limited) benefitted from a surge in Ammonia prices, which increased from an average of US$736.7/Tonne to US$1,093.8/Tonne in October-November 2022. Ammonia production has remained relatively flat across comparable periods. However, ammonia prices have declined recently in 2023, down to the US$650-675/Tonne range as at late February according to media sources. Expectations suggest tepid pricing, pressured by weak spot demand and steady supply options globally.
During the period October 2022- November 2022 Liquefied Natural Gas (LNG) production stood at 2.7M cubic meters, 6.2% higher than 2.5M cubic meters in the prior period.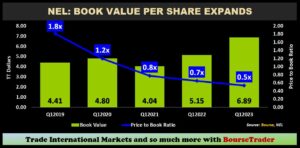 NEL's book value per share expanded in Q12023, driven by valuation increases in its investee companies. The Group's Book Value Per Share (BVPS) advanced from $5.15 in Q12022 to $6.89 in the most recent period. The upward revaluation of NEL's investee company holdings reflects a favourable near-term outlook for its energy-related holdings.
NEL's price to book ratio has declined from 1.8 times in Q12019 to a current level of 0.5 times, suggesting that investors are currently able to acquire the net assets of the company at a relatively steep discount to their current values.  NEL's cash position has grown significantly year-on-year, advancing 185.0% to $350.5M in the current period, relative to $123.0M in the prior period.
The Bourse View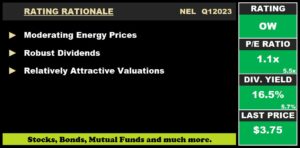 At a current price of $3.68 (up 10.3% year-to-date), NEL trades at a trailing P/E of 1.1 times, below the Non-Banking Sector average of 5.5 times. The stock is currently trading at a market-to-book value of 0.5 times, below its recent historical average of approximately 1.1 times. The Group declared an interim dividend of $0.19 payable on March 31st, 2023 to shareholders on record by March 10th, 2023. The stock offers investors an attractive trailing dividend yield of 16.5% relative to a sector average of 5.7%.
As indicated in the Central Bank of Trinidad and Tobago (CBTT's) January 2023 Economic Bulletin, the domestic economy is expected to improve, bolstered by activity in the energy sector with key upstream energy sector projects such as Shell Trinidad and Tobago's Colibri, DeNovo's Zandolie and bpTT's Cassia Compression contributing to increased output. The impact of improved volumes could be partially offset by forecast lower commodity prices, which could in turn affect NEL's energy-related cash flows and asset valuations. The U.S. Energy Information Administration (EIA) in its short-term energy outlook forecasted on February 2nd, 2023 that Henry Hub natural gas prices will average US$3.40/MMBtu in 2023.
On the basis of moderating energy prices, robust dividends and relatively attractive valuations, Bourse maintains its OVERWEIGHT rating on NEL.
"This document has been prepared by Bourse Securities Limited, ("Bourse"), for information purposes only. The production of this publication is not to in any way establish an offer or solicit for the subscription, purchase or sale of any of the securities stated herein to US persons or to contradict any laws of jurisdictions which would interpret our research to be an offer. Any trade in securities recommended herein is done subject to the fact that Bourse, its subsidiaries and/or affiliates have or may have specific or potential conflicts of interest in respect of the security or the issuer of the security, including those arising from (i) trading or dealing in certain securities and acting as an investment advisor; (ii) holding of securities of the issuer as beneficial owner; (iii) having benefitted, benefitting or to benefit from compensation arrangements; (iv) acting as underwriter in any distribution of securities of the issuer in the three years immediately preceding this document; or (v) having direct or indirect financial or other interest in the security or the issuer of the security. Investors are advised accordingly. Neither Bourse nor any of its subsidiaries, affiliates directors, officers, employees, representatives or agents, accepts any liability whatsoever for any direct, indirect or consequential losses arising from the use of this document or its contents or reliance on the information contained herein. Bourse does not guarantee the accuracy or completeness of the information in this document, which may have been obtained from or is based upon trade and statistical services or other third party sources. The information in this document is not intended to predict actual results and no assurances are given with respect thereto."