HIGHLIGHTS
Investing Myths Debunked
Myth 1: I need a lot of money to start investing.
Myth 2: I need a lot of experience to invest.
Myth 3: I need forex to access international markets.
Myth 4: Investing is too risky
Myth 5: Investing is for when I'm older
This week we at Bourse address several common myths which can sometimes discourage persons from embarking on a potentially rewarding and successful investment journey. Quite often, we think of investing as an opportunity available only to the 'well-to-do' or well-informed. The reality is quite different: Investing is for Everyone.  With a broad menu of investing options, multiple service providers and widely available information, it has never been more convenient to reap the rewards of investing. Ultimately, getting started on the path to investment success is within your reach.
Myth: I need a lot of money to start investing.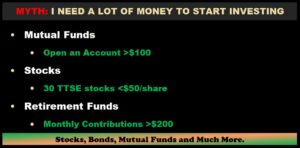 Do you think you need to be wealthy to start investing? Think again. There is an array of investment options available, regardless of your starting amount. In fact, many investment service providers encourage new investors to start small, which helps build confidence and get comfortable with the many different aspects of investing. While the minimums for investing in some financial products can be substantial, even a few hundred dollars can get you started with a wide range of solutions.
In the case of Mutual Funds– which allow you to invest in a diversified pool of different stocks, bonds and/or other assets – you can open an account at some providers in T&T with an initial investment of just TT$100. With respect to locally traded stocks, while minimums to open a trading account vary by provider, 30 of the 36 shares listed on the Trinidad & Tobago Stock Exchange trade at prices between $0.20 and $50.00, allowing you to build a well- diversified portfolio if desired. The case is the same when investing in international securities.
Fact: There are lots of choices to start small when investing. Go for it!
Myth: I need a lot of experience to invest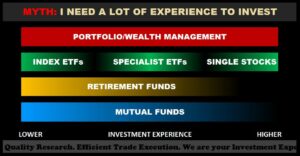 Some persons feel a little intimidated by investing, believing that they need a lot of skill/expertise to be a successful investor. No need to worry. There are numerous investment products/services available which cater to investors with varying levels of knowledge. Mutual Funds and Exchange Traded Funds (ETFs), for example, don't require any prior expertise.
Professional investors filter through financial statements, assess company risk, evaluate macroeconomic conditions and even gauge investor sentiment when formulating and executing investment strategies. Just like you would hire a mechanic or visit a doctor to benefit from their expertise, Mutual Funds hire professionals to do the technical work (trading, investment management etc.) of investing, allowing investors to benefit from their efforts.
Exchange Traded Funds (ETFs) are another great option for investors just beginning to build their knowledge. ETFs are a collection of stocks or other financial instruments bundled together into a convenient and usually highly liquid package. In general, an investor can easily gain diversified exposure to a particular asset class or investment theme using an ETF.  For example, an investor who wants to invest in US stocks but isn't sure which stock(s) he/she should buy could effectively 'buy the US market' using an ETF like the SPDR S&P 500 ETF Trust (SPY), which tracks the performance of the US Equity market, as measured by the S&P 500 stock index.
For individuals/institutions with larger stores of wealth which they would like to invest but may be limited in available time or investment experience, Portfolio/Wealth Management provides a more customized solution. The portfolio/wealth management firm creates and manages a bespoke portfolio of investments, in accordance with financial goals and risk tolerance of the investor. It is a much more personalized and intensive form of hiring professionals, with the major benefit being a highly customized end-product.
Fact: Successful investing is possible regardless of knowledge/experience.
Myth: I need forex to access international markets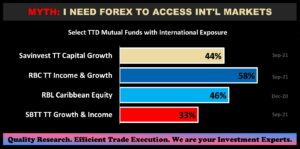 You do not need foreign currency to start investing in local Trinidad & Tobago Dollar (TTD) denominated investments, with a wide range of local stocks, bonds and/or mutual funds available. Investing directly in US securities (stocks, bonds, ETFs etc.) does, however, require having access to US currency, which is particularly challenging in the current environment.
Even without access to foreign currency, gaining (partial) exposure to international markets can still be achieved. One such avenue to do so is by adding TTD-denominated mutual funds to your portfolio which have some component of international assets. 
For example, Bourse's Savinvest Capital Growth Fund has 44.0% exposure to international markets (September 2021), Republic Bank's Caribbean Equity Fund has an exposure of 45.8% (December 2020), Scotiabank's TT Growth and Income Fund has an exposure of 32.6% (September 2021), while RBC Royal Bank's TT Income and Growth Fund had a 58.0% exposure (September 2021). These are all options which an investor with only TTD could utilize to gain some degree of international market exposure.
Fact: You can get indirect exposure to international markets without having foreign currency.
Myth: Investing is too risky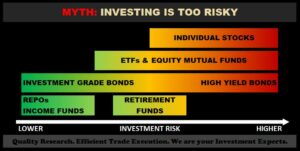 Investing involves varying degrees of risk, which can sometimes deter persons who want to play it safe. The good news is that the menu of investments solutions spans the spectrum of lower risk to higher risk options, offering products and services to meet almost all risk tolerances.
Investors with lower risk tolerance, focused on capital preservation and the generation of income could consider options including income-oriented mutual funds, repurchase agreements and high credit quality bonds. Investors with moderate risk tolerance, seeking less-volatile growth of their wealth, could consider value stocks, index ETFs, investment-grade bonds and mutual funds with a growth bias (like the Savinvest Capital Growth Fund, managed by Bourse).
Investors with a higher risk tolerance are usually looking for greater growth of their wealth, willing to accept greater risk. Investors with this objective tend to add growth stocks to their portfolios, as well as speculative-grade bonds, more aggressive ETFs and mutual funds which are exclusively or highly exposed to equities/stocks. 
Fact: Whatever your risk tolerance, there is a suitable investment option available to you.
Myth: Investing is for when I'm older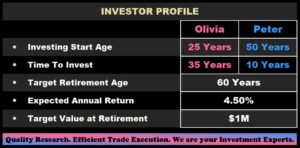 One of the greatest mistakes we can make is waiting too late to start investing. The reality is that the earlier you start investing, the easier it becomes to achieve your financial goals. This is especially true in the context of building wealth for your retirement.   Let's consider the case of two individuals, Olivia and Peter.
Olivia started building her long-term wealth at the age of 25 years, while Peter began at the age of 50. Both investors aim to retire at 60 years old and enjoy the benefit of one million ($1M) at retirement. They will then utilize their investment lump-sum to purchase an annuity from a provider offering the best deal in terms of monthly income. After speaking to their investment advisers, Olivia and Peter have determined that a long-term annual investment return expectation of 4.5% per annum is reasonable.
Consider our early bird investor, Olivia. At the age of 25 years, she would have to make monthly contributions of just $983 to achieve her retirement target of $1M by age 60 under the assumption of a 4.5% p.a. return. Comparatively, our late-starter investor, Peter, who has 10 years before reaching retirement age, must make a monthly contribution of $6,614 under the same conditions.
The "power of compounding" – the benefit of earning interest on interest for longer periods of time – cannot be emphasized enough. Olivia's total contributions over a much longer period would total around $413,000. The remaining $587,000 (or nearly 59%) of her $1M goal would have been generated by investment returns. In contrast, Peter would have made total contributions of $794,000 to achieve his $1M goal. Only $206,000 (or around 20%) of his target value would have been achieved from investment returns.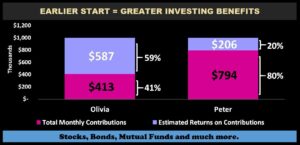 For a long-term investor focused on life after employment, Retirement Funds are a low-hassle option to get into investing. Like mutual funds, retirement funds also provide the benefits of diversification and professional management, but importantly also provide tax benefits, as contributions to the fund are tax deductible (subject to income tax specifications). During the FY2021/2022 budget, the Honourable Minister of Finance proposed to increase tax 'relief' on such funds from the current $50,000 annually to $60,000 effective January 2022.
Fact: An earlier investing start creates the opportunity for greater returns over time.
So the next time you are thinking about getting started on your investment journey, remember: (i) there is no better time than the present and (ii) investing is for everyone.