HIGHLIGHTS
TTNGL Q1 2021
Earnings: Earnings Per Share of TT$0.32, ↑700% from TT$0.04
Performance Drivers:
Outlook:

More Resilient Energy Commodity Prices
International Expansion Focus
Increasing Sales Volumes

Rating: Maintained at NEUTRAL
TTNGL Outlook Improves
This week, we at Bourse review the performance of the sole member of the Energy Tier of the domestic exchange, Trinidad and Tobago NGL Limited (TTNGL) for the first quarter ended 31st March, 2021.  TTNGL reported improved earnings on account of the stabilisation of energy markets and subsequent recoveries in the prices of Natural Gas Liquids; Butane, Propane and Natural Gasoline. With TTNGL starting of its financial year with a strong quarter, could the momentum continue? We discuss below.
Trinidad and Tobago NGL Limited (TTNGL)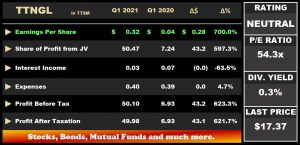 TTNGL generated Earnings per Share (EPS) of $0.32 for the first quarter ended 31st March 2021 (Q1 2021), $0.28 higher than a previous $0.04 in Q1 2020. Share of Profit from Investment in Joint Venture (PPGPL) increased by $43.2M, from $7.2M to $50.5M primarily driven by (i) a 49.8% increase in Mont Belvieu prices, (ii) a 7.1% increase in NGL production as the Group benefitted from 11.9% higher NGL content in feedstock, natural gas from the National Gas Company of Trinidad and Tobago Limited. Notably however, total NGL 'production' in Q1 2021 fell 21.4% influenced by lower delivered NGL volumes from the closure of Atlantic LNG's Train 1. Interest Income amounted to $0.03M, 63.5% lower than $0.07M. Cumulatively, Total Income was $50.5M relative to $7.3M in the prior year. Operating Expenses summed to $0.40M, 4.7% higher than a prior $0.39M in Q1 2020. Overall, Profit after Tax stood at $50.0M for the period under review, $43.1M more than $6.93M in Q1 2020.
Mont Belvieu Prices Stabilize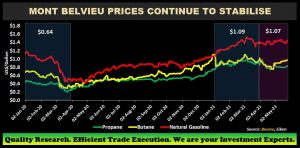 TTNGL's lone investee company, Phoenix Park Gas Processors Limited (PPGPL), relies on favourable energy market prices of natural gas liquids. With a collapse in NGLs prices in 2020, the entity face pressure in its ability to generate revenue and profits in line with historical levels. According to benchmark market data in Q1 2020, the weighted basket of NGLs produced by PPGPL averaged US$0.64 per gallon. Comparatively, in Q1 2021 the average price of the weighted basket of NGLs was US$1.09 per gallon. Year to date, the weighted basket of NGLs has averaged US$1.08 per gallon. For comparison, during the entire year of 2020 the average price was US$0.67 per gallon.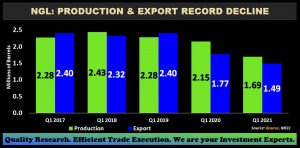 During Q1 2021, production of NGLs declined 21.4% to 1.69 million metric tonnes relative to 2.15 million metric tonnes for the same period in Q1 2020. Export of NGLs also contracted 15.8% year on year in Q1 2021 to 1.49 million metric tonnes from 1.77 million metric tonnes. Notably, the decline in export was less pronounced as demand for PPGPL's Liquefied Petroleum Gases (LPG) – propane and butane – were relatively resilient due to at home consumption.
Additionally, the closure of Atlantic's Train I would have also had an impact on the liquids processing throughput of PPGPL. However, due to the maintenance of a "Take or Pay Contract" between both entities, the impact of this closure was mitigated.
PPTTEH to Boost Fortunes?
Despite challenges associated with the supply of feedstock, natural gas, PPGPL has been able to benefit from improvements in NGL production from gas processing, as the National Gas Company of Trinidad and Tobago Limited has made deliberate attempts to supply the entity with "wetter natural gas." In addition to its gas processing and natural gas fractionation operations, PPGPL also maintains operations in product trading which was introduced in 2018. More recently, the Company introduced its marketing and trading segment through the acquisition of Twin Eagle Liquids Marketing. Twin Eagle is held by PPGPL through its North American subsidiary, Phoenix Park Trinidad and Tobago Energy Holdings Limited (PPTTEH). For 2020, PPTTEH contributed a reported 8% to PPGPL's Profit after Tax. With PPTTEH now being in ownership of pipeline assets across the US, Canada and Mexico, PPGPL anticipates that it will leverage growth opportunities in these regions. PPGPL has expressed its target of 20% of Total EBITDA (Earnings Before Interest, Taxation Depreciation and Amortization) being generated by international sources by 2024-2025. In 2020, PPGPL reported total sales volumes of 29,669 barrels per day, of which 38.5% was contributed by PPTTEH. By 2022 PPGPL, expects total sales volumes of 60,671 barrels per day, of which 64% is forecast to be delivered by PPTTEH. It should be noted that, while sales volumes are expected to significantly increase, the profit margins generated by PPTTEH's trading business are materially lower than those generated by PPGPL's 'traditional' sources.
More Acquisitions Coming?
At a Broker Meeting held by TTNGL on May 24th, PPGPL officials reinforced their 2020 commitment to further acquisition activity on the international front. PPGPL has indicated that any further acquisitions will be along the energy value chain, which it actively evaluates. At the close of March 2021, PPGPL had a cash and cash equivalents position of US$102.1M (TT$682.1M). Notably, the entire cash base is not attributable to TTNGL which has a 39% stake in PPGPL. Even with significant capital on hand, the Company indicated it remains open to tapping domestic capital market for any additional financial firepower, with the environment viewed as accommodative.
Regional & International Thrust
PPGPL outlined initiatives aimed at expanding the market penetration of the Company across a number of jurisdictions. With Guyana becoming a recognized global energy player, PPGPL has indicated its interest in pursuing opportunities in the country, with related entity National Energy already sounding a presence in the country. The Company additionally aims to expand through the exploration of opportunities in the African continent and the establishment of strategic partnerships. Further growth in the Latin American space was also noted as a growth initiative to be undertaken by PPGPL. In addition to its pursuit of opportunities in the international space, PPGPL also maintains a significant presence in the Caribbean, demonstrated by its maintenance of offtake contracts with Eastern Caribbean markets.  The Company is also seeking to expand its fuel access to include other refined fuels, however the implementation of these initiatives may require time to materialize.
Communication Boosts Investor Confidence?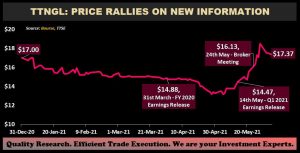 After closing 2020 at a price of $17.00, TTNGL'S share price continued to decline even as energy markets roared ahead. The release of its FY2020 earnings in March sparked concerns among investors, perhaps overly focused on historic performance as opposed to current energy market dynamics. TTNGL subsequently slipped to a low of $13.17 on the 5th of May.  However, on May 14th, the day of its Q1 2021 earnings release, the price of TTNGL closed at $14.47, 4.9% higher than $13.80 from the previous day. The price rallied between $14.47 and $15.54 until May 21st 2021. Following very open communications at TTNGL's broker meeting on May 24th 2021 which provided an outlook on PPGPL in the coming periods and charted the strategic initiatives of the company, the price of TTNGL rose to $16.13, 3.8% more than the previous day's $15.54. Since then, TTNGL's stock price reached a new high of $18.50 (8.8% higher YTD) for 2021, on May 28th 2021.
The Bourse View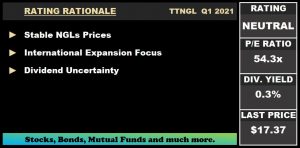 TTNGL has appreciated 2.2% year-to-date, currently priced at $17.37 with a price to earnings ratio of 54.3 times. Notwithstanding the growth initiatives articulated by the Company, TTNGL's stock has traditionally been considered for its dividend characteristics. Currently, TTNGL offers a dividend yield of 0.3%, relative to the TTSE Tier I dividend yield of 2.0%. TTNGL typically declares its interim dividend in August. Given the performance of PPGPL in HY2020, no interim dividend was declared in the prior year. However, with the Company forecast to continue to report recovery in its performance, PPGPL has indicated that it aims to pay an interim dividend for 2021.
Investors are likely to seek clarity on the amount of the interim dividend, as well as guidance on the potential final dividend, before fully committing to TTNGL once again. While this may traditionally be a good strategy for income-seekers, TTNGL's value proposition (through its investee PPGPL's initiatives) may be in transition. Funding acquisitions, among other initiatives requiring capital, could mean a shift away from its traditional high-dividend status to some combination of (perhaps lower) dividends and growth in stock price.
With Mont Belvieu prices projected to remain relatively stable in the near term and energy commodity demand to remain resilient as markets/economies normalize, PPGPL and by extension TTNGL is anticipated to record continued stabilization in its performance. The execution of outlined initiatives aimed at strengthening PPGPL's geographical reach of operations and streams of revenue is forecast to provide a platform for medium-term growth. On the basis of, stable NGL prices, forecast growth through expansionary opportunities but tempered by some near-term degree of dividend uncertainty, Bourse maintains a NEUTRAL rating on TTNGL.
"This document has been prepared by Bourse Securities Limited, ("Bourse"), for information purposes only. The production of this publication is not to in any way establish an offer or solicit for the subscription, purchase or sale of any of the securities stated herein to US persons or to contradict any laws of jurisdictions which would interpret our research to be an offer. Any trade in securities recommended herein is done subject to the fact that Bourse, its subsidiaries and/or affiliates have or may have specific or potential conflicts of interest in respect of the security or the issuer of the security, including those arising from (i) trading or dealing in certain securities and acting as an investment advisor; (ii) holding of securities of the issuer as beneficial owner; (iii) having benefitted, benefitting or to benefit from compensation arrangements; (iv) acting as underwriter in any distribution of securities of the issuer in the three years immediately preceding this document; or (v) having direct or indirect financial or other interest in the security or the issuer of the security. Investors are advised accordingly. Neither Bourse nor any of its subsidiaries, affiliates directors, officers, employees, representatives or agents, accepts any liability whatsoever for any direct, indirect or consequential losses arising from the use of this document or its contents or reliance on the information contained herein. Bourse does not guarantee the accuracy or completeness of the information in this document, which may have been obtained from or is based upon trade and statistical services or other third party sources. The information in this document is not intended to predict actual results and no assurances are given with respect thereto."