BOURSE SECURITIES LIMITED
4th May 2020
SFC Improves, TCL Stumbles
This week, we at Bourse take a look at the financial performance of Sagicor Financial Company Limited (SFC) for the year ended December 31st, 2019 and Trinidad Cement Limited (TCL) for the three months ended March 30th, 2020. SFC's performance was impacted by the incurrence of the one-off costs associated with its move to the Toronto Stock Exchange. Meanwhile, TCL continued to experience struggles driven by lower sales. The potential impact of the pandemic on both companies' performance would not have yet manifested, which suggests that forward looking performance could be a concern.
Sagicor Financial Company Limited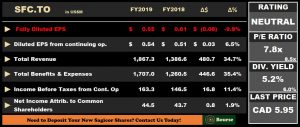 Sagicor Financial Company Limited (SFC) reported Fully Diluted Earnings per Share (EPS) of US$0.55 for the financial year ended December 31st 2019, a 9.9% decline from the EPS of US$0.61 recorded in the prior comparable period. Diluted EPS from Continuing Operations rose 6.5% year-on-year (YoY) to US$0.54 from US$0.51 recorded in the prior year.
Net Premium Revenue grew 17.8% from a previous US$1.05B to US$1.24B in FY2019, primarily driven by growth in the Life and Annuity business in the Caribbean and the US. SFC's Total Revenue stood at US$1.87B in FY 2019, a 34.7% improvement from US$1.39B recorded in FY2018. Total Benefits rose 45.9% from US$765.3M to US$1.12B. For the period, Total Expenses rose 19.3%, including a significant US$43.4M one-off cost arising from the Group's listing on the Toronto Stock Exchange. Resultantly, Income Before Tax from Continuing Operations improved 11.4% YoY, from US$144.5M to US$163.3M. Overall, Net Income for the year amounted to US$104.1M, 1.1% higher than the US$103M recorded in FY 2018. Net Income Attributable to Common Shareholders stood at US$44.5M, up 1.9% from the previous year's comparative figure of US$43.7M.
Price falls post-transaction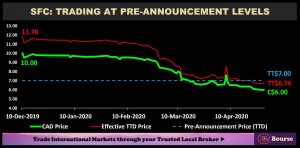 Since its debut on the Toronto Stock Exchange (TSX) at the official transaction price of CAD$10.00, SFC has steadily declined. After trading relatively stable for the earlier part of the year, the stock now stands at CAD$5.95, a 40.5% decline.
The decline may be attributable to two factors, (i) negative investor sentiment arising from the expected impact of COVID-19 and (ii) shareholder dynamics. In particular, many shareholders of SFC would have viewed the stock as an avenue to major currency (Canadian Dollars or US Dollars) and opted to hold onto their shares until its listing on the TSX. Thin trading volumes and a desire to sell would likely have contributed to downward pressure on the stock price.
Profit Before Tax Composition Stable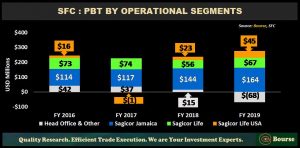 Over the course of FY 2019, SFC was able to record an 11.4% increase to its overall Profit Before Taxation; this improvement comes despite the Group's incurrence of a US$43.4M one-off expense arising from its listing on the Toronto Stock Exchange. At year end, SFC was able to report growth across all segments with the exception of the Head Office & Other which absorbed the aforementioned one-off listing expense.
In FY 2019, Sagicor Jamaica, the Group's largest segment, reported top line growth of 25%, supported by its September 2019 acquisition of Advantage General Insurance Company. Ultimately, the segment was able to report a 14% uptick to PBT for the period, despite a 30% increase to Expenses owing to costs associated with business growth and changes in actuarial assumptions.
Sagicor USA faced contractionary pressures from lowered lending rates imposed by the US Federal Reserve causing the Group to report a decline in the revenue generating abilities of its annuity products. At the end of Q4 2019, the segment reported a 28% YoY decrease while over the course of the year, the segment grew 33% in terms of revenue on account of new business, increased premiums and significant gains in investment income. However, with uncertainty surrounding COVID-19 and economic contractions in its wake, it is unlikely that present conditions will allow for a repeat of 2019's performance.
Sagicor Life Inc, reported an 18% increase to PBT in 2019, bolstered by one-off credit impairment gains from the reversal of credit impairment expenses associated with the Government of Barbados debt restructuring and improvements to other investment income.
Acquisition Activities Underway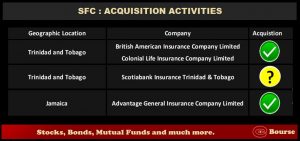 On the 7th October, 2019 it was announced that Sagicor Life entered into agreements to acquire the insurance portfolios of British American Insurance Company (Trinidad) and Colonial Life Insurance Company (Trinidad) Limited (CLICO), with all operational segments of both entities being assumed. The completion of these transactions (subject to certain conditions and regulatory approvals) remains ongoing.
Sagicor's agreement to acquire Scotiabank Insurance Trinidad and Tobago and establish a 20-year distribution agreement for insurance products and solutions domestically appears less certain, given the business risk from COVID-19, among other factors.
COVID-19 Concerns
Like most other companies, the economic fallout from COVID-19 is expected to have a negative impact on the performance of SFC. Sagicor is likely to suffer a capitulation in its financial performance as its primary regions of operations Barbados, Jamaica, Trinidad and Tobago and the USA each accounting for 10%, 35%, 13% and 32% of revenue respectively, are all projected by the IMF to suffer severe economic contractions.
SFC's insurance operations are likely to take a hit in the current economic climate amidst lower interest rates and the heightened risk of persons defaulting on premium payments due to spikes in unemployment and lower wages.
The Bourse View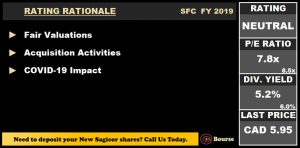 SFC's share price currently stands at CAD$5.95 and trades at a trailing price-to-earnings ratio of 7.8 times, below the average of its industry peers of 8.5 times. The stock offers investors a trailing dividend yield of 5.2%, just below the average of its industry peers of 6.0%. On the basis of fair valuations and the upside potential for growth from future acquisition activity, but tempered by the potential impact of COVID-19 on its operations, Bourse maintains a NEUTRAL rating on SFC.
Trinidad Cement Limited (TCL)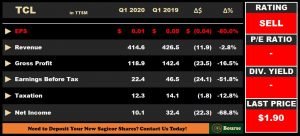 Trinidad Cement Limited (TCL) reported an EPS of $0.01 at the end of the first quarter ended March 31st 2020 (Q1 2020), down 80% from an EPS of $0.05 reported in Q1 2019.
Revenue fell 2.8% to stand at $414.6M from a previous $426.5M for the comparable period, while Cost of Sales increased 4.08% from $284.1M to $295.7M. Subsequently, Gross Profit fell from $142.4M to $118.9M (down 16.5%). Operating Earnings Before Other Expenses (Net) declined 20.7% to $56.1M while Other Expenses (Net) fell from $11.6M to $4.8M. As a result, Operating Earnings slid 13.3% or $7.9M lower YoY to $51.4M. Financial Expense grew from $12.8M to $29M attributable to adverse Exchange Rate movement of the Jamaican Dollar. Earnings Before Tax stood at $22.4M in Q1 2020, a 51.8% reduction from $46.5M recorded in the previous year. Taxation fell 12.8% from a prior $14.1M to $12.3M. Overall, Net Income for the period closed at $10.1M, a significant 68.8% decline as compared to the $32.4M recorded in Q1 2019.
 Revenues Lower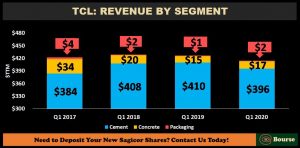 Overall, TCL's Q1 revenue has trended downward over the last three years with a 2.8% fall in Q1 2020 YoY, which the Group attributes to lost sales days in March resulting from COVID-19 restrictions. Cement continues to be its largest segment, contributing to 95.4% of Total Revenue; however Revenue attributable to this segment declined 3.6% from $410.2M to $395.6M in Q1 2020. On the other hand, Revenue from the Concrete and Packaging segments managed to improve in comparison to the previous year. The Concrete segment's Revenue advanced 15.8% to $17.3M, while the Packaging Segment's Revenue rebounded to $1.6M (up 24.1%) after its fall to $1.3M in Q1 2018.
Overall, TCL's ability to weather the COVID-19 challenges remains under pressure. The Group has temporarily ceased its operations in order to abide with the government's restrictions for non-essential services, with its re-opening contingent on further government guidelines. Extended business closures into mid-May (at a minimum) and associated employment losses could result in lower demand for building products. Lower government revenues and a weaker fiscal position could lead to delays/cancellations in capital projects, with priority expenditure being allocated to social programmes and recurrent expenditures.
Domestic Demand Muted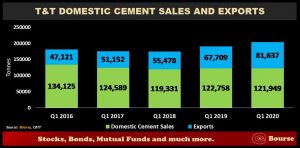 Within the local economy, cement sales for quarter one have been undulating over the past five years, with a 0.7% decline for Q1 2020 from 122,758 tonnes to 121,949 tonnes. The Group's challenges concerning weak economic growth in its local economies, low cement and concrete demands in T&T and competition from the import of cement into the region continue to persist amidst the backdrop of lock-down periods imposed by governments and the closure of businesses. On the other hand, Exports, which account for a smaller proportion of overall cement sales, has consistently increased over the last five Q1 periods, with a compound annual growth rate of 14.7%. Exports of cement for the Q1 2020 period amounted to 81,637 tonnes, 20.6% higher YoY.
 The Bourse View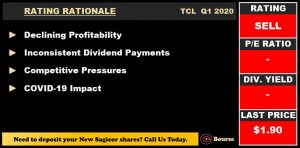 At a current price of $1.90, TCL's share price has declined 5% Year to Date (YTD) and trades at a Market– to- Book Ratio of 1.0x. Due to the Group's declining profitability, TCL has only paid dividends twice within the last ten years, with the last time being August 2017. On the basis of declining profitability, inconsistent dividend payments, competitive pressures and its unlikely ability to sustain the economic impact of COVID-19, Bourse maintains a SELL rating on TCL.
 Budget Deficit Widens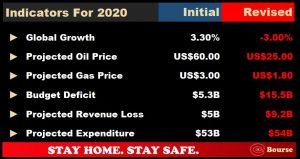 As the Government of Trinidad and Tobago has extended the stay at home period to the 15th of May, the economic toll of altered production and commerce within the country has continued to mount. With testing for the virus expected to be ramped up as at the 27th April 2020, the Government is expected to make a decision as to whether or not restrictions will be altered on the 10th of May.
Globally the COVID-19 virus has led to a collapse in oil prices, prompting the Minister of Finance (MoF) to revise for the second time this year, the estimated budgeted oil price to US$25 per barrel and natural gas price to US$1.80 per MMBtu. The capitulation of energy prices combined within the temporary closure of businesses, have contributed to a projected $9.2B revenue shortfall – of this, $5.15B is attributed to a fall in taxation revenue, $2.5B due to a reduction in royalties and production sharing from energy companies and $1.2B from state enterprises.
In light of what is expected to be a sharp contraction in revenue and a projected $1B increase to expenditure owing to extraordinary circumstances, the MoF now estimates that the fiscal 2020 budget deficit will stand at $15.5B from an initial estimate of $5.3B. Minister Imbert has stated that the government will aim to maintain its original expenditure target of $53B for fiscal 2020 through a reallocation of priority areas.
Financing the Deficit
With the government having to resort to increased spending to maintain the economy under conditions of supressed revenue generation, their means of financing remains a matter of concern. The government has three ways by which they can access funding; the sale of assets, external or debt financing through development banks or other lending institutions and by tapping into the Heritage and Stabilisation Fund. Mr. Imbert outlined that the Government has held discussions with certain multilateral institutions and development banks, in addition to employing domestic financial resources to ensure that the funding requirements of the widened fiscal deficit is met. The Minister has announced that the government is sourcing foreign funding from the following entities: US$20M from the World Bank, US$130M from the Inter-American Development Bank (IDB) and US$150M from the Development Bank of Latin America (CAF).
Additionally, a further US$500M is being pursed for budgetary support from other external sources. The MoF outlined that $500M has been raised to pay for the needs of Regional Health Authorities.
Lastly, Minster Imbert has announced that steps have been taken to tap into the Heritage and Stabilisation Fund (HSF) for emergency drawdowns not exceeding US$1.5B. The HSF currently stands at US$6.1B.
For more information on these and other investment themes, please contact Bourse Securities Limited, at 226-8773 or email us at invest@boursefinancial.com.
"This document has been prepared by Bourse Securities Limited, ("Bourse"), for information purposes only. The production of this publication is not to in any way establish an offer or solicit for the subscription, purchase or sale of any of the securities stated herein to US persons or to contradict any laws of jurisdictions which would interpret our research to be an offer. Any trade in securities recommended herein is done subject to the fact that Bourse, its subsidiaries and/or affiliates have or may have specific or potential conflicts of interest in respect of the security or the issuer of the security, including those arising from (i) trading or dealing in certain securities and acting as an investment advisor; (ii) holding of securities of the issuer as beneficial owner; (iii) having benefitted, benefitting or to benefit from compensation arrangements; (iv) acting as underwriter in any distribution of securities of the issuer in the three years immediately preceding this document; or (v) having direct or indirect financial or other interest in the security or the issuer of the security. Investors are advised accordingly. Neither Bourse nor any of its subsidiaries, affiliates directors, officers, employees, representatives or agents, accepts any liability whatsoever for any direct, indirect or consequential losses arising from the use of this document or its contents or reliance on the information contained herein. Bourse does not guarantee the accuracy or completeness of the information in this document, which may have been obtained from or is based upon trade and statistical services or other third party sources. The information in this document is not intended to predict actual results and no assurances are given with respect thereto."