BOURSE SECURITIES LIMITED
10th February, 2020.
RFHL, FIRST IMPROVE
This week, we at Bourse review the results of local financial giants Republic Financial Holdings Limited (RFHL) and First Citizens Bank Limited (FIRST) for the first quarter ended December 31st, 2019. Both companies reported higher earnings, which were propelled by various factors. We discuss the performance of both companies and provide a brief outlook.
 Republic Financial Holdings Limited (RFHL)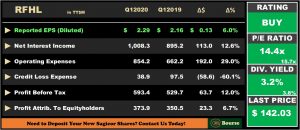 Republic Financial Holdings Limited (RFHL) reported Earnings per Share (EPS) of $2.29 for the quarter ended December 31st 2019, up 6.0% from the EPS of $2.16 in the corresponding 2018 period.
Net Interest Income improved 12.6% moving from $895.2M in Q1 2019 to $1.0B in Q1 2020, while Other Income also increased 21.7% to $476.8M for the period. As a result, Operating Income advanced 15.4% Year on Year (YoY) to $1.5B. Operating Expenses increased 29.0% from $662.2M to $854.2M. Operating Profit stood at $632.3M, relatively flat from $627.3M in Q1 2019. A decline in Credit Loss Expense (down 60.1%) to $38.9M drove Profit before Taxation (PBT) up 12.0% to $593.4M. The Group's Effective Tax Rate moved from 28.6% to 30.4%, resulting in a Net Profit after Taxation of $412.9M, a 9.2% improvement from $378.1M a year ago. Overall, Profit Attributable to Equity Holders was boosted 6.7% from $350.5M to $373.9M. RFHL's asset base also increased 40.87% from $72.5B to $102.1B, reflecting various acquisitions throughout 2019.
Outlook
Operating Income Grows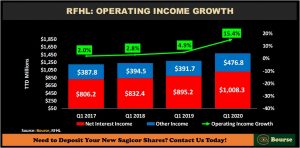 Over the past four years, RFHL's Net Interest Income – which contributes approximately 68.0% to Operating Income – has displayed continuous growth, with the strongest growth in Q1 2020 of 12.63% and a 3-Year Compounded Annual Growth Rate (CAGR) of 7.74%. Likewise, RFHL has maintained growth in Other Income, with the largest increase (up 21.72%) recorded in the first quarter of 2020 and a 3-Year CAGR of 7.13%. Overall, Operating Income has trended upward over the last four years, with a sharp increase of 15.4% in the Q1 2020 period. This result is underpinned by significant Operating Income expansion in the Eastern Caribbean (up 178.35%) and Cayman Islands (up 417.87%) operations YoY resulting from the Group's two major acquisitions in these territories in 2019.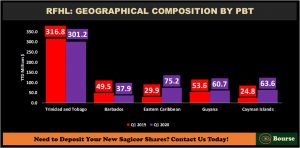 RFHL's overall Profit Before Tax (PBT) for the period was boosted by its acquisition activity throughout 2019. Firstly, the acquisition of majority ownership of Cayman National Corporation (CNC) on March 13th 2019, which added $11.7B to the Group's asset base, propelled PBT from the Cayman Islands operations 156.73% from $24.8M in Q1 2019 to $63.6M in Q1 2020. The acquisition of Scotiabank's banking operations in St. Maarten and the Eastern Caribbean islands on November 1st 2019 added $12.7B to RFHL's asset base. This activity also reflected a 151.65% improvement in PBT from the Eastern Caribbean from $29.9M to $75.2M. Notably, the Eastern Caribbean is now the second largest contributor to PBT, replacing Guyana, while the Cayman Islands now represents the third largest contributor to PBT (previously Barbados). Nonetheless, Guyana recorded an increased PBT from $53.6M to $60.7M for the period, up 13.25%. Despite growth in these territories, RFHL experienced some decline in other countries where economic conditions were less than favourable. PBT from the Group's main jurisdiction, Trinidad and Tobago, fell to $301.2M (down 4.9% YoY), while it decreased 23.3% in Barbados to $37.9M for the period. Moving forward, RFHL has announced the acquisition of Scotiabank's operations in the British Virgin Islands, pending regulatory approvals.
The Bourse View: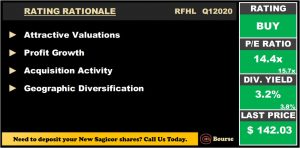 At a current price of $142.03, RFHL has a trailing Price to Earnings ratio of 14.4 times, below the banking sector's average of 15.7 times. The Group also offers a trailing Dividend Yield of 3.2%, below the sector average of 3.8%. On the basis of attractive valuations, continued profit growth, acquisition activity and increased geographic diversification, Bourse maintains a BUY rating on RFHL.
First Citizens Bank Limited (FIRST)
First Citizens Bank Limited (FIRST) reported an Earnings per Share (EPS) of $0.89 for the first quarter ended 31st December 2019, a 4.7% improvement from the previous year of $0.85. Net Interest Income stood at $429M, up 7.5%, underpinned by a 5.3% or $1B growth in the Loans to Customers portfolio and a 6.7% or $1.1B increase in Investments. Other Income also gained 9.8%, generating $190.9M for Q1 2020. As a result, Total Net Income increased 8.2% Year on Year (YoY) from $572.9M to $619.9M. The Group made a provision of $19.3M for credit impairment losses for the period, compared to the write back on expected credit losses amounting to $4.1M in 2018.
Non-Interest Expenses grew 5.6% in Q1 2020 to $285.6M. Operating Profit was 2.7% higher at $314.9M, while Share of Profit in Associates and Joint Ventures recorded growth of 26.5% from $4.9M to $6.2M. Consequently, Net Profit Before Taxation increased 3.1% YoY to $321.1M. The Effective Tax Rate fell marginally from 31.1% to 30.7% with Net Profit After Taxation of $222.6M, up 3.8% from $214.5M for the prior corresponding period.
Outlook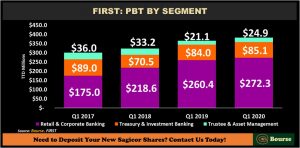 FIRST's PBT has displayed continued growth from Q1 2017 through Q1 2020, or a 3-Year CAGR of 8.39%. Retail & Corporate Banking and Treasury & Investment Banking continue to be the Group's core business segments. Retail & Corporate Banking has steadily improved over the four-year period, with a 4.57% YoY growth in PBT contribution in Q1 2020, while Treasury & Investment Banking remained relatively flat as its PBT increased marginally by 1.25%. The Group's growth in Loans to Customers and Investments for the period was supported by a $1.8B (6.1%) boost in customer's deposits, as well as other funding instruments. The smallest segment, Trustee & Asset Management recorded a substantial 17.87% growth in PBT.
The Bourse View: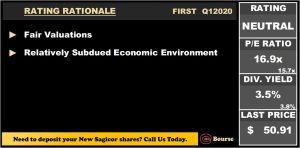 At a current price of $50.91, FIRST trades at a trailing P/E ratio of 16.9 times above the Banking sector average of 15.7 times. The stock also offers a trailing dividend yield of 3.5%, just shy of the Banking sector's average of 3.8%. On the basis of fair valuations but tempered by a relatively subdued economic environment, Bourse maintains a NEUTRAL rating on FIRST.
For more information on these and other investment themes, please contact Bourse Securities Limited, at 226-8773 or email us at invest@boursefinancial.com.
"This document has been prepared by Bourse Securities Limited, ("Bourse"), for information purposes only. The production of this publication is not to in any way establish an offer or solicit for the subscription, purchase or sale of any of the securities stated herein to US persons or to contradict any laws of jurisdictions which would interpret our research to be an offer. Any trade in securities recommended herein is done subject to the fact that Bourse, its subsidiaries and/or affiliates have or may have specific or potential conflicts of interest in respect of the security or the issuer of the security, including those arising from (i) trading or dealing in certain securities and acting as an investment advisor; (ii) holding of securities of the issuer as beneficial owner; (iii) having benefitted, benefitting or to benefit from compensation arrangements; (iv) acting as underwriter in any distribution of securities of the issuer in the three years immediately preceding this document; or (v) having direct or indirect financial or other interest in the security or the issuer of the security. Investors are advised accordingly. Neither Bourse nor any of its subsidiaries, affiliates directors, officers, employees, representatives or agents, accepts any liability whatsoever for any direct, indirect or consequential losses arising from the use of this document or its contents or reliance on the information contained herein. Bourse does not guarantee the accuracy or completeness of the information in this document, which may have been obtained from or is based upon trade and statistical services or other third party sources. The information in this document is not intended to predict actual results and no assurances are given with respect thereto."