BOURSE SECURITIES LIMITED
25th March, 2019.
AMCL, GKC report higher earnings
This week, we at Bourse review the 2018 year-end financial results of two companies within the Conglomerate sector – Ansa McAl Limited (AMCL) and GraceKennedy Limited (GKC). Both companies recorded overall improvements in performance despite adverse economic conditions in their respective main operating jurisdictions. We take a closer look at the results and give a brief outlook.
ANSA McAl Limited (AMCL)

Ansa McAl Limited (AMCL) reported Earnings per Share (EPS) of $3.54 for the financial year (FY) ended 31st December 2018, a 12.4% improvement from $3.15 earned during FY 2017.
Revenue amounted to $6.39B for FY 2018, up 2.3% or $140.7M from the previous year's results. Operating Profit increased by 6.6% or $65.8M over FY 2017, closing off at $1.06B. Operating Profit Margin rose to 16.5%, a modest improvement over the 15.9% recorded in 2017. AMCL reported a significant increase of 32.5% or $16.1M in Finance Costs in 2018. Nonetheless, Profit Before Tax, amounted to $1.02B and experienced growth of 5.1% YoY which resulted in a marginal improvement in PBT Margin (15.9% in 2018). AMCL reported Taxation expense of $295.3M, down $24.5M or 7.7% compared to the previous year's results. The effective tax rate fell from 33% to 29%, closer to the Trinidad and Tobago corporate tax rate of 30%. Overall, Profit for the Period improved 11.4% from $648.0M in FY 2017 to $722.1M in FY 2018.
Outlook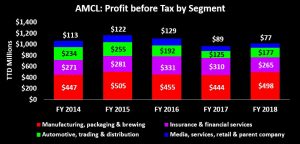 The Group's main contributor to PBT (49%), Manufacturing, Packaging & Brewing reported notable PBT growth of 12.2% or $54.3M YoY. This was accompanied by a $52.0M (41.6% YoY) improvement in PBT from the Automotive, Trading and Distribution segment. These gains were offset, however, by a $45.0M or 14.5% reduction in PBT contributions from the Insurance and Financial Services segment. According to AMCL, this decline was attributable to $20M in gross claims in the General Insurance Company (Tatil). Additionally, PBT contributions from the Media, Retail, Services and Parent Company declined 14.0% or $12.5M YoY due to contraction of corporate media spending. AMCL's performance was adversely affected in FY 2018 by the economic climate and debt restructuring in Barbados, resulting in impairment costs of $42M. Adjusting for these one off expenses, the Group's overall PBT would have increased 11% YoY, more than double the reported growth of 5.1%.
The Bourse View
At a current price of $55.02, AMCL trades at a trailing P/E of 15.5 times, above the Conglomerate sector average of 12.5 times but lower than the stock's three-year average of 17.4 times. The stock offers investors a trailing dividend yield of 3.3%, in line with the sector average of 3.1%. On the basis of improved earnings and fair valuations, but tempered by subdued economic conditions in AMCL's primary markets, Bourse maintains a NEUTRAL rating on AMCL.
GraceKennedy Limited (GKC)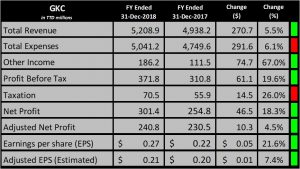 GKC reported Earnings per Share (EPS) of TT$ 0.27 for the year ended December 31st 2018, a 21.6% improvement from the TT$ 0.22 reported in FY 2017.
Total Revenue amounted to TT$ 5.21B for the year, an increase of TT$ 270.7M or 5.5% from FY 2017. Total Expenses stood at TT$ 5.04B, up 6.1% from the TT$ 4.75B reported in 2017. Other Income, which included one-off gains recorded in FY 2017 and FY 2018, improved TT$ 74.7M or 67% year-on-year (YoY). As a result, Profit from Operations moved from TT$ 300.1M in FY 2017 to TT$ 353.9M in FY 2018, an increase of TT$ 53.8M or 17.9%. Profit before Tax (PBT) closed at TT$ 371.8M, up 19.6% from the TT$ 310.8M recorded in 2017. The Effective Tax Rate increased marginally from 18% to 19% resulting in a Taxation expense of TT $70.5M. Overall, Net Profit for the Year from Continuing Operations stood at TT$ 301.4M, up 18.3% or TT$ 46.5M from the previous year. According to GKC, adjusting for the impact of the one-off gains from dissolution of non-operating subsidiaries, Net Profit for the Year would have increased by a more modest TT$ 10.3M YoY or 4.0% or an estimated adjusted EPS of $0.21 (up 7.4% YoY).
Outlook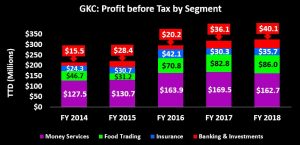 Overall, PBT has displayed a consistent upward trend over the past five financial years. PBT from the Money Services segment (44% of PBT) declined to TT$ 162.7M (4.0% YoY) after steady growth in the previous four years. This was attributable to strengthened compliance measures which temporarily brought down the transaction volumes in the remittance businesses in Jamaica and Trinidad, as well as foreign exchange challenges in currency trading operations in Trinidad. PBT generated from the Food Trading segment (23% of PBT), improved to TT$ 86.0M (6.2% YoY). This stemmed from revenue growth in the Jamaica, USA and Canada operations. The Insurance segment recorded a TT$ 5.4M (18.9%) improvement in contribution to PBT, largely due to the offering of digital insurance through GKOnline, compounded by a reduction in claims YoY. Despite a 3.7% decrease in revenue in the Banking and Investment segment from a reduction in the loan portfolio, its PBT contribution increased by 11.2%. The Group added three mini branches of First Global Bank (FGB) in 2018 and continues to heighten operational efficiency through initiatives such as its loan automation system for retail loans.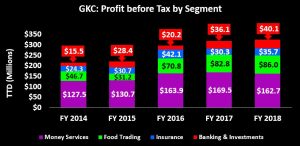 Jamaica remains GKC's main jurisdiction and Revenue has shown steady growth over the past four years, contributing 53% of Total Revenue in 2018. North American revenue continued to increase YoY, proving beneficial to the Group by providing revenue generation in 'hard' currency. Caribbean and Other exposures have remained relatively constant while European exposure has declined consistently.
The Bourse View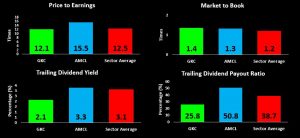 At a current price of $3.25, GKC trades at a trailing P/E of 12.1 times, in line with the Conglomerate sector average of 12.5 times and its 3-year average of 12.2 times. Estimated adjusted trailing P/E would have been 15.5. GKC offers investors a trailing dividend yield of 2.1%, below the sector average of 3.2%. On the basis of continued revenue growth and US dollar dividend payments, but tempered by relatively fair valuations and a low trailing dividend yield, Bourse maintains a NEUTRAL rating on GKC.
For more information on these and other investment themes, please contact Bourse Securities Limited, at 226-8773 or email us at invest@boursefinancial.com.
"This document has been prepared by Bourse Securities Limited, ("Bourse"), for information purposes only. The production of this publication is not to in any way establish an offer or solicit for the subscription, purchase or sale of any of the securities stated herein to US persons or to contradict any laws of jurisdictions which would interpret our research to be an offer. Any trade in securities recommended herein is done subject to the fact that Bourse, its subsidiaries and/or affiliates have or may have specific or potential conflicts of interest in respect of the security or the issuer of the security, including those arising from (i) trading or dealing in certain securities and acting as an investment advisor; (ii) holding of securities of the issuer as beneficial owner; (iii) having benefitted, benefitting or to benefit from compensation arrangements; (iv) acting as underwriter in any distribution of securities of the issuer in the three years immediately preceding this document; or (v) having direct or indirect financial or other interest in the security or the issuer of the security. Investors are advised accordingly. Neither Bourse nor any of its subsidiaries, affiliates directors, officers, employees, representatives or agents, accepts any liability whatsoever for any direct, indirect or consequential losses arising from the use of this document or its contents or reliance on the information contained herein. Bourse does not guarantee the accuracy or completeness of the information in this document, which may have been obtained from or is based upon trade and statistical services or other third party sources. The information in this document is not intended to predict actual results and no assurances are given with respect thereto."