BOURSE SECURITIES LIMITED
January 08th, 2018
Plotting a course in an uncertain 2018
This week, we at Bourse review the performance of the local equity market for 2017 and provide an outlook for the market in 2018. We examine the three stock indices, namely the Trinidad and Tobago Composite Index (TTCI), the All T&T Index (All T&T) and the Cross Listed Index (CLX), as well as highlight the major movers of the TTCI. Finally, we take a look at some key market drivers for the upcoming year.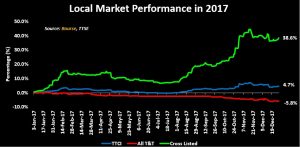 Local Market Review:
The Trinidad and Tobago Composite Index (TTCI) – which comprises both locally listed and cross-listed stocks advanced 4.7% in 2017, despite the prevailing recessionary environment. A closer examination of the index reveals that the improvement in the TTCI came as result of the positive returns shown by Cross- Listed Securities reflected in the CLX, which advanced an impressive 38.6%. The challenged All T&T Index (All T&T), however, declined 5.8%.
2017 saw the prices of thirteen (13) securities advancing and sixteen (16) securities (inclusive of the Clico Investment Fund or CIF) declining. The graph below shows the top five (5) movers in either direction.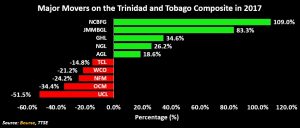 The cross-listed stocks NCB Financial Group Limited (NCBFG) and JMMB Group Limited (JMMBGL) led the charge in 2017, advancing 109.0% and 83.3% respectively. Securities within the Manufacturing I sector represented the major decliners for the year, with the price of Unilever Caribbean Limited (UCL) making the largest fall at 51.5%.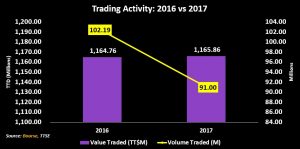 The total value of shares traded (inclusive of mutual funds) increased marginally by 0.09% from TT$ 1,164 million to TT$ 1,165 million, while the total volume traded decreased 10.95% over the periods from 102.2 million to 91 million shares traded. The volume leader for the year was JMMBGL, which represented 19% of the total traded volume. Higher priced stocks such as such as Republic Financial Holdings Limited (RFHL), The West Indian Tobacco Company (WCO), ANSA McAl Limited (AMCL) and Massy Holdings Limited (MASSY) saw less volume trades.
Looking Ahead at 2018
Many of the same issues which confronted the market in 2017 are expected to spill over into 2018. Locally, the economy continues to grapple with recessionary conditions brought about primarily by lower energy revenues. The modest recovery of energy prices in 2017 is expected to continue into 2018, with some increases in domestic energy production also on the cards. Nevertheless, the imbalance between budgeted revenues and expenditures is likely to result in constrained government expenditure which may weigh on consumer spending and employment. Exchange rate pressures are also likely to create frictions to economic activity, with adjustments to the TTD currency becoming more probable.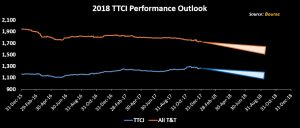 Having projected earnings for individual stocks into 2018, Bourse developed an overall estimate of the market's direction for the year ahead. Based on our projections, the TTCI is estimated to retreat in the order of 2%-9%, as companies with higher exposure to the T&T market grapple with lower demand, foreign exchange issues, weaker purchasing power and higher taxes.
The silver lining in 2017 – aggressive advances of cross listed shares – is expected to be somewhat subdued in the year ahead. The CLX is projected to advance 1-3%, bolstered by an expected 2.3% uptick in the Jamaica's economic growth (according to Jamaica's economic growth council).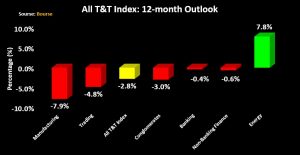 Sector Outlook
Banking
Against the backdrop of a sluggish economy, the Banking sector is projected to decline by 0.4% in 2018. Higher taxation (bank taxes moving from 30% to 35%) may likely offset initiatives to improve overall profitability for domestic banks. Despite this, the Banking sector is expected to be one of the more resilient sectors, with most members expected to preserve dividend payments.
Conglomerates
Economic stagnation, coupled with continued foreign exchange constraints and high taxation will continue to impede growth for the two major players in the Conglomerates sector. A focus on growth in the regional territories could reduce the impact of potential slowdowns in the local operations.
Non-Banking Finance
Several major members of this sector would have benefitted from very positive investment returns over 2017. With a repeat performance not expected in 2018, the sector may struggle to match its 2017 earnings.
Energy
Trinidad and Tobago Natural Gas Liquids (NGL) is the sole stock within this sector. This sector is expected to improve 7.8% stemming from an expected increase in oil and gas production levels and a moderate uptick in energy prices in the upcoming year. TTNGL's sole investment – Phoenix Park Natural Gas Processors Limited (PPGPL) generates earnings in US dollars, subsequently providing an implicit hedge against TT dollar depreciation. TTNGL also provides investors with an attractive dividend yield while holding the stock.
Manufacturing 1 and Trading
Lower consumer demand coupled with continued difficulty in accessing USD is expected to have a negative impact on earnings in both sectors. As such, the Manufacturing I and Trading sectors are projected to decline 7.9% and 4.8% respectively in 2018. Most companies within these sectors have relatively high dividend pay-out ratios, which make  defense of dividend payments to investors an increasingly difficult proposition.
Positioning Your Portfolio
With another year of broad-based declines expected locally, having the right stocks in your portfolio is paramount.  In such an environment, the risk averse investor may seek to avoid the local equity market altogether, instead investing in financial assets with lower downside risk such as money market instruments and/or mutual funds. These type of investments provide a more attractive return than traditional bank accounts, while also providing investors with a relative degree of safety.
Investors who are more risk-tolerant may be inclined to gravitate toward sectors with greater scope for upside gains. The expected performance of the Energy sector provide investors with the opportunity to maximize profit through potential price gains and attractive dividend yield.
When seeking investment opportunity in the stock market investors should continue to place emphasis on value, sticking to stocks with (i) relatively low valuations (low P/E multiples), (ii) above-market dividend yields, (iii) low dividend pay-out ratios, (iv) lower/diversified exposure to the Trinidad and Tobago economy and (v) stocks which provide implicit/explicit hedges against TTD depreciation.
As always, investors should consult a trusted and experienced advisor, like Bourse, to help make better-informed investment decisions.
For the detailed report and access to our previous articles, please visit our website at: http://www.remotestores.com
For more information on these and other investment themes, please contact Bourse Securities Limited, at 226-8773 or email us at invest@boursefinancial.com.
"This document has been prepared by Bourse Securities Limited, ("Bourse"), for information purposes only. The production of this publication is not to in any way establish an offer or solicit for the subscription, purchase or sale of any of the securities stated herein to US persons or to contradict any laws of jurisdictions which would interpret our research to be an offer. Any trade in securities recommended herein is done subject to the fact that Bourse, its subsidiaries and/or affiliates have or may have specific or potential conflicts of interest in respect of the security or the issuer of the security, including those arising from (i) trading or dealing in certain securities and acting as an investment advisor; (ii) holding of securities of the issuer as beneficial owner; (iii) having benefitted, benefitting or to benefit from compensation arrangements; (iv) acting as underwriter in any distribution of securities of the issuer in the three years immediately preceding this document; or (v) having direct or indirect financial or other interest in the security or the issuer of the security. Investors are advised accordingly. Neither Bourse nor any of its subsidiaries, affiliates directors, officers, employees, representatives or agents, accepts any liability whatsoever for any direct, indirect or consequential losses arising from the use of this document or its contents or reliance on the information contained herein. Bourse does not guarantee the accuracy or completeness of the information in this document, which may have been obtained from or is based upon trade and statistical services or other third party sources. The information in this document is not intended to predict actual results and no assurances are given with respect thereto."