HIGHLIGHTS
PHL 9M2023
Earnings:  Earnings Per Share increase 75.2% from $0.68 to $0.39
Performance Drivers:

Improving Revenue
Improving Margins
New Restaurant Openings

Outlook:

Cooling Inflationary pressures
Geographical Diversification

Rating: Maintained at MARKETWEIGHT
AGL 9M2023
Earnings:  Earnings Per Share increase 73.3% from $2.21 to $3.83
Performance Drivers:

Revenue and Margin Growth
Continued Acquisition Activity

Outlook:

Cooling Inflationary pressures
Regional Expansion

Rating: Maintained at MARKETWEIGHT
This week, we at Bourse review the financial performance of the two stalwarts of the Trading sector on the TTSE, Prestige Holdings Limited (PHL) and Agostini Holdings Limited (AGL) for their nine months ended August 31, 2023 and June 30, 2023 respectively (9M2023). Both PHL and AGL reported strong earnings growth and increased operating margins owing to their ongoing acquisition/geographical initiatives. Can both companies maintain momentum in subsequent periods? We discuss below.
Prestige Holdings Limited (PHL)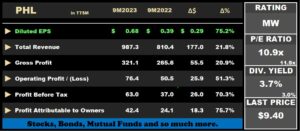 Prestige Holdings Limited (PHL) reported a Diluted Earnings per Share (EPS) of $0.68 for the nine-month period ended August 31st, 2023 (9M2023), a 75.2% increase when compared to the EPS of $0.39 recorded in the previous comparable period.
Revenue advanced 21.8%, from a prior $810.4M in 9M2022 to $987.3M in the current period under review, driven by improvements in sales across all brands. Gross Profit jumped 20.9% to $321.1M in 9M2023, despite a 22.3% rise in Cost of sales to $666.2M. Operating Expenses and Administrative Expenses grew 7.0% and 31.9%, respectively. Other income decreased 7.1% to $1.3M. Resultantly, PHL's operating profit significantly increased 51.3% year-on-year from $50.5M to $76.4M in 9M2023. Finance Costs marginally increased 0.9% to $13.4M. The Group recorded a Profit Before Tax (PBT) of $63.0M, a 70.3% increase relative to $37.0M recorded in 9M2022. Overall, PHL reported Profit Attributable to Owners of the Parent of $42.4M, rising 75.7% from $24.1M in the prior comparable period.
Revenues higher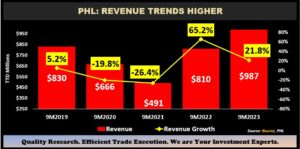 PHL's revenues continued to trend positively, supported by the rise in sales from existing and new restaurants. Total revenue climbed 21.8% from $810M (9M2022) to $987M in 9M2023, reflecting (i) increased economic activity as the Group surpassed pre-pandemic levels and (ii) successful new store openings. The restaurant management company experienced continued growth via its major sales channels – dine-in, digital, delivery and drive-thru services – with a substantial contribution to overall business.
PHL successfully opened its first Starbucks restaurant in Guyana during Q2 2023 and has an additional restaurant under construction in the market, scheduled to open in Q1 2024. Additionally, the company expects to open a new Starbucks location in Trinidad at St. Augustine by the end of October 2023.
Margins Improve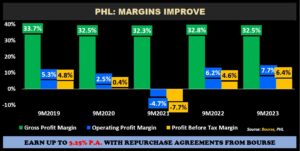 PHL managed to maintain its Gross Profit Margin (32.5%) within the recent historical range of 32-33%, demonstrating some combination of pass-through pricing power and astute input cost management. Operating Profit Margin moved from 6.2% to 7.7% in 9M2023, with Operating and Administrative Expenses increasing at a slower pace relative to Gross Profit. Profit Before Tax (PBT) margin, improved from 4.6% in 9M2022 to 6.4% in 9M2023.
The Bourse View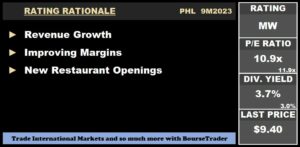 PHL trades at a current market price of $9.40, leading gains on the Trinidad and Tobago Composite Index, up 49.7% year-to-date. The stock trades at a trailing 12-month P/E ratio of 10.9 times, below the trading sector's average of 11.9 times. The stock offers investors a trailing dividend yield of 3.7%, above the sector average of 3.0%. PHL continues to effectively navigate the current environment, with cooling inflationary pressures likely to support future margins and profitability. On the basis of consistent revenue growth, improving profitability margins and ongoing new restaurant openings, Bourse maintains a MARKETWEIGHT rating on PHL. 
Agostini Holdings Limited (AGL)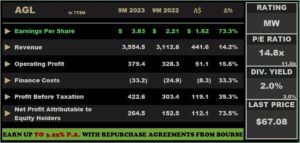 Agostini's Limited (AGL) reported an Earnings Per Share or EPS of $3.83 (inclusive of a one-off non-cash adjustment) for the nine months ended June 30th, 2023 (9M2023), an increase of 73.3% over the corresponding period. As reported by AGL, EPS excluding the one-off gain amounted to $2.68, a still-impressive 21.3% improvement over the prior comparable period.
Notably, Revenue grew 14.2% to $3.6B from the previous $3.1B, driven by both organic sales growth and the impact of acquisition activity. Operating Profit rose 15.6% to $379.4M, compared to $328.3M in 9M2022. Compared to the prior period, Finance Costs increased 33.3% to $33.2M (9M2023). Profit Before Taxation increased 39.3% from $303.4M to $422.6M, inclusive of a $2.8M loss arising from the revaluation of investment property and a $79M net gain on acquisitions. Taxation expense was $95.4M, up 2.6% relative to $93.0M (9M 2022). Resultantly, Profit Attributable to Parent Owners was $264.5M, a 73.5% increase from the previous comparable period. Excluding the one-off gain from acquisitions, AGL delivered a roughly $185M or 22% increase in Profit Attributable to Shareholders.
PBT Advances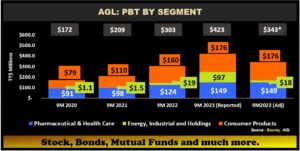 Overall, AGL's PBT improved 39% for in 9M 2023 versus the prior comparable period. Total PBT by segment moved from $303.4M in 9M2022 to $422.6M in 9M2023, owing to improved revenue via organic growth and recent acquisitions (particularly in the Pharmaceutical and Health Care and Consumer Products segments). Recent acquisitions included completion of 80% stake in Chinook Trading Canada Limited, a Canadian-based consumer products trading company in May 2023 and a 100% stake in Health Brands Limited, a Jamaican based Pharmaceutical & Health Care distribution company in August of that same year.
Consumer Products contributed 41.6% of PBT, growing 10% year-on-year to $176M. Pharmaceutical and Health Care accounted for 35.3% of PBT, improving 20.3% year-on-year to $149M relative to $124M in the prior period.  Energy, Industrial and Holdings, accounted for 23% of PBT, up 405.1% to $97M from a prior $19M. Excluding the one-off non-cash gain, the segment declined roughly 6.0% year on-year at an estimated $18M.
Margins Improve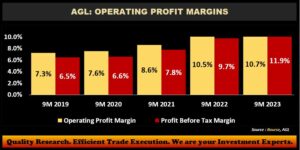 AGL's operating and profit before tax margins continued to strengthen in the reporting period, indicating stronger revenue growth. The Group's operating profit margin increased to 10.7% in 9M2023 from 10.5% in 9M2022, reflecting relatively good cost management in achieving revenue growth. Profit Before Tax Margin as reported advanced to 11.9% relative to 9.7% in the prior period, though this included the net one-off gain on acquisition. Excluding the extraordinary gain, PBT margin would have been 9.7%, consistent with the prior period results. AGL's recent historical growth in Operating and PBT margins suggest that both its organic growth initiatives and acquisition activity have been yielding good results for shareholders.
The Bourse View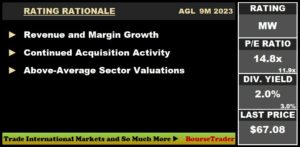 At a current price of $67.08, AGL trades at a Price to Earnings P/E ratio of 14.8 times, above the sector average of 11.9 times. Excluding one off gains from acquisitions, the P/E ratio stands at 19.8 times.  The stock offers investors a trailing dividend yield of 2.0%, below the sector average of 3.0%.
 AGL continues to execute on its growth strategy via acquisitions within the regional markets a priority, allowing for greater geographical diversification within the Group, which is reflected in improved Profit before tax across all three segments. On the basis of acquisition activities and improving margins but tempered by modestly above-average sector valuations, Bourse maintains a MARKETWEIGHT rating on AGL. 
DISCLAIMER: "This document has been prepared by Bourse Securities Limited, ("Bourse"), for information purposes only. The production of this publication is not to in any way establish an offer or solicit for the subscription, purchase, or sale of any of the securities stated herein to US persons or to contradict any laws of jurisdictions which would interpret our research to be an offer. Any trade in securities recommended herein is done subject to the fact that Bourse, its subsidiaries and/or affiliates have or may have specific or potential conflicts of interest in respect of the security or the issuer of the security, including those arising from (i) trading or dealing in certain securities and acting as an investment advisor; (ii) holding of securities of the issuer as beneficial owner; (iii) having benefitted, benefitting or to benefit from compensation arrangements; (iv) acting as underwriter in any distribution of securities of the issuer in the three years immediately preceding this document; or (v) having direct or indirect financial or other interest in the security or the issuer of the security. Investors are advised accordingly. Neither Bourse nor any of its subsidiaries, affiliates directors, officers, employees, representatives, or agents, accepts any liability whatsoever for any direct, indirect, or consequential losses arising from the use of this document or its contents or reliance on the information contained herein. Bourse does not guarantee the accuracy or completeness of the information in this document, which may have been obtained from or is based upon trade and statistical services or other third-party sources. The information in this document is not intended to predict actual results and no assurances are given with respect thereto."