HIGHLIGHTS
JMMBGL 9M 2022
Earnings:  Earnings Per Share 114.7% higher from TT$0.08 to TT$0.18
Performance Drivers:

Increased Operating Revenue
Regional Diversification Strategy
Higher Operating Expenses
Outlook:

Improvement in Regional Financial Markets
Economic Uncertainty
Rating: Assigned at MARKETWEIGHT
NEL 9M 2021
Earnings:  Earnings Per Share advanced 1,357.3% from a loss of $0.12 to earnings of $1.47
Performance Drivers:

Significant Gains on Fair Value Revaluation on Investments

Outlook:

Stabilization of Energy Prices
Domestic Natural Gas Supply Challenges
Rating: Assigned at OVERWEIGHT
This week, we review the performance of JMMB Group Limited (JMMBGL) and National Enterprises Limited (NEL) for the nine months ended 31st December, 2021. Both JMMBGL and NEL reported improved performance as a result of regional diversification, improvement in financial markets and energy markets. Could positive earnings momentum continue for both members of the Non-Banking Finance Sector? We discuss below.
JMMB Group Limited (JMMBGL)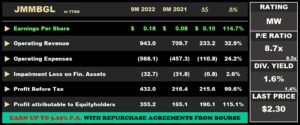 JMMB Group Limited (JMMBGL) reported an Earnings per Share of TT$0.18 in 9M 2022, 114.7% higher than TT$0.08 reported in the prior period.
Net Interest Income expanded 18.4% to $385.3M from a prior $325.3M, likely bolstered by growth in the Group's investment and loan portfolios. Fee and Commission Income advanced 58.1% to TT$160.1M and Gains on Securities Trading increased to TT$306.9M. Overall, Operating Revenue improved 32.9% in the period.
Operating Expenses advanced 24.2% to TT$568.1M, with spending focused on diversification efforts and other longer-term initiatives. Impairment Loss on Financial Assets climbed 2.6% to TT$32.7M from TT$31.8M. Subsequently, Operating Profit expanded 55.1% relative to the prior period. The Group recorded a Share of Profit of Associate of TT$89.1M, leading to a Profit Before Tax of TT$432.0M, 99.6% higher year on year (YoY). Income Tax increased 22.2% to TT$53.5M with an Effective Tax rate of 12.4% relative to 20.2% in 9M 2021. Profit for the Period grew 119.3% from TT$172.6M IN 9M 2021 to TT$378.5M in 9M 2022. Profit Attributable to Equity holders of the Parent rose 115.1%, to close the period at TT$355.2M.
Operating Revenue Increases
Net Interest Income,accounting for 40.9% of Operating Revenue, increased by TT$59.9M (18.4%) in 9M 2022, with the growth being propelled by Interest Income which grew TT$164.5M in the quarter offset by a TT$104.5M increase in Interest Expense. Underpinning the growth in Net Interest Income has been the Loans and Notes Receivable portfolio, which expanded by 15.0% in the period while Customer Deposits improved 17.0%.
Gains on Securities Trading, (32.5% of Operating Revenue) increased from TT$212M to TT$307M in 9M 2022, as the segment benefitted from robust advances across equity and financial markets. Foreign Exchange Margins from Cambio Trading gained 27.6% over the period to TT$86M. Fees and Commissions Income moved from TT$101M to TT$160M (↑58.1%), likely reflecting increased trading activity and growth in managed funds and collective investment schemes across the Group.
JMMBGL's Financial and Related Services (62% of Operating Revenue) and Banking and Related Services (37% of Operating Revenue) segments expanded 40% and 24% respectively YoY.
Regional Diversification, Investment Drives Growth
Earnings grew a commendable 114.7% supported by favorable markets and the contribution from its 23.0% stake in Sagicor Financial Company Ltd. (SFC). Favourable economic and financial market performance should support growth prospects of JMMBGL, as the Group continues to grow its asset base (↑24.5% YoY).
In the quarter, the Group focused its regional diversification strategy across all three operating territories. Jamaica, Dominican Republic and Trinidad and Tobago operations contributed 57.0%, 32.0% and 11.0% respectively to the Group's net profit performance. The implementation of digital initiatives and new banking solutions aimed at allowing easy client access reportedly helped improve its operational efficiency. According to the Group, it accomplished the upgrades of all ATMs to Smart ATMs in Jamaica and began the upgrades in T&T, as well as bank standardization across the jurisdictions, which brought all the banking lines on the same operating platform.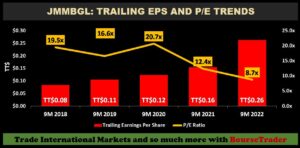 JMMBGL's trailing earnings per share (EPS) increased from TT$0.15 in 9M 2021 to TT$0.26 in 9M 2022, as The Group's trailing 12-month Price-to-Earnings (P/E) ratio fell from a peak of 20.7 times in 9M 2020 to 8.7 times in 9M 2022.The Group has continued to grow earnings through organic and acquisition activity.
The Bourse View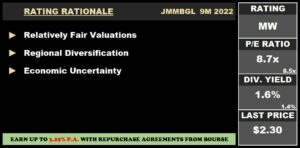 At a current price of $2.30, JMMBGL trades at a price to earnings ratio of 8.7 times, above the sector average of 8.5 times. The stock currently has a trailing dividend yield of 1.6% relative to the Non-Banking Finance sector average of 1.4%.
Favourable financial market conditions and the ongoing vaccination rollouts in the Caribbean are anticipated to benefit JMMBGL and associate company SFC, with the Group resolute in the long-term value of the SFC acquisition. JMMBGL currently values its Interest in SFC at $1.83B, 69.8% above the market-based valuation ($1.08B) of the stake. On the basis of improving overall performance and increasing geographic diversification, but tempered by lingering economic uncertainties and current market volatility which could potentially affect gains on securities trading, Bourse assigns a MARKETWEIGHT rating on JMMBGL.
National Enterprises Limited (NEL)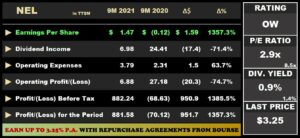 NEL reported an Earnings per Share of $1.47 for the nine-month period ended December 31 2021 (9M 2021), 1,357.3% higher than a Loss per Share of $0.12 reported in 9M 2020. The Group's Dividend Income decreased 71.4% to $7.0M from a previous $24.4M. Other Income fell 27.5%, moving from $5.1M in 9M 2020 to $3.7M in the period under review. Operating Expenses climbed to $3.8M, 63.7% higher than $2.3M in 9M 2020. Consequentially, Operating Profit declined 74.6% from $27.2M in 9M 2020 to $6.9M in 9M 2021. Gains on Fair Value Revaluation on Investments expanded 1,013.6% to $875.4M from a previous loss of $95.8M in 9M 2020. Cumulatively, NEL reported a Profit Before Tax of $882.2M. Overall, the Group recorded Total Comprehensive Income of $881.6M, 1,357.3% higher than a Loss of $70.1M reported in the previous period.
Energy Production Subdued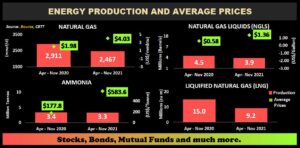 During the period April- November 2021, T&T's Natural Gas production averaged 2,467 mmcf/d, 15.3% lower than an average of 2,911 in the prior period. Despite lower production, the average benchmark price of natural gas climbed 103.5% year-on-year to $4.03/MMBtu on the back of global supply chain bottlenecking and increasing fears of supply disruption in Eastern Europe.
Natural Gas Liquids (NGLs) production contracted by 13.3%, from 4.5M barrels/day to 3.9M barrels/day. Using a weighted basket, the average prices for NGLs (propane, butane and natural gas) expanded 134.5%, averaging US$1.36/Gallon from a prior US$0.58/Gallon.
NEL's investment exposure to the Ammonia industry (through its 51% holding in Trinidad Nitrogen Company Limited) benefitted from higher Ammonia prices, which increased from an average of US$177.8/Tonne to US$583.6/Tonne. Despite this, Ammonia production has trended downwards, moving from 3.4 Million Tonnes (MT) to 3.3MT. During the period Apr-Nov 2021, Liquefied Natural Gas (LNG) production stood at 9.2M cubic meters, 38.7% lower than 15.0M cubic meters in the prior comparable period.
Is NEL a Value Stock?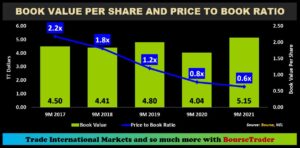 As one measure of value, NEL's market-to-book ratio has receded over successive periods from 2.2 times at 9M 2017 to a current value of 0.6 times. With robust energy prices (even in a weaker domestic production environment), investors focusing on book value might increasingly view NEL as a value stock. It should be noted that, notwithstanding write-downs of investee companies TSTT (down 35% from $382.5M in FY2019 to $248.6M in FY2020) and NGC T&T LNG (down 77.2% from $192.5M in FY2019 to $43.9M in FY2020) the Groups other long-term investments have shown continued stability over the period.
The Bourse View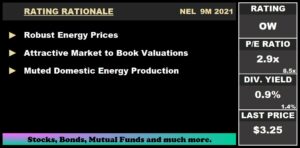 At a current price of $3.25, NEL trades at a trailing P/E of 2.9 times, below the Non-Banking Sector average of 8.5 times. The stock is currently trading at a market-to-book value of 0.6 times, below its recent historical average of approximately 1.5 times. The stock offers investors a trailing dividend yield of 0.9% relative to a sector average of 1.4%. While robust energy prices provide a case for improvement in its investee companies, investors would have one eye on the domestic environment of lower natural gas production and its impact on NEL's investee companies. There appears to be some positive news, with recent announcements by Touchstone Exploration Company and BHP providing optimism for increased natural gas production going into 2022. Touchstone's Coho discovery is expected to receive first gas in May 2022, adding 100 million standard cubic feet per day by the end of 2022 to the country's natural gas production. Additionally, BHP reported that all of its appraisal wells in its Calypso development encountered hydrocarbons. The appraisal programme will help determine the actual size of the previously announced 3.5 trillion cubic feet discovery. Cognizant of the subdued domestic energy production environment, on the basis of stronger energy prices and attractive market to book valuations, Bourse assigns an OVERWEIGHT rating to NEL.
 "This document has been prepared by Bourse Securities Limited, ("Bourse"), for information purposes only. The production of this publication is not to in any way establish an offer or solicit for the subscription, purchase or sale of any of the securities stated herein to US persons or to contradict any laws of jurisdictions which would interpret our research to be an offer. Any trade in securities recommended herein is done subject to the fact that Bourse, its subsidiaries and/or affiliates have or may have specific or potential conflicts of interest in respect of the security or the issuer of the security, including those arising from (i) trading or dealing in certain securities and acting as an investment advisor; (ii) holding of securities of the issuer as beneficial owner; (iii) having benefitted, benefitting or to benefit from compensation arrangements; (iv) acting as underwriter in any distribution of securities of the issuer in the three years immediately preceding this document; or (v) having direct or indirect financial or other interest in the security or the issuer of the security. Investors are advised accordingly. Neither Bourse nor any of its subsidiaries, affiliates directors, officers, employees, representatives or agents, accepts any liability whatsoever for any direct, indirect or consequential losses arising from the use of this document or its contents or reliance on the information contained herein. Bourse does not guarantee the accuracy or completeness of the information in this document, which may have been obtained from or is based upon trade and statistical services or other third party sources. The information in this document is not intended to predict actual results and no assurances are given with respect thereto."