TTHF Heart & Sole 5K 2019
Bourse was pleased to be a donor for this noble cause. The walk was held in September 2019, in an effort to raise awareness of Cardiovascular Disease in Trinidad and Tobago. The main goal of the organization is to encourage citizens to take the necessary steps to reduce the risk of them developing heart diseases.
"The proud participants that all did their part in raising awareness of Cardiovascular Disease in T&T. Bourse was elated to have been a part of this great cause."
Our Lady of Fatima Annual Harvest & Family Day
Every year, the members of the R.C. Church get together to host their Harvest & Family Day Fundraiser. In 2019, Bourse was fortunate to be a part of the festivities. All funds raised at the event went toward the renovation of the church building, which acts as a stable source of togetherness and spirituality amongst the residents of the Curepe community.
Bourse was happy to be a part of the family day festivities held by the Church for the residents of the Curepe community.
Blood Drive & Health Fair
Our staff and neighbours all came together to donate toward our first of many blood drives. We teamed up with the Friends of the Blood Bank Association for this event. We also partnered with Ocean Rose Pharmacy for blood sugar, cholesterol and other basic medical testing. Optometrists Today also came out to provide eye testing to our participants. We encourage everyone to consider donating blood; you can save someone's life!
We recognize and appreciate the important role a father plays in one's life. He is one who guides, teaches, motivates and drives us to be the best version of ourselves that we can be. We apply that same philosophy to the way in which we nurture the growth of our clients.
Pictured is Subhas Ramkhelawan (Managing Director), Kristian Farrier (Accounting Assistant), Rudi Singh (Investment Service Advisor) and Sarodh Ramkhelawan (Chief Investment Officer) receive Father's Day treats from the staff at Bourse.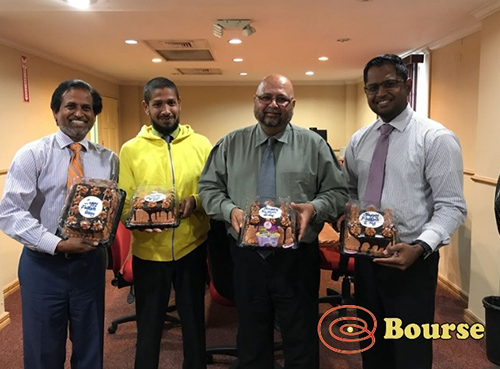 Guardian Shine 5K & 10K
Bourse team members took part in Guardian Group's charity walk event this year.
Featured here are several of our team mates out on the roads, supporting the cause.
Doing our part to spread joy for the Holidays
Every year, many less fortunate persons around the world require assistance to be a part of the Holiday Cheer. With the hard work of many volunteer organizations, everyone is afforded the opportunity to help in whatever way they can. This year, Bourse was fortunate enough to be able to assist a few of those tireless organizations. We were humbled by the opportunity and look forward to doing our part for years to come.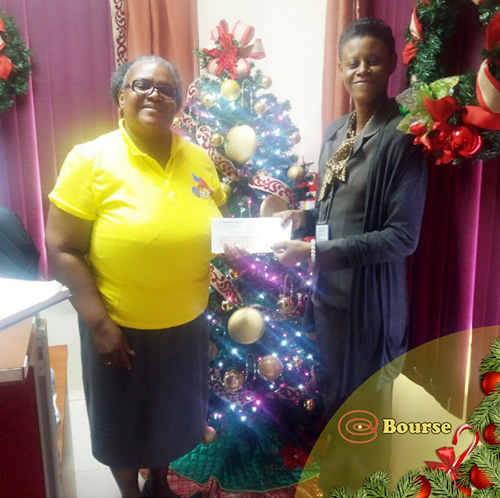 For over 100 years, the Salvation Army has been standing in front, meeting the needs of countless less fortunate persons throughout the country. Their tireless work to meet the basic needs of the less fortunate is motivated by their love for God.
Pictured is Ms. Edwina Webb, one of our Client Relationship Officers presenting our contribution to a Salvation Army representative.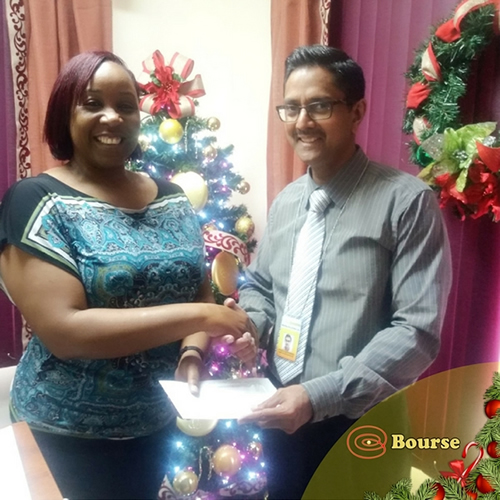 The Laventille Community Children Project has been instrumental in developing young people through the avenue of sports, culture and community service for over 19 years. Their main mission is to provide young people an alternative from a life of drug and crime.
Pictured is  Mr. Ronald Mohammed, one of our Investment Service Advisors presenting our contribution to a representative of the Laventille Community Children Project.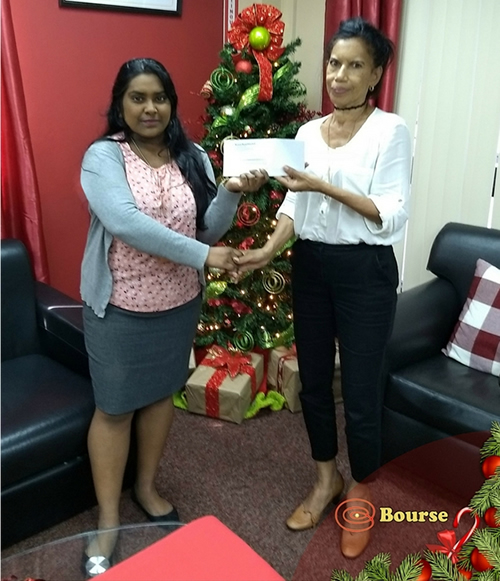 For the past 19 years, Without Walls Evangelical Outreach has been working with less fortunate children and youth across the country, providing them with basic needs and a reason to smile.
Pictured is Ms. Darpan Parsan, our Marketing Officer presenting our contribution to a Without Walls representative.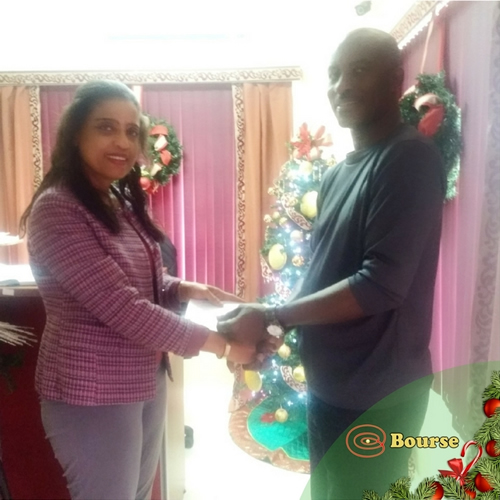 The Chinapoo Police Youth Club has been instrumental in the social development of the youths in society since its inception over 20 years ago. The Club Management aims toward initiatives that can help mould patriotic, strong willed and totally disciplined citizens.
Pictured is Ms. Carolyn James, our Fund Manager presents our contribution to Mr. Eloy Burge, President of the Chinapoo Police Youth Club.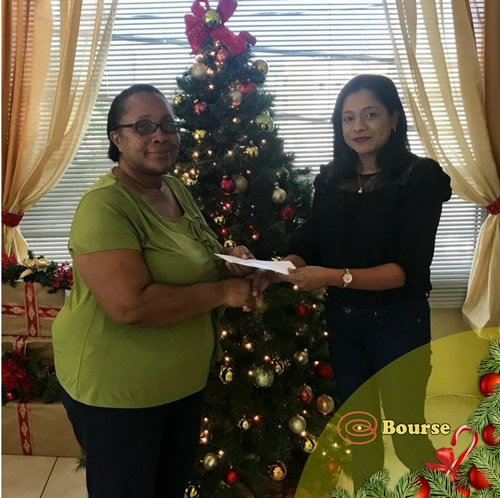 The Methodist Church South Trinidad Circuit continued its fund raising drive to assist the mission activities associated with the churches. This year, it was in the form of a dinner and entertainment event held at Naparima Boys College.
Pictured is Ms. Sadiah Khan, one of our Client Relationship Officers presents our contribution to representative from the Methodist Church.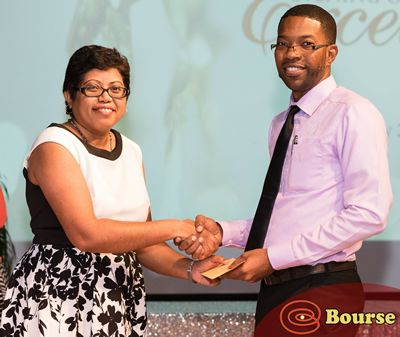 The Bourse family extends warm congratulations to Mr. Houston Alleyne for achieving the title of Most Outstanding Student in B.Sc. Banking and Finance Special. Perseverance, diligence and dedication brings great reward, as exemplified by Mr. Alleyne. He was awarded his prize during the University of the West Indies' Evening of Excellence gala event held by the Faculty of Management Studies on Wednesday 25th October 2017. The entire evening was dedicated to recognizing and rewarding the diligent students for their hard work toward becoming the leaders of our country's future. Bourse was honored to have been a part of this event.
Pictured is Mr. Houston Alleyne receiving his prize from Ms. Madree Seebaran, Bourse's Manager, Equities.
Bourse assists our Dominican brothers and sisters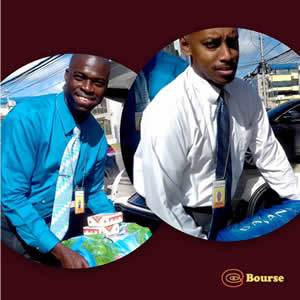 "We were happy to assist the Living Waters Community in assisting those affected by Hurricane Maria in Dominica. The Living Waters Community is a pivotal organization in the provision of nourishment, clothing, self-development and other basic needs to the homeless persons across the country. They take pride in converting donations received into vital support for those in need. This year, Bourse was able to support their cause by donating items needed for the victims of Hurricane Maria."
Pictured is staff at Bourse doing their part in delivering relief items to the Living Waters Community headquarters.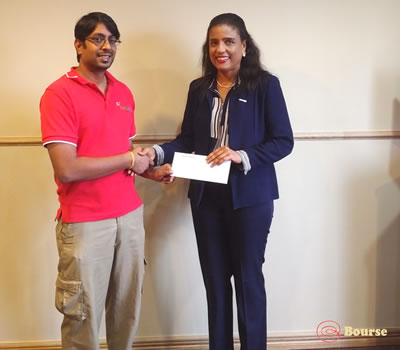 SEWA is the Sanskrit word for 'selfless service'. The group members also use SEWA as an acronym for 'Serving Everyone With Affection'. SEWA TT is a growing international non-profit organization founded by a group of volunteers who saw the need to promote societal unity and remove social disparities throughout the country. Their support services include providing relief to persons affected by calamities, community empowerment initiatives and much more. The Bourse family is indeed humbled by the opportunity to support their cause.
Pictured is Co-Founder of SEWA TT, Mr. Revan Teelucksingh receiving our contribution from our Fund Manager and fellow Dominican Ms. Carolyn James.
The Bourse Family: Spreading Christmas Cheer in 2016
This year, Bourse helped to spread some Christmas joy to children in partnership with various Non-Governmental Organizations.
In this season that represents peace, happiness and family love, we all should remember those who are not as fortunate as most of us and applaud these organisations for their ongoing efforts.
| | |
| --- | --- |
| | The Without Walls Evangelical International is a non-profit organization that's worked with the less fortunate for the past 18 years. Their Eighteenth annual "Kids Christmas Explosion" brought smiles to the faces of one thousand, three hundred (1300) children. This year's party took place on December 17th, 2016. |
| The Laventille Community Children Project is geared towards the development of young people through sports, culture and community service. They began operation in 1998 and hosted their Annual Children Christmas Frolic on 18th December, 2016. | |
| | The Chinapoo Police Youth Club was established since 1996 and is a proud holder of a National Youth Club of the Year award. Through various disciplines and community service, they give young people an alternative outlet, away from a life of drugs and crime. |
| The GEM Foundation is a non-profit group that entered its 12th consecutive year of customary giving. It's known for supporting families in different parts of Trinidad who undergo difficult circumstances. They distribute hampers of toys, school supplies, and clothes. | |
Merry Christmas & Happy New Year – from the Bourse Family to Yours!