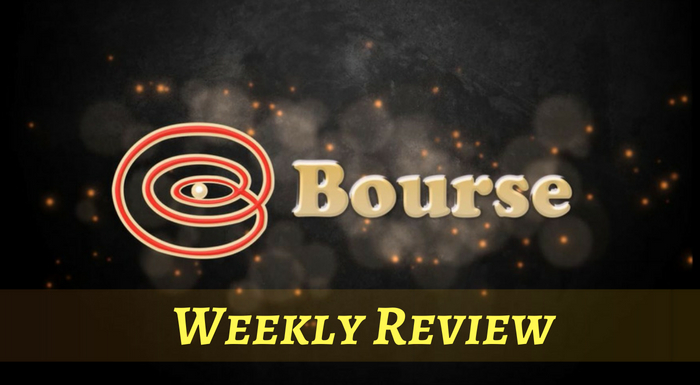 BOURSE SECURITIES LIMITED
3rd December 2018
International markets lower in 2018
This week, we at Bourse review the performance of global equity and bond markets thus far in 2018. After a stellar 2017, financial markets across the globe faced a consistent theme of declines in 2018. We also provide some perspectives for investors looking ahead to 2019.
Equity markets decline, U.S. resilient
Investors have been hit with myriad of concerns during the year, including the threat of a U.S.-China trade war and rising U.S. interest rates.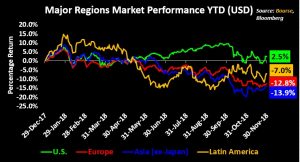 In the international space, the U.S. market proved volatile, yet most resilient, with returns of 2.5% at the end of November. However, after peaking at 9.6% on September 20th the market would have declined some 6.5%
Based on the most recent quarterly earnings, 67 companies in the S&P500 signalled a decline in earnings for Q4 2018 earnings, while 30 companies signalled improvements. Despite growth in earnings, investors have since raised concerns that the economy may be slowing.
In Asia (excluding Japan), the equity market remained under pressure throughout the year, declining 13.9% year-to-date (YTD). The main concern in this region was the imposition of 10% tariffs by the U.S. on approximately US$300B worth of Chinese goods. In USD terms, the Chinese equity market declined 27.0% YTD, with the Chinese currency (Renminbi) depreciating 6.1% YTD. President Trump and China's President Xi Jinping were expected to meet at the G20 summit on November 30th to discuss trade. The US President has warned that if no deal is reached by January 1st 2019, the 10% tariffs will increase to 25%.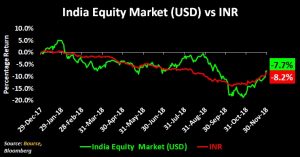 In addition to the concerns outlined, India, as a net oil importer, faced the added impact of rising oil prices.
India imports approximately 80% of the oil it consumes. The continuous increase in oil prices weighed on the performance of the equity market (BSE100 index) and the Indian currency (Rupee) for most of 2018. After a 40.0% appreciation (in USD terms) in 2017, the equity market declined 7.7% as at 30th November.
Looking ahead, GDP remains relatively strong, with the IMF projecting growth of 7.4% and 7.9% for fiscal 2019 and 2020 respectively. Any possible slowdown in the pace of U.S. interest rate hikes, which now is highly likely, could also be beneficial to emerging market currencies (including the Indian Rupee). Initial views for 2019 remain positive on the Indian Equity market, with healthy GDP growth expected to filter into continued corporate earnings growth. Investors will also be assessing the outcome of five state elections which will be held before the end of 2018 as a guide to the general elections in April/May 2019.
The equity market in Latin America declined 7.0% (in USD terms) as at 30th November. Politics has again played a pivotal role on equity markets within the region during the year. New Presidents were elected in Mexico, Colombia and Brazil.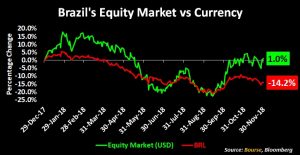 In Brazil, following a 24.4% rally in 2017, the equity market was relatively flat YTD (1.0% in USD terms), while the Brazilian currency (Real) depreciated 14.2%. After a rally in January – where the market was up 17.6% (USD) – the equity market fell to its lowest in September (down 22.7% USD YTD). Investors will be assessing how the new President addresses several issues – including pension reform – which appears to be high on the agenda. This could play a pivotal role in financial markets – and the overall direction of the currency – as it directly influences Brazil's rising debt.
In Europe, the equity market retreated 12.8% as investors remain gripped with ongoing Brexit tensions. Political developments in Italy also sparked concerns, after the European Union rejected the Government's budget deficit target of 2.4% of GDP. Investors will be looking ahead to the outcome of both Brexit negotiations and the fiscal situation in Italy.
A volatile year for bond markets
In contrast to the calm experienced in bond markets in 2017, this year has been quite a challenging year for bond investors. In addition to trade war tensions and political developments, several other drivers have led to heightened volatility in bond markets, in particular rising US interest rates and a stronger US dollar. The US Federal Reserve (the Fed) completed three 25 basis point (0.25%) interest rate increases this year, increasing the federal funds rate to a range of 2.00% to 2.25%. A fourth hike is expected in December 2018, with the probability of an interest rate increase now at 78%. With US interest rates on the rise, the cost of borrowing in US dollars has risen for bond issuers. Higher US interest rates also gave rise to a stronger US dollar and a weakening in some EM currencies. These factors have led to increasing concerns about the credit quality of EM issuers and their ability to service US dollar denominated debt accumulated in recent years. As such, EM investment grade (IG) and high yield (HY) bonds provided total negative returns of 2.7% and 5.8% year to date respectively. In 2017, EM investment grade (IG) and high yield (HY) bonds delivered total returns of 7.2% and 9.5% respectively.
Looking forward, recent comments by Federal Reserve Chair Jerome Powell has signalled a possible drawback in the projected three interest rate hikes for 2019. In this case, there is likely to be reversal in the negative sentiment experienced in bond markets this year. Nonetheless, other risks remain, namely political risks in countries such as Mexico as well as from ongoing trade negotiations and oil price volatility.
 Opportunity for an Entry Point?
This year, to date, has proven to be a difficult year for investors. However, over a five-year period, it can be seen that the benefits of investing far outweighed the option of staying on the sidelines. It is not unusual to have down years in any medium term horizon. Notwithstanding the performance of 2018 thus far, the five-year period (2013 – 2018 YTD) has produced reasonably attractive returns in the bond and equity markets. For example, US$10,000 deposited into a US dollar bank deposit in 2013 would have grown to US$10,050 in 2018. If the funds were invested in the Trinidad and Tobago equity market, it would have been worth US$10,221 today. The same amount of funds invested in USD money market funds would have amounted to US$10,709. Investors seeking higher returns – who invested in USD emerging market bonds – would have seen that sum grow to US$12,125. Finally, for investors who chose to invest in a world equity ETF, their initial US$10,000 would have been worth US$13,519.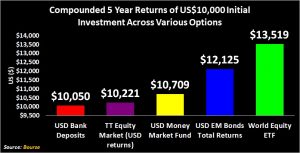 Indeed the adjustments to the market in 2018 may signal a good entry point for investors in specific areas.
Positioning for the year ahead
With US$3.5 billion in US dollar deposits in the local banking system (as at September 2018), investors holding US dollars may be wondering how to position their portfolios for the year ahead in light of market uncertainties. Investors should consider three main factors before making investment decisions, that is, the investor's (i) risk tolerance, (ii) time horizon and (iii) liquidity needs. What is clear though, is that developments in the local market point to a constriction in equity investment opportunities in the TT dollar. These include clearance for the take-over of GHL by NCBFG; the announcement of an arrangement intended to shift SFC to the Toronto Stock Exchange (TSX); the recent attempt to shift FCI to the New York Stock Exchange (NYSE). If effected, the latter two could take as much as 12.8% off the value of the Trinidad and Tobago Composite Index. It is important that you as an investor make your US dollars (held in the local banking system) work harder for you.
As we come towards the end of this year and position for the year ahead, it is important for investors to consult a trusted and independent financial adviser, such as Bourse, before making an investment decision.
For more information on these and other investment themes, please contact Bourse Securities Limited, at 226-8773 or email us at invest@boursefinancial.com.
 "This document has been prepared by Bourse Securities Limited, ("Bourse"), for information purposes only. The production of this publication is not to in any way establish an offer or solicit for the subscription, purchase or sale of any of the securities stated herein to US persons or to contradict any laws of jurisdictions which would interpret our research to be an offer. Any trade in securities recommended herein is done subject to the fact that Bourse, its subsidiaries and/or affiliates have or may have specific or potential conflicts of interest in respect of the security or the issuer of the security, including those arising from (i) trading or dealing in certain securities and acting as an investment advisor; (ii) holding of securities of the issuer as beneficial owner; (iii) having benefitted, benefitting or to benefit from compensation arrangements; (iv) acting as underwriter in any distribution of securities of the issuer in the three years immediately preceding this document; or (v) having direct or indirect financial or other interest in the security or the issuer of the security. Investors are advised accordingly. Neither Bourse nor any of its subsidiaries, affiliates directors, officers, employees, representatives or agents, accepts any liability whatsoever for any direct, indirect or consequential losses arising from the use of this document or its contents or reliance on the information contained herein. Bourse does not guarantee the accuracy or completeness of the information in this document, which may have been obtained from or is based upon trade and statistical services or other third party sources. The information in this document is not intended to predict actual results and no assurances are given with respect thereto."